March 28-April 3, 2007
home | metro silicon valley index | features | silicon valley | sports news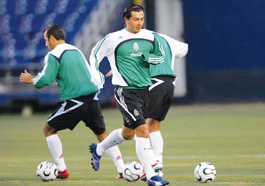 Mexsport/Martin Venegas
Cacho, Cacho, man: Juan Carlos Cacho during a training session of the Mexican national soccer team last week. Mexico takes on Ecuador tonight at the Oakland Coliseum.
First Tremors of Earthquakes Plan
By Felipe Buitrago
BY NOW everyone knows that the Oakland A's' bigwig Lew Wolff has been wrangling out a potential deal with San Jose president Don Kassing about bringing a Major League Soccer franchise back to town—which, if it happens, will be called the Earthquakes. Everything depends on whether or not a new facility can be solidified, one which most likely would be a shared venue with San Jose's football team. Spartan Stadium was built in 1933 when San Jose's population was 60,000, and even attempting to renovate the place is like putting three Band-Aids on an amputated gangrenous limb. To prove once and for all that they are dead serious about bringing professional soccer back, Earthquakes Soccer LLC played a part in organizing an international match between Mexico and Ecuador, which takes place Wednesday night (March 28) at 8pm at the Oakland Coliseum. The match is completely sold out, and with a crowd of 47,416, it will be the most attended match ever to be played by Mexico in the Bay Area and the largest crowd to witness a soccer match in that stadium. It is also the earliest sellout of any game ever promoted by Major League Soccer. And the hysteria doesn't stop there. Several hundred die-hard supporters of the San Jose Earthquakes will descend upon the coliseum, deck themselves out in blue colors and occupy their own section in the crowd. The game is on TV, so watch for 'em. It will be a sea of blue, amid a crowd of predominantly Mexican fans wearing green, red or white or all the above. The tailgate begins at 4pm in the parking lot outside. Don't even attempt to drive. Take BART instead.
Send a letter to the editor about this story.