04.01.09
home | metro silicon valley index | features | silicon valley | feature story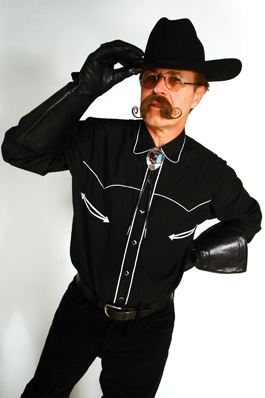 ROLL UPS: Gary Hagen's mustache would give even Snidely Whiplash pause.
About Face
A champion beard or mustache isn't born, it's grown— and groomed and oiled and brushed ...
By Jessica Fromm
Photographs by Felipe Buitrago
SIZE MATTERS to Jack Passion. So do length, shape, color, fullness, softness and overall beauty. Of his beard, that is. Owner of the biggest, bushiest, brightest, reddest whiskers in creation, Passion is the reigning titleholder in the Full Beard Natural category of the World Beard and Moustache Championships. Equivalent to the Olympic gold metal in the esoteric realm of international competitive facial hair, this honor designates the 25-year-old Walnut Creek resident's beard as the finest on the planet.
"I know I have the best beard in the world," Passion states. "It's just beautiful hair, there's no way around that. I'm young, I'm healthy and I take care of it. I know the game, and I'm confident in that."
In 2007, at the tender age of 23, Passion came out of nowhere to sweep the world Full Beard Natural title, upsetting the dominant German team and heralding a new era in the "sport." He is considered by many to be the Tiger Woods of bearding.
Passion doesn't shrink from that lofty assessment: "Tiger Woods redefined the game of golf; I like to think that I redefined how to wear a beard. It's about the most beautiful beard. They're like a piece of art. It doesn't have to be the most technically superior piece of art, but it's what moves you the most, and I've moved the judges consistently."
Passion's ginger facial mane will be the beard to beat when he defends his title this May at the biannual World Beard and Moustache Championships in Anchorage, Alaska—for only the second time on American soil.
"Jack is pretty much our MVP," says Phil Olsen, the founder and self-appointed captain of Beard Team USA. "Whenever there is a beard competition, Jack wins it,"
Olsen, too, is comfortable with the Woods comparison. "I think his record in beard competitions is better than Tiger Woods' record in golf tournaments," Olsen figures. "What's important to remember, though, is that there are 18 different categories for competition. Jack is only in one category, but the category he is in is the one that's the most prestigious and most competitive. Jack is definitely the superstar."
The competition will be hairy, but Passion isn't alone. Across America, men have been patiently growing out their beards, mustaches, goatees and sideburns for years in preparation for the World Beard and Moustache Championships. The event will feature 18 separate categories, from the slender Dali to the long and pointy Musketeer to the ropelike, downward-pointing Fu Manchu to the pièce de résistance, the Full Beard Natural.
Northern California is home to a handful of competitive facial hair all-stars, all of whom have been growing, brushing, clipping, conditioning and styling their fuzz for Beard Team USA.
Gilroy resident Gary Hagen, owner of the 2003 World Championships Handlebar [Imperial] Moustache, has been brushing up on the competition and painstakingly curling his world-class 'stache.
Olsen, perhaps the most influential man in the world of American competitive facial hair and owner of a big black beard, lives in Tahoe City. Aarne Bielefeldt and his 2-foot-long gray beard hail from Willits. New to the hirsute pursuit will be 25-year-old San Francisco resident Myk O'Connor, who will be traveling to Anchorage to fight for America's scruff.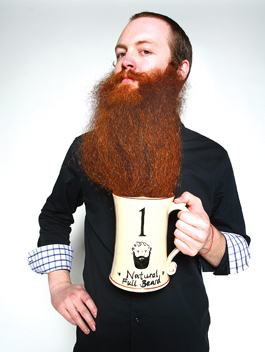 MR. NATURAL: Keeping up with his luxurious, prize-winning chin locks is a full-time job for Jack Passion.
Let It Grow
In the 19th century, a full beard and a full belly signaled success; from Abraham Lincoln to William Howard Taft, only two presidents (Andrew Johnson and William McKinley) didn't sport some kind of extravagant facial foliage. After the smooth Art Deco groove of the 1920s and '30s, the beard became the domain of bikers, beats, mountain men, hippies and professors.
Men who shun the razor have long had to endure comparisons to Chewbacca, Cat Stevens or ZZ Top. Similarly, those men who have manicured their beard into a mustache have to deal with the barrage of '70s porn star and Super Troopers jokes.
Lately, however, a new age has dawned for American men, and the metrosexual preference for skin as smooth as a baby's bottom has given way to the "I don't give a shit anymore" recession beard. Not to be confused with the sports playoff beard, or the result of a frat-house dirty-man competition, the recession beard is the byproduct of the recently pink-slipped male who no longer has to keep up appearances.
"A lot of guys go through phases where they don't want to look so cleaned up. So, they let their facial hair grow a little bit and dress more casual," says Bob Paez, owner of Garden Theater Barber Shop in Willow Glen.
"The current thing right now is that some guys will wear a beard that's like a Miami Vice –type of beard, where it's like three days' growth, and they sketch it out. Some guys have the long hairs they clean up with shears and clippers and make them look nice and uniform. That's because a lot of guys are looking for jobs, and they have to have their groomed beards and mustaches cleaned up."
Surprisingly, even the ironic mustache has come back thick and full in the last few years, spurred by the urban hipster set.
"The mustache made it through somehow," Passion says. "People are like, 'Hey, I'm Tom Selleck, check out my Pontiac GTO.' The mustache came back ironically, with hipsters growing ironic mustaches."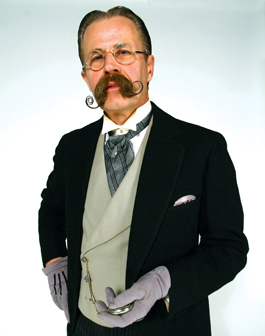 TIME TRAVELER: Gary Hagen's mustache and period ensemble recall an era when men weren't afraid of their secondary sex characteristics.
By a Whisker
In these turbulent times, Beard Team USA hopes to become a major player in the world of competitive facial hair. Once the province solely of older German gentlemen with a penchant for beard play, the sport has been undergoing a revolution as its popularity has grown in the United States, principally among the younger generation.
"Beard Team USA is hoping to upset the dominant German team," Olsen says. "We've got a real good chance of doing so this time, because we're holding the championships on American turf. The Germans will be there, but we're going to have, for sure, the biggest and strongest contingency we've ever had before. So far, there are 250 American competitors who tell me they are going to go."
International beard and mustache competitions got their official start in Europe more than a decade ago, as part of established European beard clubs.
"In Germany, everybody is involved in a club," Passions explains, "and having a club means that you get together and you sit on the wooden tables and drink beer and talk about whatever you're into.
"Some guys were into facial hair and doing weird styles with their facial hair, and they all congregated. They're very serious about it; they are all old men who are very staunch. They're like, 'This is how it is done. This is how we do it.'"
At the World Beard and Moustache Championships, taking place at the brand-new Dena'ina Civic and Convention Center in Anchorage, contenders in each category will be pitted against each other in a beard-off where the most coveted honor and glory in bearding is at stake.
As at a beauty pageant, each pilose competitor will primp and prime himself for his walk around the stage past a table of judges, who include experts in the bearding world, community leaders and area celebrities. The Anchorage judging panel will consist of two mushing champions, the father of a hockey player, an Anchorage beauty school owner and past winners of the Alaskan Mr. Fur Face Competition.
The contest is broken down into three divisions: Moustaches, Partial Beards and Beards. Subdivided under these three divisions, each specific category is judged against its official description. Strict requirements are laid forth by the hosting club but follow the same general guidelines from year to year.
Specifications include the area of the face where the hair can be grown. Most mustache categories, for instance, spell out that only those hairs growing from within 1.5 centimeters past the end of the upper lip may be grown out. Other rules govern the use of curls or "styling aids" such as wax, gel or hairspray.
"There is always controversy, and there are always arguments. You have to qualify to be in a category, and it depends on how strictly the rules are applied," Olsen explains.
Contestants whose facial tresses do not fit into a specific category can enter their division's "freestyle" category. Freestyle is generally won by the competitor who can create the most elaborate hair construction.
German champion Elmar Weisser has famously dominated the freestyle beard category for the last three years, fashioning hirsute tributes to London's Tower Bridge and Berlin's Brandenburg Gate out of his sizable whiskers. Weisser famously travels to the world championships with his own mobile hair salon, the Friseur-Mobil, where his sister and stylist spends up to five hours on his bearding nod to famous national architecture.
This year, a new category will be allowed, the Alaskan Whaler, which encourages a bushy beard but prohibits a mustache, a style made famous by old-order Amish.
Though the overall length of a beard or mustache is generally favored by the judges, other aspects come into play. Volume, technique and the condition of the hair are also taken into account, as are less-tangible factors: poise, personality and who just plain wears the beard the best.
In addition, it has become common for bewhiskered American competitors to don full period or national costumes within categories like the Wild West mustache, Musketeer Partial Beard and Verdi Beard, sometimes adopting Wyatt Earp or Prothos-esque personas to match their facial concoctions.
This American tendency for eccentric costuming has raised eyebrows among the Germans, who prefer to dress up for competitions in formal suits or traditional outfits.
"To Americans, costumes mean Halloween, and we did have a problem in Germany when we went there," says Olsen. "A lot of the younger guys tried to look as silly and ridiculous as they could, and a few people were put off by that. The Europeans, some of them wear, very elaborate, traditional folk outfits, like lederhosen. The lederhosen that they wear are hand-stitched, with very elaborate embroidery; it's very high quality, not something that somebody throws together at the last minute for a Halloween party."
For the last two years, Olsen, a Stanford alumnus and retired lawyer, has been using blogs, Myspace, YouTube and his official website (worldbeardchampionships.com) to recruit younger men to join and participate in the championships.
He is also fluent in German, an indispensable skill when it came to convincing the Germans to let the championships take place stateside. Now, a new slew of Americans, most of them decades younger then their bristly European contenders, will be entering the fray for the first time ever this year in Alaska.
"The culture around [the competition] used to be this stiff German culture," says Passion, "and now it's becoming this beer-drinkers culture. It's just like guys hanging out, going 'Fuck yeah.' That's becoming the attitude, and the Germans are so pissed. They want it to still be this small thing, like 200 people in a beer garden, people clapping politely, not screaming people throwing underwear onstage."
Passion's Play
Much of this newfound stateside bearding confidence comes from the eccentric charisma Jack Passion displays both on and off the bearding stage. A musician and freelance bass player, Passion has used his success on the competition circuit to propel his entrepreneurial carrier. "My beard is my brand, it's my business. I am my day job," Passion says.
This March sees the release of his first ever E-book, titled Jack Passion's Facial Hair Handbook, detailing his own beard-care regiment. Fans can also purchase the "Jack Passion Beard Shirt" (sold at jackpassion.com), as well as his first solo album, titled At the Opera.
Passion says that he knew his facial hair was going to be prolific from a very young age: "I had huge sideburns at 13, big lamb chops. It was like instant street cred. I was the man."
He decided to grow out his beard during his freshman year at UC–Santa Cruz, where he studied philosophy (a very beardy major, he says). "I had this big thick red beard, and it was nuts; everybody loved it, and I loved it too. I was like, maybe this is a sign. This beard is like major; maybe I'm supposed to have a beard."
Passion first heard about the World Beard and Moustache Championships in 2003, when it was held in Carson City, Nev. He didn't attend, however, a decision he instantly regretted when he saw photos of the competition afterward.
"I went to the next one in Berlin. I had always wanted to go to Germany, and I was, like, I can tell my grandkids I went to a world beard championship, how cool is that? I ended up getting third place in Full Beard Natural. Everyone was, like, who is this 21-year-old American kid?"
Two years later, at the 2007 Brighton, England, World Championships, Passion finally won the main event. Dressed in a blinding-white tuxedo to extenuate his gingery chin fire, he took first place in Full Beard Natural, narrowly beating out Sweden's Gunnar Rosenquist, dressed as a wizard.
"I knew that it was going to be me and one other guy. It was going to be because his was twice as long as mine but his was thin and gray. He just didn't have the passion," says Passion.
Passion's family, whom he describes as "'60s San Francisco cowboy hippies," have always been supportive of his gargantuan beard, and even more so since he started winning competitions with it.
A born performer, Passion admits that he got into beard growing for the attention. He says that it also works as a great bullshit filter.
"I love to talk to people and to meet new people, so it' s like having a conversation starter, by all means. It's not like bad attention either; I'm making people happy," he says. "I can walk into a room, and if somebody is going to approach me to talk about my beard, so many barriers are broken down already. It's like a flag that waves a little bit and lets you know something about what I'm about."
Passion says the beard is also a good way to meet women: "For girls, it's a great conversation starter. I think of it as the hook. Once the hook is set, we're having fish tonight."
"It's kind of like Sex Panther cologne: 60 percent of the time it works 100 percent of the time. There are definitely certain types of girls that are way more into beards then others. At 2 in the morning, you get the girls who understand the latent thing with facial hair. It's a secondary sex characteristic; they're like 'Oh, I need that. That's what a man is.' Or, they just want to cross a beard guy off their list."
But what exactly makes Passion's beard so exceptional? "Obviously his length, but that's not all there is to it," Olsen explains. "It's overall quality, I think, the color, the fullness, the consistency of it and the fact that it's a sold shape. It doesn't sort of straggle out at the end, like you sometimes see. I think that Jack has a certain quality about him that allows him to carry it well. But, there are a lot of people out to get him."
Passion says that the most important factor in growing a good beard is diet. "You've got to eat well to grow the beard out well. This is like a time line; I can look at this and tell you when I was healthy and when I was not healthy," says Passion.
"Look at most men who grow beards and how they eat. You've got a lot of fat guys, so they're eating a lot and that's why they grow a lot of hair. But simple healthy foods make for a good body and are good for hair."
He also says to avoid complicated, chemical-laden leave-in hair treatments and stay as natural as possible, letting the beard do what it wants to do.
"I keep it cleaned. I keep it conditioned. I put some oil on it every once and a while, and I stay after the split ends. [I] brush it, and that's it," Passion details. "I see these people at competition put all this shit in their beards and mustaches. It just ruins it; it's just so bad. You don't have to do that."
Passion expects the event in Alaska to be the biggest international facial hair competition ever. He's totally secure that he can uphold his title: "America is blowing up. I'm confident, I don't think I have any real competitors. There's a lot more people competing this time, but I'm not trippin'. None of these guys know what I know."
Hair Pretzel
When Gary Hagen became the world champion in 2003, his mustache measured 10 inches from tip to tip, curving in slightly at the ends. The 56-year-old Gilroy resident was the first American to ever win gold in the handlebar mustache category, known as the "Imperial mustache" in Europe.
Working on his mustache since 1994, Hagen has spent the last five years seeing how big he can get it to grow and how perfect and symmetrical he can make it curl. Now, having produced a 20-inch-long masterpiece, Hagen is ready to throw his mustache in the competition ring once again. "I really believe I'm the portrait of an American champion," he says, "not because I have a title, and not because I have a trophy, but because I went from a standard handlebar and taught myself how to do a really long, curly handlebar mustache, without a mentor and without an instruction manual. It was brutal to learn how to do."
For competitions, he can spend a half-hour or more shaping his mustache with his own secret concoction of hot wax, which keeps it stiff and the curl tight.
"I'm not a prima donna with it, though I can be for special events. I usually do the slap-it-together, go-to-work mustache. I can't spend the time every day," says Hagen.
"If I'm feeling lazy or tired, I don't always do it as good as I could. Then, if I get compliments on it, I feel guilty, because I know I could have done better on it. I'm hypercritical of it; I usually start the day with 'The reason I don't like it today is ...' but that propels me to make it better."
Hagen, a checker at a Safeway in Morgan Hill since 2000, has gained a reputation around South County as the "mustache guy," the talkative, chipper checker with the great big 'stache.
"The public are my cheerleaders. They would give me all these great accolades; it cheers me on to my perimeters of awesome," Hagen says.
He found growing his mustache for competition so challenging that he developed the "Gary Manifesto" to encourage himself to keep going: "I rise up to the challenge of waxing one of the world's greatest handlebar mustaches. I am forceful and fearless. I am tough and tenacious. I will create a masterpiece out of my mustache and my life."
Of course, sporting a handlebar mustache is against Safeway's employee policy, and Hagen has gotten grief for his exceptional mustache. He has had managers over the years tell him to cut it off, though he has resisted. He says his current boss is OK with it, and Hagen loves the reaction he gets.
"It's not every day that somebody mentions it, but it's often and constant. It's only a matter of time before somebody goes off about my mustache," he says.
During the holidays, Hagen has even been known to hang small Christmas tree ornaments off his mustache. He has also dyed it green for St. Patrick's Day and stuck small flags in it for the Fourth of July.
"The most satisfying time I made somebody laugh with ordainments in my mustache was at Stanford Hospital," Hagen recalls. "I was walking around the cafeteria after donating blood. This lady started laughing, and I found out later it was probably one of the worst days of her life. I ran into her on a park bench out front of the building when I was leaving, and she said she had just found out her son might not live. I've never wanted to be a standup comedian, but it's really satisfying making people laugh, because when they laugh, you laugh too. It's a win-win thing."
Still, even he is shocked at the reaction his mustache gets. On a recent shopping excursion, a man came up to Hagen and complimented him on his mustache.
"I started bragging; I said, 'Oh, actually, I'm the first American to pick up the title of world champion of the handlebar mustache.' The guy goes, 'Oh, really, can I see your hand?' I didn't see it coming, but he bowed downed to me and kissed my hand there in the store. I was so embarrassed."
Hagen says he also gets the occasional smart-ass "nice mustache, I wanna sit on it" comment, but in general, people just want to know how long he has been growing it out.
The 2009 World Beard and Moustache Championships will be Hagen's second time in an international contest. Unable to afford to travel to Europe to attend competitions, he couldn't defend his handlebar mustache title at the 2005 and 2007 championships. He has been looking forward to Alaska for years and has plans to dress up as a turn-of-the-century gentleman to match his mustache's old-timey style.
"I call the contest 'Old men gone wild,'" says Hagen. "It's like meeting your brothers. You walk into a room, and everybody looks like you. It's kind of like coming home. It's hysterically funny, kick-in-the-pants fun. Older men can be creative and wild, too. It's a good brotherhood, and the American handlebar mustache is an American classic."
However, Hagen worries that because he has expanded the amount of hair in his mustache to a few centimeters below his mouth, in an effort to "supercharge it," the technicalities of the handlebar (or Imperial) mustache category may force him to enter the Freestyle Partial Beard category.
"If they put me in freestyle, I have no chance because those guys are really big," he figures, citing German champ Willi Chevalier and his octopus mustache, dubbed the "hair pretzel," as his biggest competition.
Gearing Up
There has been a lot of buzz on cyberspace that the Caribou Barbie herself, Sarah Palin, will be a judge at the upcoming championships in Anchorage. David Traver, vice president of the South Central Alaska Beard and Moustache Club, said that he has personally spoken to Palin about the event, though she has not officially confirmed yet.
"I've met her at a couple of veterans functions and talked to her at a hockey game, too. I started to talk to her once [about the World Championships], and she said, 'Oh, you're with the beard team,' and I said yes, and she said, 'Oh, nice, I heard it's coming to Anchorage.' I thought that it was cool that before I even got to say anything she already knew what it was. So she's aware of it, that's cool," says Traver.
Passion says that since the bar for American facial hair has been raised, he worries that some people might try to cheat in Anchorage.
"I won't put it past people at this one, because now the profile is bigger, and some many people might try to mess with it because there are holes in it. Gary Hagen has been talking about technicalities, and I think that's going to be a big issue. So many people are going to try to bend rules and do stupid things. But a beard weave is pretty easy to spot."
"With competitive subcultures, there's spelling bees and dog shows, but I think in the beard sense, they're all characters," Passion adds. "Anybody who's going to go to a facial hair competition's got to be pretty unique."
To the villous victors go the bragging rights. As Passion says, "Gentlemen, start your beards."
Danger Zone
GROWING out exceptional facial hair can be a surprisingly risky business. Gary Hagen once burned off half an inch of mustache when trying to curl it with an old-fashioned curling iron (he learned gas stoves are not compatible with vintage hair-styling tools).
Bruce Roe, president of the Whisker Club and a longtime American facial hair competition participant, set his mustache on fire during a recent club function. "At our annual Whisker Club meeting last August, I was barbecuing," Roe recalls. "I had a big flash, and in all my years of having a mustache this has never happened, but I burned up a bunch of my mustache. I lost a couple of inches in the end."
The most traumatic injury in recent beard competition memory was sustained by Willi Chevalier of Germany. A construction worker by day, Chevalier was unable to attend the 2003 World Championships after his snow-white mustache had an unfortunate run-in with a power drill, ripping open his face and almost costing him an eye. Chevalier has recovered and is expected to compete in May.
Zippers are also not friendly to those with extra-embellished facial hair. Both Passion and Hagen avoid zippers like the plague. Passion says that he's learned through trial and error what not to do with his beard. "Riding a motorcycle with my beard flapping around was pretty stupid," he says, noting that it got so strained and knotted that he ended up loosing a lot of hair.
Eating can also prove a challenge when you have a voluminous beard down to your belly button. Crumbly food gets caught in Passion's mane. "I go through a lot of napkins. Sometimes, I have to hold it back when I'm eating, or tuck it into my shirt if I'm doing things," he says. "I get it caught under my leg when getting into a car all the time, and [I got it caught in] the car window one time," he admits.
Passion says he's had a lot of close calls but no major accidents yet, outside of a bad case of food poisoning that put his beard into shock. "Two years ago, I got horrible food poisoning and lost 30 pounds in like a month. I did loose a ton of beard."
Beardism
ONE OF THE biggest challenges in the world of beards is the not-so-latent social beardism in Western society, says Jack Passion. "Facial hair has been is style since the dawn of mankind," he says. "But there are so many beard stereotypes that are just horrible, that ruin it. The thing is, men want to experiment with their facial hair, but they feel like they can't. They think, 'What happens if I let this go, am I going to be a biker, a wizard or a hippie?' Beards have got this reputation."
Passion says the fear culture of shaving started during the Depression, when companies like Gillette played on people's doubts. "People wanted to be clean and hygienic so they could get work, so we have this fear culture started around shaving. Shaving is a great business because you have to keep buying shaving cream, you have to keep buying razors, and as soon as we tell you you're ugly, you're going to listen to us," he says. "Mainstream culture really lost a lot of the art of grooming."
"Bearded people don't have a voice," says Nathaniel Beard, the bass player of the Beards, an Australian folk-rock band that will be playing at the opening-night gala of the Anchorage World Beard and Mustache Championships. "All our lyrics are about beards—the trials and triumphs of living a bearded life."
"We are here to represent the bearded man who is told by his work or his wife or his friends to shave. There's a certain level of kindred understanding amongst the bearded. I'll walk down the street and pass a fellow beard-wearer, and we'll just nod at each other knowingly, because we both know that having a beard in this world is hard work. The Beards are here to commend the bearded and inspire the beardless."
Nathaniel Beard said he thinks the reasons there should be more beards in the world are obvious. "You wouldn't cut off your genitals—so why cut off your beard?" he asks. "Since the West started its fixation with shaving, we've had two World Wars, two great depressions, AIDS and innumerable natural disasters. Coincidence? I think not."
To Participate
THE WORLD BEARD AND MOUSTACHE CHAMPIONSHIPS will take place May 20–24 in Anchorage, Alaska. Those who want to become part of Team Beard USA or participate in the championship event have until the day before competition starts to sign up. Everybody is accepted, from beginning recession bearders (the groomed Verdi might be a good option) all the way to the advanced Freestyle Full Beard, where hair sculpture is the focal point. To find out more, visit www.akbeardclub.com and www.beardteamusa.org.
Send a letter to the editor about this story.