04.02.08
home | metro silicon valley index | news | silicon valley | news article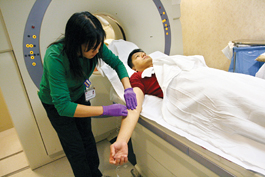 Photograph by Felipe Buitrago
ON GUARD: Anthony Chiu takes a test at Stanford Hospital, assisted by nurse Monglan Duong. Chiu has had hepatitis B since birth, but in 2000 he discovered it had led to liver cancer. A tumor consumed half his liver, but he was treated successfully at the Asian Liver Center.
B Warned
As many as 35,000 local Asians and Pacific Islanders in Santa Clara County have the deadly virus hep B—and don't know it
By Vrinda Normand
AARTI RAO glides down escalators into the basement underneath Stanford Hospital, through dark hallways lined with humming refrigerators. She passes dingy research rooms and ends up in a low-ceilinged den filled with rows of vacant computers.
This is the hub of the Asian Liver Center, where Rao and her small team are pursuing a mission to spread the word about one of the greatest health threats to Asians and Pacific Islanders in the United States: hepatitis B.
In the past year, staff and volunteers distributed a million brochures in five languages to public health agencies across the country. They also screened 2,000 people in San Francisco and Oakland. They were stunned to discover that as many as 10 percent of Asians and Pacific Islanders in the Bay Area are infected with the chronic liver disease. Experts believe the same trend exists in Santa Clara County, where people of Asian descent make up 30 percent of the population. That means 50,000 local API residents have hepatitis B.
And more than two-thirds of them don't know they're infected.
Silent Predator
Hepatitis B is a virus that slowly attacks the liver and can lead to liver failure or cancer. Chronic hepatitis sneaks up on its carrier quietly—many people have it for years, even decades, before they feel symptoms. When they do notice something's wrong, they often have cirrhosis—which is a serious scarring of the organ—or worse, cancer.
An estimated 1.25 million Americans are chronically infected with hep B, and over half of them are Asian or Pacific Islanders. In Santa Clara County, studies show, the problem is of particular concern in the Filipino, Vietnamese and Chinese communities.
The Asian Liver Center recently teamed up with Asian Americans for Community Involvement (AACI), based in San Jose, to launch an awareness and prevention program for the county. On March 1, Rao and her colleagues, along with several volunteers, set up shop at AACI's facility near Valley Medical Center. The airy room with its shiny linoleum floors, usually a place for senior citizens to play ping pong and practice line dancing, became a temporary clinic for hepatitis B screenings and low-cost vaccinations.
The idea is to get people tested, because just knowing about one's status can make a big difference in controlling the global epidemic. At the clinics, people who test negative can get vaccinated for under $50—only a quarter of what most health clinics charge. Those who test positive can immediately start learning how to live with the disease and avoid spreading it to others.
"It's completely preventable," Rao says. "It's just a matter of education."
When she isn't in her basement office or at clinics, Rao is buzzing around community festivals and events, telling people that hep B can be spread through blood and sexual fluids. She warns against unprotected sex and sharing razors, toothbrushes and needles.
The determined outreach coordinator wants to shatter the common myth that hep B can spread through casual contact. She points out that it is not even passed on through intimate contact such as kissing and breastfeeding.
The most common way of transmitting the virus is from mother to child during birth. Up to 20,000 women with hepatitis B give birth in the United States each year. More than half of them are of Asian descent.
Infection at birth can be prevented with a vaccine, as long as the mother is aware she has hep B. Too often that is not the case. Screening is the first step and can save children and their mothers in the long run.
The liver is the only part of the body that can actually grow back, so patients who catch the cancer early enough can have their tumors removed, and the organ will regenerate.
While there's no cure for hepatitis B, many manage the disease with a careful lifestyle and close monitoring. There are a few antiviral drugs that may keep the infection at bay if liver damage escalates, but early detection of cancer is crucial.
Life Story
Dr. Samuel So, head of Stanford's Asian Liver Center, says the problem has a lot to do with immigration. HBV is rampant in many Asian countries with poor health care, where 5 percent to 20 percent of the national population carries the virus.
Asian immigrants in the United States are more likely to have HBV because of their origin, but American-born Asians also have the disease in disproportionate rates.
Redwood City resident Anthony Chiu, originally from Hong Kong, got hepatitis B from his mother when he was born. But he wouldn't find out until he was 17, when he came to the United States for high school and got a routine health examination.
At the time, he says, his doctor didn't tell him very much about the condition, only that it had no cure.
Chiu says he went about his life as usual for another 15 years, unaware that the virus was doing serious damage to his liver.
Then suddenly, in May 2000, he doubled over with sharp abdominal pain after a spicy curry dinner. He had no idea what was going on, and thought at worst it was an ulcer.
A trip to the emergency room revealed that Chiu had a tumor that consumed half his liver. His doctor told him it was too big to remove.
Young and optimistic, he sought a second opinion about his severe cancer and found Dr. So at Stanford University. Shortly after, Chiu underwent successful surgery.
"I feel like a lucky lottery winner," he says, adding that it's a "miracle" his cancer didn't spread and hasn't returned.
He says he never missed the chunk of cancerous organ that got thrown away in the operating room.
Chiu's siblings also have hepatitis B. While his sister lives in Hong Kong with no symptoms, his 41-year-old brother hasn't fared so well. The man caught his liver cancer in 2002, but the disease keeps returning, even after surgery and a recent liver transplant.
Chiu says the biggest lesson he learned from his family and personal experience is: "You cannot take health for granted."
"You should definitely get tested, and if you already have it, get routine check-ups. If you don't have it, get vaccinated. It's the best thing you can do for yourself."
All members of the community can get free screenings (blood tests) and low-cost vaccinations for hep B at AACI's San Jose facility at 2400 Moorpark Ave., every first and third Saturday of the month from 10am to 1pm. For more information, please visit the Asian Liver Center website: http://liver.stanford.edu.
Send a letter to the editor about this story.