04.02.08
home | metro silicon valley index | sports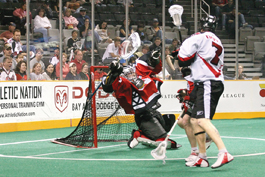 Photograph by Felipe Buitrago
NET TRAFFIC: Number 7 and team captain Colin Doyle keeps the Stealth on top as he puts one past Calgary goalie Pat Campbell.
Stealth Homecoming
By Felipe Buitrago
SINCE THE beginning of the 2008 season, San Jose Stealth home games have felt few and far-between. But now they're back, and have four straight games to wrap things up and hopefully prolong their season into the playoffs. In their last home game, on March 22 against the Calgary Roughnecks, the Stealth just managed to squeeze through a very tight game with a 12-13 final score. The upcoming games on home turf at the HP Pavilion will start April 6. First up, the Portland Lumberjax, in the teams' first meeting of the season. Portland has been doing well this so far this year, and has come close to beating one of the Stealth's bigger rivals, the Colorado Mammoth, while squashing the Edmonton Rush. The Lumberjax are holding on to third place. On April 13, the Stealth take on the Rush, who are currently in fifth place after defeating the Stealth 12-5 this past Saturday March 29. After a second bout against Portland, the Stealth have saved the best for last: The Mammoth. After losing 6-11 in Colorado in late January, the Stealth now have a chance at redemption and a shot at the postseason. It's a rough road; luckily they now have the hometown love to give them that extra edge.
For more information, full schedule and tickets go to www.sjstealth.com.
Send a letter to the editor about this story.