April 4-10, 2007
home | metro silicon valley index | features | silicon valley | sports news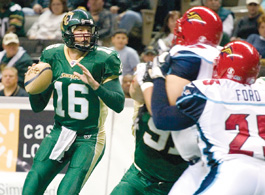 Photograph by Felipe Buitrago
Crunch time: Locked and stalked, Mark Grieb looks to pass before he's flattened by the Avengers' defense.
No More Cowbell
By Felipe Buitrago
SABERCATS SEASON has officially started. San Jose's arena football team is now playing its 11th season, and the fan base is growing exponentially. The SaberCats have become one of the premier teams in the league, bringing more than 10,000 fans to their games. And it's no wonder why. Ever since the signing of Jeff Mayes, the first official SaberCats player, the team has had its ups and downs, making a lot of noise on the field and in the stands as well—remember the cowbell incident in 2004 that cost the team $10,000? Well past that now, the 'Cats have begun their season clawing into the competition. The first home game, played last Saturday, was just a preview of what fans can expect. A very fierce and competent Mark Grieb threw eight TD passes and a total of 284 yards. And only three of the 26 passes thrown were incomplete. Although the team got off to a rocky start having won only one of the three away games against the L.A. Avengers, the cheer of the home crowd may make a difference. April will host three of the next four games, the first against the Colorado Rush this Saturday, April 4, at 7:30pm at the HP Pavilion. The Avengers, who lost 66-59 on their home turf, will have a chance to redeem themselves when they visit the Arena on April 21. For more information, visit www.sanjosesabercats.com.
Send a letter to the editor about this story.