April 4-10, 2007
home | metro silicon valley index | news | silicon valley | news article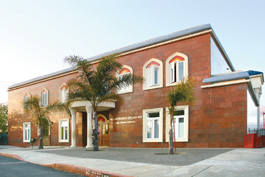 Photograph by Felipe Buitrago
Mosque probed: The Islamic Society of the East Bay, in Fremont, is believed to be one focus of the FBI's investigation.
Feds May Move On Local Mosques
A new FBI case against terror suspects could be set to rock the Bay Area
By Najeeb Hasan
After 23-year-old Lodi resident Hamid Hayat was convicted last year of training at a terrorist camp in Pakistan, government officials warned that terror investigations in Northern California were ongoing.
Now, members of the Bay Area's Muslim community believe that the FBI is close to making additional high-profile arrests of one or more terror suspects who frequent mosques in Silicon Valley and the East Bay. According to a source informed about the investigation, one of the organizations targeted in the Bay Area terror probe is the Tablighi Jamaat, a conservative-leaning Muslim organization, founded in India during the 1920s, that boasts world-wide membership and whose primary focus is to persuade Muslims to recommit to their faith.
Last October, a South African Muslim scholar associated with the Tablighi Jamaat, Fazlur Rahman Azmi, was denied entry to the United States and detained at San Francisco International Airport by agents from U.S. Customs and Border Protection. Azmi, who had successfully entered the United States to preach in both 1999 and earlier in 2006, was planning on teaching at various American mosques during the Muslim holy month of Ramadan. Nawaz Khan, a resident of Newark, Calif., and one of Azmi's students, had arranged for Azmi to lecture at the Islamic Society of the East Bay in Fremont, one of the Bay Area's largest and most diverse mosques.
Muslims are concerned that the ongoing terror probe in the East Bay is related to Azmi's planned visit to the Fremont mosque.
A spokesperson said the FBI could neither confirm or deny the existence of such an investigation.
"There is of course not a lot I can say," says FBI public information officer Joseph Schadler. "I did want to make clear that we don't target mosques for investigation. We begin and end an investigation if they pose a threat based on credible information."
Muslims connected to the Fremont mosque are also concerned that the planned arrests may be supported by flimsy evidence. One critic with ties to law enforcement agrees that current terror investigations can be motivated not by strong evidence, but by pressure on America's counter-terrorism agencies to produce results.
"It's something, in my opinion, that is happening," says James Wedick, who retired from the FBI in 2004 after 35 years of service, when asked if the FBI could be pressured to move on weak terror cases. During the Lodi case, Wedick had been skeptical of the evidence marshaled against the terror suspects and worked with defense attorneys on the case; a judge did not permit him to testify in the trial as an expert witness.
"In the last couple of years throughout the Bureau, they know there is a pot of gold out there called terrorism dollars," he says. "[It's] resource allocation—who gets what money, including plain dollars and agent bodies. You are allocated these resources depending upon if you got something going. What I've seen is the Bureau and the department is quick to call something terrorism when it's not—because you got an obvious interest in getting those resources, and they are not going to get them, unless they could say to folks back in Washington that there is a legitimate case. So there is motivation, unfortunately. I've talked to people in the position to know; I've got guys coming to me all day long, telling me they [the FBI] are mischaracterizing things. I don't know if it's going on with respect to this specific case."
"I think that's a completely mistaken assumption," counters the FBI's Schadler. "We work our cases at our end with the Department of Justice, nobody is pressuring us to do anything."
Members of the Bay Area Muslim community, meanwhile, have become somewhat accustomed to FBI activity within their community since 2001.
"It's disheartening," says Mohamad Rajabally, a Fremont dentist who recently completed his term as the president of the Islamic Society of the East Bay. "But, unfortunately, this is the climate Muslims are facing. I always say that we have nothing to hide, and we welcome anybody to our mosques."
During the controversial Lodi case last year, Hayat was convicted based on a confession in which he contradicted himself several times. He was also secretly taped by a government informant posing as a friend; the informant, however, was not able capture a Hayat confession on tape, which weakened the case further. At the time, Muslim leaders in groups such as the Council of American Islamic Relations (CAIR) believed that the Hayat case was pursued by the FBI to bolster the arguments for the renewal of the Patriotic Act.
"I mean, if you can imagine, nobody joins the Bureau to work some BS case," says Wedick. "Let's go back to the Hayat case. People stepped into the case, said this is going to be great, only to find out there is no case. There was nothing corroborated to terror except to say in recorded conversation, you had a series of statements ... [but] if you look at them, they made no sense. They [the FBI] made no effort to mitigate them or make sense of them, except to say he said in some fashion [that he attended a camp], and even if he contradicted himself, we'll make an indictment. The older guys are saying, 'What am I doing, this isn't a case—do we follow this guy, does he have something connected with explosives?' Did we follow them? That's what you have to do to prove the case. If you look at all the [nation-wide terror] cases, most of the cases involved the Bureau paying somebody huge amounts of money to go into a network, leaving it up to them, and saying we got a terrorism case."
Rajabally, however, would rather wait and see what unfolds than panic.
"They are arousing suspicion," he says of the rumors that have been swirling through the community. "For what? People will ask you what proof you have. You are raising doubts and panic in the community for no reason."
Send a letter to the editor about this story.