April 5-11, 2006
home | metro silicon valley index | news | silicon valley | news article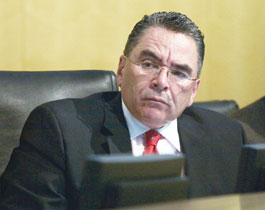 Bunch of Nonsense: That's what the mayor called an ordinance he endorsed as a mayoral candidate.
The Sunshine Chronicles
A sunshine ordinance has been discussed for seven years. It was just defanged in non-public meetings. And it looks like nothing will happen until after the mayoral elections anyway.
By Dan Pulcrano
IN FRONT of a fireplace in the stately living room of a downtown San Jose real estate broker, Cindy Chavez presented her case to become mayor of the 900,000-person city of San Jose, Calif. A tree's December lights cast a warm glow over a group of loyalists who sucked down wine and refreshments. Some of them looked concerned.
What would she do, they wondered, to distance herself in the public's mind from the failed mayorship of Ron Gonzales, with whom she had become closely identified as his vice mayor and vote-marshall when municipal garbage hit the fan?
Sure, there was nothing more than a veneer of suspicion—Chavez was City Hall's voice of organized labor when the secret Teamsters-demanded garbage compact was struck in a backroom deal. Councilmembers had raised homeowners' garbage collection fees without knowing that the mayor and his staff were covertly earmarking $11 million to fund union wages for a subcontractor that sorted the city's recyclable trash. No evidence emerged to implicate Chavez in any of the wrongdoing, or of even knowing anything about the promise to improperly commit taxpayer funds back in 2000.
The scandals, secrecy and lies swirled all around her, but never seemed to touch her. Besides Norcal, the muck included $45 million in concealed City Hall furniture costs, the $8 million Cisco telephone contract, cascading waves of staff resignations and grand jury and district attorney investigations. Early in the year, political ally Terry Gregory had resigned, in a deal brokered with the DA's office, because of loans and gifts he received while in office. And now, the mayor had been censured in a Chavez-engineered push to move on with the city's business on the eve of an election year.
As Chavez convinced her colleagues to power-down the independent investigation of the Norcal garbage matter, two councilmembers running for mayor jockeyed to separate themselves from the emanating waft of corruption by calling for the mayor's ouster or resignation.
That December evening by the fireplace, Chavez offered an intimate blow-by-blow of her decision to do what she thought was best for the city by taking the mayor to the woodshed. Then she spent the rest of December dusting her rivals in fundraising, pulling in $210,631 by year's end.
Opponent Chuck Reed fired the first shot of 2006 with a Jan. 3 newspaper opinion piece calling for honesty in government and a "sunshine ordinance." It was not a new concept. Metro had first broached the issue with councilmembers in 1998, and the Blue Ribbon Task Force on Ethics and Lobbying had it on its work plan in 2004. A Jan. 21, 2005, memorandum signed by Chavez, Reed and the mayor directed the task force to review the ordinance. Somehow, though, when the Blue Ribbon Task Force wrapped up its work in 2005, the sunshine ordinance fell into a governmental black hole.
A week after Reed published his manifesto, a bombshell landed on the council dais: a $4 million Chavez-Gonzales bill to subsidize the San Jose Grand Prix.
The public, the media and most councilmembers learned about the proposal—which Mayor Gonzales described as a take-it-or-leave-it proposition—only a day prior. Chavez, Gonzales and city staff had known about the pact in December, but neglected to share the knowledge.
"I am extremely disappointed—but unfortunately, in a sickening way, I'm getting used to it," an exasperated Councilman David Cortese exploded. "Apparently there was a done-deal negotiated that was ready to go to City Council but for a crowded agenda in December, and that information wasn't circulated to the City Council. I don't know how to get through anymore that this is the public's business, and the people have the right to know. ... This isn't a private sector company where done-deals are done in the backroom by a couple of people and then brought forward and presented as done-deals."
Councilwoman Linda LeZotte joined in. "That simply has got to stop," she said. "I'm as sick as David is about memos being held."
The Grand Prix surprise was a watershed event for councilmembers, by all accounts. Elected representatives need time to study big-ticket items and ask questions before voting, notwithstanding the mayor's admonition that the deal wasn't going to change, even if they took another two weeks to evaluate it.
Less than a month later, Cortese's campaign released a set of "reform proposals." Among them were restrictions on lobbying activities, a requirement that email and VOIP telephone calls be archived and a ban on council votes "on any issue if staff reports are not released at least six days before a council meeting."
By week's end, businessman and former arts group executive Michael Mulcahy jumped into the mayoral contest on a reform platform that explicitly called for a sunshine ordinance. By Feb. 11, three candidates had used the S-word.
A political savant of Chavez's caliber was not about to be sidelined on an issue of this profile, especially since she had toyed with the solar question seven years earlier but never gotten a bill off her desk. She knew that San Francisco had an ordinance that guaranteed open meetings and provided guidelines for access to public documents to ensure that the public's business was conducted in the light of day.
Chavez invited a group of political supporters and neighborhood association leaders to meet at her home to hammer out a Chavez-branded set of reform proposals to compete with the open government platforms of Reed, Cortese and Mulcahy. And even if her proposals fell short of the remedies suggested by her opponents, she had one thing they didn't: the virtually assured support of a council voting bloc elected with the political and financial support of her former employer, the South Bay Labor Council.
For a process that was designed to improve government transparency, however, Chavez's process was unnervingly opaque. From what can be reconstructed from interviews and document requests, there was no notice, no agenda, no sign-in sheet, no minutes, no media scrutiny. And unlike the other proposals, Chavez's work product was not an op-ed piece, a press release or a speech; it was a process designed to draft law for City Council approval, undertaken out of public view.
Chavez aide Adam Byrnes says that the notes at the Feb. 13 meeting were taken on "butcher [paper], and we threw those away." The bullet points were "copied into a word document" and circulated among the council staffs. Underscoring the hurdles that confront media and citizens attempting to scrutinize the conduct of the public's business, it took two days of multiple faxes, emails, phone calls and visits to City Hall for Metro to obtain that one-page document.
Even less details exist about a follow-up meeting that reportedly occurred at the Chavez campaign headquarters. "There was another meeting. I don't know when that was," Byrnes says. "You'll have to ask Cindy."
Chavez says she doesn't remember details about the meeting, and document requests to Chavez's council office have turned up no written information about who attended the meeting, when it took place or what was decided. Ironically, Chavez's reform bill requires release of councilmembers' calendars, a provision that presumably would document these types of activities.
Calendar release was part of Cortese's Feb. 6 reform proposals, and also appeared in the "Reed Reforms," a March 13 memo that included 18 sunshine ideas, among them a draft of a 17,000-word ordinance based on San Francisco's. Reed didn't stop there, though. The idealistic, American-flag-tie-wearing councilman added oaths and charter changes and codes of conduct that included truth-telling and anti-bribery language. The language was reminiscent of the Boy Scout pledge, the Ten Commandments, the Golden Rule and 1950s superhero Captain Video's Code of Honor all rolled into one.
The March scramble to bathe local government activity in a bright bath of solar illumination also included the release, on March 8, of the Chavez-LeZotte memorandum signed by four councilmembers and described as "sunshine reforms." It was not a sunshine ordinance at all, but rather a laundry list of ideas ranging from neighborhood meetings to performance measurement suggestions that had been hashed out in private on butcher paper and in circulated drafts and emails among staffers the four council offices.
The Mercury News jumped into the memo and press release thicket with a tightened-up version of the San Francisco ordinance, to which they affixed their name and which they posted to their website, then endorsed in a rare front-page editorial.
The Merc initiative drew immediate scorn from the mayor, who denounced it in a radio show as "a bunch of nonsense." His spokesman, Dave Vossbrink, emailed San Jose State University's Grade the News research project, huffing, "In my decades as a municipal public information officer, I have never encountered such a step by a representative of a major newspaper."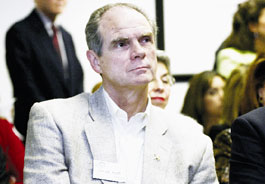 Thou Shalt Not Steal: Chuck Reed's code of conduct included promises not to lie, cheat or steal.
Open Secrets
Eyes popped open in the City Council chambers on March 21 when one of Chavez's most loyal supporters, a goateed neighborhood leader wearing a blue jersey embroidered with a soccer club logo, let word of the living room meeting out of the bag.
"I support sunshine reform, and specifically I support the proposal of Vice Mayor Chavez and her council colleagues Pyle, Chirco and LeZotte. And I support the proposal before you because I helped write it," thundered Joe Gagliardi, who heads the Northside Neighborhood Association east of Sixth Street between Hedding and Julian.
"Along with the head of United Neighborhoods of Santa Clara County and neighborhood leaders from across the city, I sat in Cindy Chavez's living room and thrashed out a set of ideas for sunshine reform. Now the Mercury News didn't ask me for my input as a neighborhood leader, before they made their sunshine proposal, but Cindy Chavez did. That's why downtown neighborhood leaders uniformly love Cindy Chavez."
Later in the three-hour long public hearing, Councilmember LeZotte defended the public involvement, saying, "We've had several meetings at Councilmember Chavez's home."
Cortese waited for his turn to speak and observed, "It's got to be the ultimate paradox, at a minimum, if not the ultimate contradiction. I think it's a great thing, Cindy, that you had an exclusive group of people at your house in a non-publicly noticed meeting. I'm glad you did that. I think it was brilliant. It was a good thing to do to get some neighborhood leaders and to talk about this. But I wasn't invited to bring my ideas over there. Many of the constituencies that we represent weren't invited."
Many, though not all, of the invitees were Chavez allies, contributors and endorsers, such as fellow AFL-CIO endorsee Jay James, a planning commissioner and city council candidate. While James supports the reforms, he thinks that the memo that made it to council should have included a plan to make it easier for the public to obtain documents because "it's like a minefield working around every staffer, every department head."
A public documents provision "definitely needs to be a part of any sunshine ordinance ..." James adds. "That's one thing that I think should have been included. ... It was discussed, but for some reason it got left out."
United Neighborhoods chair Ed Rast, another attendee of the living room "brainstorming session," believes the council should have gone farther. "I think there's a lot of good stuff in there," he says, "but there's a lot of other things that still need to be looked at."
Having operated a company in San Francisco, he observes, "San Jose does not provide the public or the media the same kind of access to records that San Francisco does. ... Without the information, it is difficult for the citizens and the neighborhood leaders to participate." Rast, who has not endorsed a mayoral candidate, also wants any open government law to have enforcement provisions. Otherwise, "It's like having a speeding law with no enforcement."
Another nonaligned meeting participant, Rose Whitcomb, concedes, "I wasn't real happy with some of the reforms."
"I don't see where we are going to get the money to pay for these things," fears Whitcomb, a community volunteer who works with children. "If we had lots of money, they'd be great."
"One of the reforms I didn't care for was giving community groups or neighborhood associations more time" for verbal comments at council meetings by increasing time limits from two to four minutes. "There were a lot of neighborhood association people there, and I'm not one of them. Sometimes if you give them too much power they get weird. We need to learn to work with the city, not tell them what to do.
"Chuck Reed had come up with a lot of the reforms months ago," Whitcomb adds. "I think this is dirty politics, if you want my opinion. Why didn't it all come out last year if it was so important?"
Rask expresses a similar sentiment. "Sometimes timing is everything," he says. "Without the election right now, we wouldn't be getting much progress on this."
In voting to refer the limited Chavez-LeZotte reforms to a task force, the council majority rejected an amendment to also refer Reed and Cortese's proposed reforms. The decision also meant that a true sunshine law, like the time-tested ones on the books in the Bay Area's other large cities, was not among the referred items. A sunshine ordinance defines specific categories of documents that are available for public inspection, along with procedures and timetables for their release.
The task force being put together by Interim City Manager Les White, which will go to the rules committee this week, could still choose to review the sunshine ordinance draft. Chavez says she expects the committee work to take six to eight months, which would put any meaningful reform or disclosures safely past the mayoral election in November.
It's hard to get information out of City Hall, just about everyone agrees. Even councilmembers complain they can't get information from each other—even though they are often some of the worst culprits, hoarding nuggets of information like squirrels in winter. Ironically, they sometimes cite the Brown Act, the state's open-meeting law, as a basis for keeping their political rivals in the dark, because the Brown Act prohibits councilmembers from arriving at decisions by communicating among a public body's voting majority.
Former Councilmember Charlotte Powers, a Chavez supporter who attended the meeting at Chavez's residence, agrees that council memos should go out earlier. "I think we had rules [that] everything had to be out on Friday," she remembers of her time on the council, in the pre-Gonzales era. "It seemed to me there was more flow of information between everybody, back and forth."
It wasn't always seen that way outside of the Sixth Floor. The perpetual frustrations with getting information out of agencies such as Redevelopment, the San Jose Police Department or the city's Finance Department by the editorial staff of this newspaper led to the initial proposal of a sunshine ordinance in 1998.
During the general election for mayor that year, we emailed copies of the San Francisco ordinance to the runoff candidates, Pat Dando and Ron Gonzales. On a televised debate on NBC 11, in which I participated on the panel of questioners, I asked both if they would support an ordinance substantially similar to San Francisco's. Dando agreed to support it without hesitation. Gonzales dodged the question with a nonanswer, but when pressed on the follow-up, committed his support.
Following the election, copies of the San Francisco and Oakland ordinances were provided to several of the councilmembers and the city attorney. Chavez asked if she could be the one to introduce it. "Let me handle it," she said. A few months later, Chavez invited me to meet with the city attorney and her. He had some concerns. The bill sat for half a decade with no movement until scandals and election-year jockeying brought the issue to the forefront.
The more quickly a San Francisco­style ordinance is passed, the sooner elected officials can get back to working on issues of substance rather than process. No doubt, financial arguments will be raised, because document requests do sometimes incur costs. Inexpensive web-based document management systems may provide part of the answer.
Any true cost assessment would also have to find a way to measure the costs of government secrecy. How much extra do taxpayers pay each year for contracts and deals that receive insufficient scrutiny? From the $60 million bond loss in the mid-1980s to last year's Cisco and Norcal contracts, it's clear that management of the public's business in private carries with it a price tag as well.
Sunshine Ordinance Timeline
October 1998
Metro calls for sunshine ordinance and secures pledges of support from mayoral candidates Pat Dando and Ron Gonzales during televised debate.
1999
Cindy Chavez sworn in as District 3 councilmember. She volunteers to introduce sunshine ordinance based on San Francisco's law and holds follow-up meeting with city attorney.
October 11, 2005
Metro's executive editor urges sunshine ordinance in speech to San Jose Rotary Club.
December 8-13, 2005
Mayor apologizes for lying about Norcal garbage contract negotiations and rate hike but refuses to resign. Council censures Gonzales and votes to halt investigation despite calls to continue it.
January 3, 2006
Councilmember Chuck Reed publishes op-ed piece in Mercury News advocating sunshine ordinance and other reforms.
February 6, 2006
Cortese unveils his "reform proposals." His press release contains open government proposals without mentioning sunshine by name though later publicity does.
February 11, 2006
Michael Mulcahy kicks off campaign for mayor with endorsement of sunshine ordinance.
February 13, 2006
Chavez holds meeting in her living room with "neighborhood leaders" to craft a series of proposals.
March 8, 2006
Four councilmembers sign and release "sunshine reforms" memo.
March 12, 2006
Mercury runs front-page editorial and presents its model ordinance. "In my decades as a municipal public information officer, I have never encountered such a step by a representative of a major newspaper," mayoral spokesman Vossbrink emails "Grade the News."
March 21, 2006
City Council votes to set up task force to study proposals hammered out at Chavez's home and campaign headquarters, but fails to refer broader proposals by Metro, Mercury News, Cortese and Reed.
Send a letter to the editor about this story.