04.08.09
home | metro silicon valley index | features | silicon valley | feature story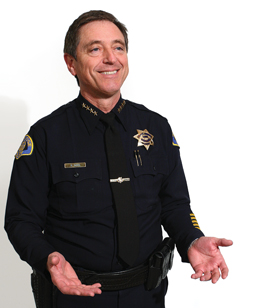 Photograph by Felipe Buitrago
Chief Concerns
How did the once-popular Rob Davis become the most controversial Top cop in recent San Jose history? Is SJPD Chief Rob Davis too inflexible for a changing San Jose?
By Erin Sherbert
THE DISASTERS tumbled like dominoes. A Taser death, a police shooting, and later a community blowup over allegations that San Jose's police disproportionately arrest Latinos for public-drunkenness. Concerned that policing practices damaged downtown's economic health, the downtown association's head called for a commission to help police better manage nightlife issues.
In the past six months, Rob Davis has lost support, becoming the most controversial San Jose police chief since the department became a modern urban force under Harvard-educated reformer Joseph McNamara three decades ago.
The affable chief is typically comfortable in the public eye, but these days, Davis is discovering that he cannot talk his way out of trouble. His critics include not only traditional police watchdogs like the ACLU, the NAACP and Latino community groups but also city officials, business owners and law enforcement leaders.
"He's adamantly in the hot seat right now," says SJPD Sgt. Bobby Lopez, president of the San Jose Police Officers Association, which represents San Jose's 1,400 sworn officers. "There seems to be a groundswell against him. Issues are cascading. And at the bottom of them is the signature 'Robert L. Davis.'"
On Feb. 11, police killed 28-year-old Richard Lua with a Taser device during a struggle outside his East Side home. He was the sixth person to die after being subdued by Taser gun since 2005. A month earlier, on Jan. 18, police tased a woman and shot her husband outside a nightclub on Second Street. According to witness reports, the altercation began when police threatened to arrest the man for public intoxication as he exited a nightclub after an argument with bouncers.
By this time, concerns over public intoxication and racial profiling had blown up. On Oct. 19, the Mercury News reported that San Jose Police were arresting more people for public intoxication than any other city in the state.
Responding to community concerns, the San Jose City Council held a public hearing on Nov. 18, where hundreds of angry residents packed City Council chambers.
Among those attending was Blanca Alvarado, the former councilwoman and county supervisor. She patiently waited her turn at the podium. Around 10pm, she took the mic. Tired after hours of testimony, Alvarado scolded the City Council for allowing this issue to escalate.
"It is sorrowful to be here once again to talk about community relations with the police department," Alvarado said. "We are very, very discontented by what we have read in the newspaper of the disproportionate number of arrests of Latinos in the downtown. These are not new issues for us, Mayor Reed. I can go back 30 years, and now today we are still having grave concerns about what we consider unfair treatment of the Police Department. There are times when we feel disregarded, disrespected, uncared for, unprotected, and in fact, violated."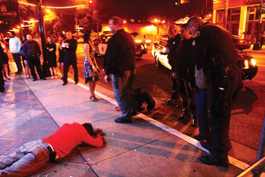 DOWNTOWN: Under Rob Davis, San Jose's entertainment district has become the focus of a contentious debate on police procedures.
Friends and Enemies
Alvarado's comments were a pivotal moment for Davis. Not long ago, the chief had a reputation for being a friend of Latinos and other ethnic communities. He would show up at Vietnamese businesses' ribbon-cuttings, undertake an empathy fast for Ramadan or drive to a Spanish-speaking neighborhood and hold a press conference in its native tongue. Davis could also be spotted at monthly La Raza Roundtable meetings, taking careful notes and sticking around to talk to attendees afterward.
Now, the same legion of Latinos who backed Davis during his ascendancy are speaking out against him.
Raul Colunga, founder of the civil rights organization La Raza Roundtable, says he likes the chief. He reports that there are some folks who still support Davis, but others question whether he is the right person to sort out this mess.
"He speaks Spanish—great. But that only gets you so far," Colunga says. "It's caused us to take a step backward and question—how effective is this guy?"
Rick Callender, a former NAACP president, says he has been watching the problems mount under Davis' leadership, particularly since the drunken-arrests issue surfaced.
"How do you talk your way out of this? You can't use fuzzy math to get out of this one. The numbers speak for themselves." Callender says. "I think he's in trouble."
Davis has also drawn sharp criticism from downtown entertainment establishment owners. "The chief is very articulate and very convincing, and he can make you feel warm and fuzzy," says John Conway, owner of Britannia Arms bar downtown. "But then nothing necessarily gets changed."
Scott Knies, director of the San Jose Downtown Association, says that with Chief Davis everything is "colored and spun." Knies concedes that the chief has led a professional department. That said, he believes Davis has created a culture where police spend too much time "sweating the small stuff, like jaywalking."
"It's unfair to say it is all Chief Davis," Knies says, "but certainly there has been more of this letter-of-the-law, not spirit-of-the-law enforcement."
One downtown property owner, who counts several high-ranking San Jose police officers as personal friends, says Davis, who came up through the administrative side of the department, has lost the respect of the street cops. This businessman, who asked that his name not be used, believes that under Davis, the SJPD has lost its way—and points to the huge number of public-intoxication arrests as evidence.
"They need to arrest real crooks," he says, "not a guy who's had a few beers at Mission Ale House and walks over to Toon's and is heading back to Mission."
Attorneys Ignascio Camarena and Jeff Kallis are representing two Watsonville men in a class-action lawsuit against Davis and the city. Kallis says the two men were getting nachos and nonalcoholic drinks at a convenience store in downtown San Jose when they were handcuffed and arrested for public intoxication.
They and other critics believe that under Davis, the SJPD has placed downtown San Jose under siege, and unfairly targets citizens for arrest.
"The chief of police and the mayor early on gave a statement that said, 'Our purpose is to make an arrest before a crime occurs,' Kallis says. "But that is not what you are allowed to do under the Constitution."
"Chief Davis started five years ago, and that's when all the problems started," Camarena says. "We don't say that the chief caused the change in the stats at this point but there is a trend that coincides with his tenure."
Indeed, citizen complaints against the department fell four straight years under Davis' predecessor, to a 10-year low of 329 in 2003, the year before Davis took over. Under Davis, complaints rose to 547 in 2007, and by midyear 2008 had increased another 10 percent over 2007, according to the Independent Police Auditor's office.
In the wake of all the negative press, Mayor Chuck Reed has rallied to the chief's defense, saying that Davis hasn't been afraid to scrutinize the department's policies and practices. While the mayor seems unwilling to openly confront the problem or to formulate a response to community concerns, members of the City Council, who have always deferred to the chief, are taking note of the community's demand for accountability and change in the Police Department.
On March 18, City Manager Debra Figone, along with Mayor Reed and Davis, announced a new consortium with some of the nation's top academics. The group will study and analyze San Jose arrest data to pinpoint any racial profiling or other problematic policing patterns that may have led to the high arrest rate among Latinos for public intoxication.
The study, which will be done next year, appears to take the place of a task force recently set up for the same purpose. Critics however, believe that it lacks independence because the consortium is channeled through the chief's office.
Other members of the City Council are starting to question the chief's leadership style, which Councilman Sam Liccardo called "inflexible."
Liccardo has been one of the chief's most outspoken critics. He's been pushing the council and the chief to revamp the downtown-policing model to scale back on the number of police officers, among other things.
He has questions about why an officer tased the woman outside the night club on Second Street. Liccardo says it's another one of those investigations that goes through SJPD's internal affairs unit and gets dropped into the "black box" at the Police Department.
"No elected official wants to take on the police department unless things get incredibly bad and that is defined as routine attacks on the front page about issues of policing," Liccardo says. "I think it's finally gotten to that point."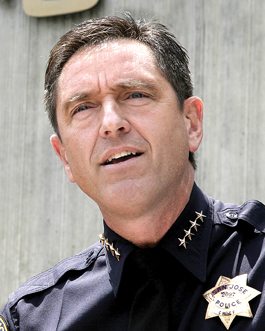 FACE TIME: From the moment he came into office, Rob Davis (pictured at beginning of his tenure) made an effort to reach out to minority communities. Now critics accuse some of his officers of ethnic profiling.
Policing by the Book
Davis, 51, was appointed chief in 2004, following in the footsteps of the popular William Lansdowne, now the chief of the San Diego Police Department. As one staffer puts it, "Lansdowne was the best thing since sliced bread." He was known as a hard-core workaholic, who had boundless energy and was an innately decisive leader.
Davis shares his predecessor's passion for police work, but he lacks Lansdowne's experience. Davis approaches police work more pedantically, some officers say. He likes numbers, relies on flow charts and PowerPoint. He works his easy-going charm to get people on his side.
Even Sgt. Lopez, who openly criticizes the chief, admits affection for him as a person. "I'm not a cheerleader for the man, but people are happy at the department, and the department is a reflection of Rob Davis," Lopez says.
But it's his cerebral, textbook approach to policing that rubs some members of his rank and file the wrong way. He's smart, they say, but he's not a "cop's cop."
"His claim to fame is that he's never had to pull out his night stick," one source close to the SJPD noted.
Inside the force, Davis is apparently liked, but his leadership style does not receive high marks. According to one longtime SJPD officer, Davis can be temperamental, secretive and given to micromanagement.
As a result, his command staff can have a hard time knowing where they stand. This is hard on veteran officers who were accustomed to Lansdowne's straight-talk style.
"With Lansdowne," a longtime police officer recalls, "you'd give him a report, and the chief might say, 'I'm not going to follow your recommendation on this,' for whatever reason, 'but you did a good job, thank you.'
"With Davis, you never know what's going on. You give him a report or a request, and he says, 'I'll get back to you,' and he never does. He's operating in a vacuum."
During a recent two-hour interview with Metro, Davis talked freely about how he stumbled into police work. He concedes that he's not cut from the same cloth as previous chiefs—in fact, he said that growing up he never really wanted to be a cop. "I was 22, and a friend of mine talked me into it," Davis recalled. "I thought it would look good on my résumé if I was heading off to law school."
Davis, an English major, never made it to law school. Instead he climbed the ranks, working some patrol and administrative positions, from bureau of field operations to the airport division. "I fell in love with the job," Davis says, adding that police work combines his two favorites things: people and problem solving.
He was good at it. His boss, Lansdowne, liked his style and began grooming him for senior management. Lansdowne put Davis on the night desk for six months, then moved him over to internal affairs—to give him experience in a variety of settings so he'd know the department well enough to assume a leadership position. He then recommended Davis for the top job, and the City Council gave him its blessing.
Lansdowne, now chief of the San Diego Police Department, had himself come up through the ranks, as had his predecessor, Lou Cobarrubias. Since McNamara, the city has developed leadership internally, which is good for organizational morale, since it provides opportunities for advancement, but can lead to an ingrown culture.
"We generally don't go out of our ranks," says veteran Capt. Gary Kirby. "It's not that our detectives are any better than the detectives in any other agency, but we have a connection to our community that allows us to solve cases.
"Otherwise, you could be greeted with nothing but closed doors and dead-end leads."
The Not-So-Independent Auditor
Immediately after he was appointed chief, Davis had to smooth over relations with members of the Vietnamese community, which had been traumatized by a high-profile shooting. An officer had killed a mentally troubled Vietnamese woman brandishing a vegetable peeler. Madison Nguyen, then a community activist, was banging the doors of City Hall to attract political attention. Davis interceded immediately and effectively, and pledged to nurture relations with all ethnic communities.
It was partly this shooting incident that inspired Davis' first major policy initiative: arming cops with Taser weapons. Designed to give officers a less-lethal way to protect themselves, these quickly caused a new set of problems. Citizens began filing complaints about unnecessary use of force—at the time, there were loose regulations about how many times an officer could tase a person. And then, tragically, a number of deaths occurred.
In 2006, Barbara Attard, the city's Independent Police Auditor, stepped in, asking the council for the authority to review Taser-related deaths. After conducting audits and compiling statistical reports for the council in her first two years as the IPA, Attard says, she saw "holes in the process."
Attard says that compared to other big cities, San Jose's police oversight is weak. More than half of the citizen complaints were not being investigated thoroughly, she says, which raised both legal issues and concerns from a community accountability standpoint.
Attard consistently pointed out that she had no power to audit shootings and other incidents unless a complaint was filed. In other cities, the independent police auditor was allowed to "actually audit" and even allowed to sit in on officer interviews, she says.
Attard, who had held similar positions in Berkeley and San Francisco, publicly took on the chief, pushing for more power and police oversight in her office.
"I tried to remedy the issues in my dealings with the police chief and internal affairs, but was met with a deaf ear," Attard says.
By October 2008, the City Council was flustered and worn down by the Attard-Davis relationship. In closed session, they voted to release Attard after her contract expired in December. According to Attard, the mayor told her he wasn't interested in spending the next four years debating her authority.
Attard says the council was unable to give her the power she needed to do her job effectively because they weren't willing to cross Davis.
"Councilmembers were clear that they wanted the IPA to get along with the police chief," she says. "Many of the councilmembers are adverse to controversy. The IPA is in the difficult position of being responsible for reporting issues to the council. Yet if the police chief doesn't agree, and chooses to have a negative relationship with the IPA, the IPA takes the heat."
With Attard out of the picture now, the council only has one person to watch—Davis.
Downtown Siege
In his office on a recent Friday afternoon, Davis sat upright in his office chair, dressed in a suit and a yellow and blue striped tie. He had just flown back from a chiefs association conference in New York, where he and other big-city law enforcement leaders had met with leading academics to discuss a recently announced study on San Jose racial profiling stats and trends.
Perhaps true to form, he refused to divulge much about this trip. But Davis was clearly excited about the experience. An avid reader who has set the educational bar high for San Jose cops, encouraging them to get postgraduate degrees, Davis is famously fond of big thinking. A graduate of San Jose State University, where he received his bachelor's degree in English, he later earned a master's in public administration from Golden Gate University.
As we talked about his background and schooling, Davis quickly veered off into a curious tangent—comparing police work to writing an English paper. "You read a novel, try to figure out the characters and what is motivating them and then you write about them," he said, adding that with a routine police call, "you go to the house, figure out the character and figure out what's motivating, then write about it."
Davis is also known for crunching numbers and charting trends. As we spoke, Davis used stats and numbers to reframe one of the more controversial topics on his desk: San Jose's drunk-in-public arrest rates.
Davis doesn't try to skirt the issue. He admits that San Jose police in recent years have hauled more people to jail for public intoxication than any other city in the state. He's already sat through meetings and public forums, taking "slings and arrows," as he puts it, about how cops are making bad busts, going as far as making so-called "attitude arrests"—handcuffing clubgoers because they mouthed off or refused to cooperate.
"I can't say I don't think an officer could have been engaged in an attitude arrest," Davis says bluntly. "I don't believe that was what was making up a majority of those arrests. But I can't prove that one way or another."
According to statistics, 57 percent arrested for public intoxication were Latino, in a city that's 32 percent Latino. "We're not happy with that," Davis says. "Nobody is happy with that."
On Oct. 30, a week after the story broke, Davis knew the community was upset. He picked up the phone and made a call to Victor Garza, president of the La Raza Roundtable.
Davis explains that he had formed a close bond with Garza over the years, as he tried to get to know the Latino community better. If anyone had a pulse on how the community was feeling, Davis knew it was Garza.
After talking it over with Garza, the chief, with Mayor Chuck Reed at his side, held a press conference with the La Raza Roundtable and other community leaders.
The chief defended the arrests while assuring the community that he would make sure police were not targeting Hispanics.
One of the first things they said was 'Chief, why don't you do something?" Davis recalls.
After that meeting, the pressure was on. Davis armed officers with breathalyzers. Although the device's results are not permissible in court, they would make a case for arresting someone for being drunk in public, Davis says.
Since then, those arrest rates have dropped dramatically—by as much as 50 percent. Davis says he can't explain the recent decline but that he's somewhat relieved.
The decline, however, has only sharpened suspicion among the community.
Skyler Porras, director of the ACLU in Northern California, says the change is evidence that police were in fact making unwarranted arrests.
"The drop-off rate says to us there was a huge number of bad busts that were happening, and now that they have been caught, they have all of a sudden stopped," says Porras.
A few weeks after that meeting, the council held a public hearing and created the Public Intoxication Task Force, with the chief, the city manager and members of the community. The task force is supposed to come up with alternatives to arresting people who might be drunk in public.
The task force pushed the chief to release all 4,000-plus drunken arrest reports. Davis opposed the release, with the support of the city manager. At first, he cited privacy issues. Later, he said redacting names and private information would be too burdensome on department resources.
On Feb. 25, more than a month after the group started meeting, frustrated task force members fired off a letter to the city manager explaining that the group was "stuck." Community members on the task force weren't willing to move forward without getting access to all the drunk-in-public arrest reports.
Those records would help paint a clearer picture of patterns and underlying problems that have possibly led to the high rate of arrests, Porras says.
The chief later agreed to release a sample of 200 redacted arrest reports. Some members of the task force grew suspicious after the city announced its plan to create a "consortium" to analyze the arrest records. The task force felt as though it was nothing more than a PR tool to placate the community, Porras says. The group still cannot understand why the city will not release those records to them.
"This is not about going after rank-and-file officers," Porras says. "This isn't some sort of witch-hunt. The city is in the middle of a $20 million lawsuit with three plaintiffs that are alleging bad busts and racial profiling in these drunken arrests. So you would think the last thing the city would want to do is stonewall."
The Tide Turns
On Feb. 24, Chief Davis showed up at the afternoon City Council meeting, dressed in uniform. He took a seat in the front of the chambers.
A few rows behind the chief sat Bobby Lopez of the police officers association. And on the other side of the chambers were a handful of lobbyists and downtown club owners.
The council raced through a few items on its agenda before Mayor Reed called for the presentation on downtown policing. Before Davis got to his presentation, Councilman Sam Liccardo made a motion for the council to approve his own memo on that very topic.
It was well known that the chief and the councilman have different views about how to police downtown. Liccardo gambled that he had the council votes on his side.
At this point, nightclub owners in the council chambers fired off text messages to each other, declaring victory.
Unfazed, the chief spoke confidently as he flipped through slides describing some of the crimes police have to tackle downtown. He talked about public urination and carjackings. Club owners rolled their eyes.
True to form, Davis delivered an organized, clean PowerPoint presentation to make his argument.
Downtown club and bar owners have been pushing for years to get the City Council to change the way San Jose police operate downtown. They've complained that on weekends downtown feels like something akin to a police state, with nightly 1:30am strikes. That's when the "police surge" begins.
David Powell, president of the San Jose Restaurant and Entertainment Association, says he feels as though Davis has been digging his heels in.
"Everyone knows that what we have now doesn't work," Powell says. "People are afraid to come downtown because of the police presence, whether the police like to hear that or not."
Liccardo's plan asked for a friendlier police model for downtown's nightlife. Essentially, Liccardo said he wanted to scale back the number of police officers late at night, when sometimes there are as many as 60 officers spanning the area from San Pedro Square to the SoFA district.
Moreover, under Liccardo's plan, the downtown clubs and bars would have to start paying for police presence. Right now, the city spends at least $800,000 every year on police overtime in downtown. It was suggested that the chief remove the ban on secondary employment to allow bars and clubs to employ off-duty cops in front of their venues.
Despite Davis' opposition, Liccardo's plan sailed through the council 11-0. "What we are hearing from the chief is, 'I'm very open to hearing all of your suggestions, but that [suggestion] won't work,'" Liccardo said after the meeting. "After a while, when you hear that over and over, again you start to question the premise."
Davis shrugs off the 11-0 vote. In fact, many saw it coming. The chief says much of what the council is now requesting, like fewer officers, has already been implemented. He points out that in March 2006 he scaled back the number of cops in downtown after people complained that there were too many. He also eliminated the unpopular checkpoints on Santa Clara Street, which made downtown San Jose look more like the West Bank than a place to enjoy free time.
"I don't think you need to shoo people away, and that's why we have gotten away from doing that," Davis says. He also now says he's agreeable to the idea of having downtown officers get specific training to cater to nightlife issues.
Meanwhile, the number of people hitting clubs and bars in downtown has declined. So then, why have police resources not dwindled, Liccardo asks?
Even some members of his own organization conclude that downtown desperately needs a new police philosophy.
"I think Rob still has his mission, but the problem is it's not what everyone else wants," Lopez says. "And that's when a plan becomes outdated. He is perfectly content with holding a lid on what is going on downtown, and it's not working."
As if to prove Lopez's point, Davis responds by insisting that there are huge venues downtown that cater to large drinking crowds, where many problems occur. Yet he is correct.
On Feb. 20, two people were stabbed inside the nightclub Wet, one of the newer and larger venues downtown. Recalling the incident, sitting behind his desk, Davis explains that there are still serious crimes happening downtown. He says he would like to see the City Council emphasize smaller clubs downtown.
"It's not that the police department has problems with nightlife," Davis says. "It's getting framed that way for political reasons."
After a 2005 shooting near the Ambassadors nightclub, Davis went to the City Council to get more authority. With the help of then-Councilwoman Cindy Chavez, Davis was able to get a so-called "urgency ordinance" passed that gave him the power to shut down any bar or club that was deemed a public safety threat.
"We had gangs running gun battles and shooting as they were driving by and cops were present. It was horrible," Davis recalls. "There was a huge concern about retaliation, so if we had that ordinance, we would shut that club down the next day."
However, Davis has yet to exercise the powers granted to him in this ordinance. Many downtown club owners say that if Davis sees perpetual problems with a few, larger clubs, he ought to use the urgency law to deal with them, instead of destroying the business climate for the entire downtown.
The ongoing friction between downtown clubs and the Police Department has put Liccardo in a tough spot. He's trying to balance public safety with the growing demand for a more vibrant, friendly entertainment district—and the city's need for tax dollars to fund city services. Liccardo hasn't been shy about taking on the chief on this issue.
"I think traditionally there has been an enormous amount of deference toward the chief," Liccardo says. "But more and more, because of the problems that have arisen, particularly with the Latino community, I think there is a growing realization that it's important for us to assert control over how we are policing."
The End, or a New Beginning?
The morning after the Feb. 24 council hearing, where the council decided to explore new policing models for downtown, City Manager Figone and the chief met in her office.
According to City Hall staffers, the city manager was incensed about the chief's presentation to the council the night before. Some believe the Davis-Figone relationship has become strained in recent months.
"Not so," says Figone. "The chief is no different than any other department head. My expectation of all department heads is that they bring their best professional perspective to discussions and that we speak candidly in reaching decisions."
Davis, who reports to the city manager not the City Council, was clearly annoyed when asked about the meeting during a recent interview. He says that he regularly meets with Figone, and just because he's asked to her office doesn't mean she is calling him on the carpet.
Asked about the meeting, Davis says, "I won't go into detail, but the purpose of the meeting had nothing to do with what transpired at the council meeting. In fact, we had a very pleasant meeting. There was absolutely nothing, absolutely zero."
Staffers at City Hall say, however, that the city manager is losing patience with the chief, and she has the power to replace him. One City Hall staffer who works closely with the city manager's office says Figone often gets frustrated with the chief's apparent stubbornness, particularly as it relates to solving the downtown policing issue.
"There is tension, but not huge blowups," the staffer says. "I think they both have the same goals and visions. But I think they may have some different ways of getting there."
This staffer, who asked to remain anonymous, says the chief seems to be more agreeable these days. "Maybe he is starting to see the writing on the wall," the staffer says.
Figone won't discuss the chief's performance. However, in an email, she points out that "the Chief has already made a number of changes in response to community and downtown concerns.
"I have recently hired a national expert on Entertainment Zone policing to evaluate the current practices and make independent recommendations," she wrote. "And as a result of conversations I have had with the Chief, he will be reviewing other relevant department policies, as well."
When pressed about whether the chief's job is secure, Figone didn't say no. She didn't say yes either.  
Send a letter to the editor about this story.