04.08.09
home | metro silicon valley index | features | silicon valley | sports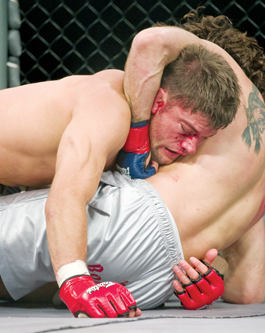 Photograph by Felipe Buitrago
HEADLOCK: Josh 'The Punk' Thomson (on top) has come a long way since he lost to Clay Guida at the first Strikeforce bout in San Jose.
The Waiting Game
By Felipe Buitrago
REMEMBER that boxing arcade game Punch Out? The first opponent's name was Glass Joe—and rightfully so. Anyone from your 5-year-old niece to your 65-year-old nana could beat him. Well at least Glass Joe could make it to the ring, but for some odd reason Josh "The Punk" Thomson can't. He broke his leg above the ankle in a training fight and has been forced to withdraw from his rematch with Gilbert Melendez at the Strikeforce event on April 11 at HP Pavilion—it's the second time in the recent past Thomson has had to cancel a ring appearance.The upcoming Strikeforce event will be headlined by the return of Frank Shamrock against Nick Diaz in an epic showdown, but fans will have to wait for that Thomson vs. Melendez battle. Things were looking up when Thomson took the Lightweight Martial Arts title from Melendez back in June 2008. His win over Ashe Bowman at the Playboy Mansion in September 2008 proved that he was a worthy titleholder. But things started to go south, when Yves Edwards, who had previously beaten Thomson, challenged him in November 2008 on the Strikeforce Destruction card and for the lightweight title. Thomson suffered a broken toe and had to give up his spot to Duane Ludwig. Thomson holds a record that's nothing to sneeze at. He is 16-2, with half of his victories by submission. Let's hope that the third time is the charm, and we can actually see Thomson in the ring before he limps away into retirement.
STRIKEFORCE happens Saturday, April 11, 7pm (6pm prelims), at HP Pavilion, 525 W. Santa Clara St., San Jose. Tickets are $30–$350; 408.998.8832 or www.ticketmaster.com. More info at www.strikeforce.com.
Send a letter to the editor about this story.