04.09.08
home | metro silicon valley index | sports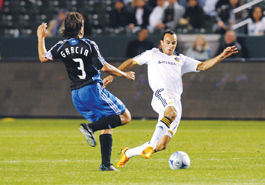 Chis Williams/Icon SMI
GALAXY WARS: Ex-Quake Landon Donovan (right) moves past Garcia (left) as the San Jose Earthquakes fell to eternal rivals the L.A. Galaxy 2-0 on Friday.
Growing Pains
By Felipe Buitrago
THE NEW version of the San Jose Earthquakes entered their 2008 expansion season last week with a dud, losing 2-0 to their despised rivals, the Los Angeles Galaxy. Despite a lackluster performance, it was not a total failure, however. A foundation is obviously there on which to build. It won't be easy, though, especially this weekend, as their first "home" game of the season pits them against a red-hot Chicago Fire who opened their season with a 4-0 slaughtering of 2005 Cup finalists New England. Chicago also features the legendary Mexican conquistador Cuauhtémoc Blanco, who has singlehandedly turned that team around and injected a new passion. Mexican fans from all over the Bay Area will show up for this match, as it's the only time Blanco will play here all season. As of last November, the Quakes are once again coached by Vancouver-Ipswich Town hybrid Frank Yallop, who came here the first time from Tampa Bay and Washington, D.C., only to defy all expectations and win two championships for San Jose. Despite the embarrassing start last week, it could happen again.
SAN JOSE EARTHQUAKES VS. CHICAGO FIRE, Saturday, April 12, 1:30pm, at McAfee Coliseum, Oakland. Tickets $20–$70; www.tickets.com, 1-877-QUAKE-01.
Send a letter to the editor about this story.