April 11-17, 2007
home | metro silicon valley index | features | silicon valley | sports news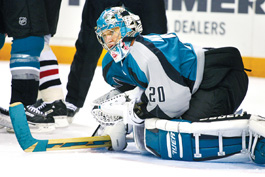 Photograph by Felipe Buitrago
Goal tending: Sharks goalie Evgeni Nabakov had plenty to handle last Saturday against the Vancouver Canucks.
Sharks Stalk Playoffs
By Felipe Buitrago
THE SHARKS went hunting Canucks last Saturday at the Tank, but instead got themselves shot down from Pacific Division Title contention 34 seconds into overtime. The last game of the season got off to a rough start, as Vancouver was up by 2 points five minutes into play. After 15 minutes of Canucks taking potshots at Joe Thornton, the rest of the team decided enough was enough. Fists flew, and it wasn't until Sharks defenseman Craig Rivet clocked Vancouver's defenseman Rory Fitzpatrick that the referees broke up the fight. A persistent Thornton didn't let up, and after five seconds into the second period his pass to Milan Michalek made the score 2-1. The Sharks stayed in the hunt and made their way back to tie up the game at 2. Things were looking good until the third period, when Kevin Bieksa found a hole in the teal defense and the score was again in Vancouver's favor. However, with 33 seconds left in the third, Jonathan Cheechoo scored off an amazing pass from Thornton, sending the game into overtime. Sure, the Sharks came up empty, thanks to Mattias Ohlund putting a blistering shot past Nabakov in less than a minute of overtime play. But now they're going after the most dangerous game of all—the Stanley Cup. The team will be traveling to Nashville, Tenn. to open up the playoffs against the Predators on April 11 and 13, but they will return to local waters at the Arena on April 16 and 18. For more information on the Sharks' playoff schedule, visit www.sjsharks.com.
Send a letter to the editor about this story.