April 12-18, 2006
home | metro silicon valley index | news | silicon valley | news article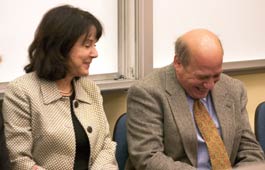 Photograph by Felipe Buitrago
Happy Together: Chief Assistant District Attorney Karyn Sinunu and Mercury News reporter Frederic Tulsky at a Santa Clara University presentation in March, after the publication of Tulsky's exposé on the district attorney's office.
D.A. Confidential
What the Merc's much-heralded 'Tainted Trials, Stolen Justice' series didn't say about the District Attorney's office
By Vrinda Normand
CHIEF Assistant District Attorney Karyn Sinunu and Mercury News reporter Frederic Tulsky sat cozily next to each other at a Santa Clara University presentation in March. They chuckled together. She teased him by saying she didn't like "everything" about his ballyhooed series on the local criminal justice system. He flashed a mischievous grin.
Their interaction was surprisingly amiable considering Tulsky had just authored a hard-hitting investigative series of "unprecedented scope" on problems in the Santa Clara County district attorney's office.
"Nobody's done anything like it before," he told the audience of young law students.
Sinunu and Tulsky agreed the series has prompted a lot of "healthy discussion," and this afternoon's joint-appearance certainly qualified as a comfortable, easy-to-swallow dose.
But there are some who say the pills prescribed by this tag-team are too sugarcoated. Tulsky met with Sinunu nearly every week for three years as his research dragged on. Some wonder why other serious questions about the office weren't addressed, and if his journalistic role as a government watchdog gradually slipped into that of a political lapdog. The Merc series launched in the heat of election season as District Attorney George Kennedy announced his retirement from Santa Clara County's highest law enforcement position after 16 years. Sinunu is vying for his job along with Superior Court Judge Dolores Carr, Assistant District Attorney Marc Buller and Deputy District Attorney Jim Shore.
It's no wonder that scrutiny of Kennedy's office has shaped the race to replace him. But it's interesting to see how Sinunu has deflected the glare of that criticism away from herself—even though she's worked as a prosecutor for 20 years, 14 of them spent in managerial positions. For the past 10 years, Sinunu has also held the responsibility of fielding press calls as the media coordinator.
Her key role in assisting Tulsky's research has been a source of concern among critics within the legal community, including those close to high levels in the district attorney's office. Many of them spoke with Metro under conditions of anonymity for fear of retribution.
They point out a disturbing pattern, which suggests the Merc articles may, variously, have included or excluded information to Sinunu's political advantage.
Allegations of Bias
Consider the story the Merc has told so far: a "win-at-all-costs" culture festering in the district attorney's office has caused some prosecutors to lose sight of justice and pursue wrongful convictions of innocent people. Sinunu claims she has long been aware of certain problematic prosecutors and has positioned herself as the office's savior.
For example, the Merc series highlighted a 1990 case that Judge Carr, one of Sinunu's most formidable opponents in the DA race, prosecuted as a former deputy district attorney. Carr, the story goes, had charged a young man with rape even while evidence arose that suggested his innocence.
Then Sinunu came along, a newly appointed supervisor of the sexual assault unit, and concluded the rape case was "misguided." The charges were dropped, but the memory of the case wasn't. The Merc has revived it 16 years later as the election nears. Sinunu even posted a link to the article on her campaign website.
Likewise, some raised an eyebrow when a photo of Deputy District Attorney Benjamin Field appeared on the Merc's front page in January, featured in the primary expose about prosecutors misbehaving. The ambitious Field had previously expressed intentions to succeed Kennedy.
In the article, Tulsky quoted Sinunu saying she was "troubled by some of the conduct."
But the Merc didn't put any of her conduct under the microscope, even though many sources told us that Tulsky received the same documents and information about Sinunu's own "troubling" history.
Here's the story the Merc didn't tell you.
'Karyn Fixes Problems'
The 2004 water polo season at Saratoga High School took a dramatic turn when Gabe (not his real name) elbowed Mike (not his real name) in the face during practice one afternoon. It happened in the pool, amid the splashes of a fairly aggressive sport, so onlookers believed it could have been an accident.
Mike, unfortunately, walked away with a broken nose. Several weeks later, after he had the fractured bones painfully re-aligned, he returned to practice only to discover that the conflict hadn't cooled. Gabe rammed his fist into Mike's nose, this time in plain view of the coach. Mike's gory injuries required surgery, and his family racked up medical bills worth $27,000. He continued to have breathing problems and suffered emotional trauma while his damaged face was healing.
When the juvenile division of the district attorney's office took on the case, Gabe admitted his guilt. Resolution became a matter of determining the victim's monetary compensation, otherwise known as restitution. The boys' fathers, both medical doctors, disagreed about the settlement. But it was ultimately Gabe's dad, Bruce Lerman, who garnered the right connections.
Juvenile records are generally not available to the public, but multiple sources, including Sinunu herself, confirm the following account.
Sinunu says Lerman called her as the settlement proceedings were reaching a close (around mid-2005). He had been advised by Janet Gray Hayes, former San Jose mayor and Sinunu campaign endorser, who told him, "Karyn fixes problems."
The problem Lerman complained about was the high restitution he was facing for his son's crime. Sinunu says she could not remember the amount specifically, but sources confirm it was close to the cost of the victim's medical bills. Deborah Medved, who declined to comment for this article, was the restitution expert in the DA's office who had determined the compensation amount.
Around the same time, Lerman hired additional counsel, a very unusual move, sources say, at this late stage in the legal process. He brought on board Michael Armstrong, from the same heavyweight firm (Nolan, Armstrong & Barton) that the county hired to clean up the Measure C mess. Armstrong, Thomas Nolan and his wife, Susan, and Daniel Barton contributed to Sinunu's campaign. Lerman's first attorney, Eric Geffon, gave $500 to the DA candidate, and his employee, Nicole Bassett, gave $100.
Sinunu says she started "to look into it."
"A lot of my day as chief assistant is spent answering the phone and solving problems," she says.
Bypassing Kurt Kumli, head of the juvenile division at the time, Sinunu intervened in the juvenile case, which she had no direct jurisdiction over. In another unusual move, she organized a meeting with defense counsel only: Geffon, Armstrong, Medved and her. Sources say Sinunu corrected Medved in front of the defense attorneys, telling her restitution had been set too high.
The "right thing to do," according to the chief assistant, was to reimburse the victim's family only for their out-of-pocket expenses ($5,000) because the insurance company had covered the rest.
"The victim was made whole," Sinunu says, "and no one made a profit out of this misdeed. It was fair."
But was it? When Metro contacted the victim's father, he expressed disappointment with the outcome of the case, but would not comment further for fear of retaliation. "I have nothing to gain and more to lose," he said.
Kumli, now a Superior Court judge, says he only became involved after the restitution was lowered in the out-of-court agreement, and the case was dismissed. His main concern was that the victim did not have an official restitution hearing in which a judge could have awarded a higher amount, because state law allows for more.
Here's what California law says:
"A victim's insurance should play no part in calculating the amount of restitution owed by a defendant," writes Robert Nichols in a prosecutor's guide to restitution, backed by the California District Attorneys Association. "A restitution order covering only a victim's deductible or out-of-pocket expense is improper."
Judgments in People v. Birkett (1999) and People v. Hove (1999) came to the same conclusion, reasoning that defendants should not be rewarded simply because they happen to harm someone who has the foresight to carry insurance.
Kumli says the $5,000 restitution set by Sinunu "was certainly within the realm of a reasonable sum that could have been imposed by a judge had a formal hearing taken place." But he adds, "We don't know if it's what would have been awarded because such hearing never took place."
Sources close to the DA's office allege that Sinunu's politically motivated intervention cheated the victim out of proper restitution, in contradiction to her claim of championing victims' rights.
"We go to court everyday to fight for victims, to prosecute injustice in the community. But when something like this happens, people get scared, afraid for their jobs, afraid because they see how she can be," one attorney says. "It's a really bad culture."
Early Controversy
The 58-year-old Sinunu joined the district attorney's office in 1986 as a prosecutor fresh out of law school. By 1991, she had reached managerial ranks as the leader of the sexual assault team. The next year she gained a promotion as supervising deputy district attorney, and in 1994, Kennedy made her an assistant district attorney, the third highest level in the office. At that time, Sinunu took charge of media relations and has continued ever since, even when she became chief assistant in May of last year.
In her campaign for the elected DA position, she has promoted the successes of her career. But there are also contentious events that the Merc, for whatever reason, didn't dig up as they did with Judge Carr.
In 1990, Sinunu prosecuted a former Palo Alto police office, Robert Montez, for allegedly molesting his 6-year-old granddaughter. She won her case and had the man sentenced to 10 years in prison.
The story didn't end there, though. A year and half later, the 6th District Court of Appeals overturned Montez's conviction and released him from state prison. Tulsky pointed out the rarity of full reversals in his series, yet he wrote nothing about this case.
The appellate court pointed out several errors in the trial that convicted Montez: for one, the prosecution did not provide sufficient reasoning to excuse the plaintiff from testifying in court. Because the young girl expressed anxiety at being questioned by the defense counsel, the jury only heard a transcript of her closed preliminary hearing. Sinunu says the girl was very fragile and unfit to testify.
In addition, the appellate court criticized Sinunu for including hearsay testimony and providing the jury with subjective information that might have predisposed them to believing Montez was guilty.
Sinunu now calls the ruling "very technical," and says if she had a chance to retry the case, she would have "laid a better foundation."
The Supremacist Incident
The next incident happened about 15 years ago, but it remains disturbing in the minds of retired public defender Aram James and retired Assistant District Attorney Al Weger.
James was representing a young man who displayed obvious signs of being a white supremacist. He had a shaved head and a large white pride tattoo on the back of his neck. He had been charged with assault with a deadly weapon during a bar fight.
Jeff Randall, a young prosecutor at the time, was demanding the maximum sentence of 19 years. His supervisors, Sinunu and Weger, got involved when Weger suggested Randall offer a plea bargain. Weger says he didn't believe the facts of the case were strong enough to ask for a maximum sentence. Sinunu objected, Weger says, because she wanted to let Randall have the experience of going to trial.
Weger, who was above Sinunu in the chain of command, offered the bargain anyway, and the defendant accepted. But Weger wasn't able to attend the final hearing, so Sinunu appeared in his place.
During a break in this proceeding, when James had left the courtroom momentarily, Sinunu made a comment that her critics still point to as outrageous and manipulative. In light of the approaching birthday of Martin Luther King Jr., she mentioned that James (the Caucasian defense attorney) was married to a black woman and had mixed race children. Sinunu says she told this to another person in the room and didn't intend for the white supremacist defendant to hear it.
James, on the other hand, found out about her comment from his client when they were in a holding cell together the following Monday. "That was pretty shitty what she tried to do to you," James recalls his client saying.
James says he was furious about Sinunu's comment. He called Weger, who says he called Sinunu to confront her about it. "There was a long, pregnant pause on the other end of the line," the former assistant DA recalls. "I'll never forget it to this day. She never denied it or tried to explain it away."
"It could easily have been construed as an intentional interference with the attorney-client relationship," Weger says, suggesting Sinunu was trying to incite the defendant to reject the plea bargain.
Weger suggested that Sinunu apologize to James, and she did.
"I said I am deeply sorry because I don't want to interfere with attorney-client relationship," Sinunu recalls.
The Kan and Lee Case
You may remember the high-profile case of Palo Alto police officers Michael Kan and Craig Lee, who were accused in 2003 of using excessive force against an African American man named Albert Hopkins. Local media tracked nearly every step of the story as the officers went to trial for assault and battery charges. Community groups called it an example of racial bias in law enforcement.
The details of this incident vary depending on whom you ask, but here's the general idea: Hopkins was sitting in a parked car on a dark Palo Alto street one night in July 2003. Lee became suspicious of Hopkins and called for backup. Kan arrived. When the officers approached the car, Hopkins angrily accused them of racial profiling.
The two officers, both of Asian descent, tried to pull Hopkins out of the car by pepper-spraying him and beating him with their batons. The case sparked a public outcry.
But a lesser-known piece of the story came to light in early 2005 during the officers' trial.
Peter Waite, the deputy district attorney prosecuting this case, sought the expertise of San Jose police Sgt. Jeff Martin, an expert on use of force. In a letter dated Jan. 26, 2005, Waite asked Martin to study the incident and testify as the prosecution's witness.
The report that Martin wrote didn't support Waite's case against the Palo Alto officers. Martin identified eight factors that would have given the officers enough reason to be suspicious, including a sharp rise in burglaries in the immediate area.
"I would have been compelled to make the detention myself," Martin wrote. Furthermore, Hopkins reacted to questioning with a hostile demeanor, and his continued resistance during the arrest, Martin concluded, justified the use of pepper spray and batons.
"I would have taken the same action," he wrote.
The sequence of events that followed is laid out in court transcripts obtained by Metro, in which Martin testifies under oath.
Martin had brought his finished report in an envelope to the February meeting with Waite. He handed it to the prosecutor and then gave a summary of his findings. Waite sat on the report and withheld evidence from the other side. Only after Martin had his supervisors contact the DA's office did Waite reveal the report.
Judge Andrea Bryan expressed disapproval with Waite's actions, but did not discipline him. Kan and Lee pled guilty to lesser charges that resulted in a small fine.
Waite's misstep, however, did not go unnoticed by management in the DA's office. Bill Larsen, former director of the government integrity unit, sent a 28-page memo to Kennedy pointing out that Waite—and his immediate supervisor Sinunu—might have violated legal ethics and several penal codes by withholding Martin's report.
"I wrote the memo because the offense hadn't been addressed," says Larsen, who retired in December and now works for the campaign of Sinunu's opponent Dolores Carr. "For me to leave silently, I would become part of this situation."
An organizational chart from January of 2005 shows that Sinunu was Waite's direct supervising assistant DA at the time of the trial. But Sinunu says that after she assigned the Kan and Lee case to Waite, she arranged for him to report to then-chief assistant Paula Kuty. This was to avoid any appearance of impropriety, Sinunu says.
Sinunu dated Waite as recently as 2000, Sinunu says, and they remain close friends. The two had vacationed in Argentina while the Palo Alto case was going on.
Kennedy told Metro he couldn't remember much about Larsen's memo, which was sent to him three months ago. But he did recall one inaccuracy: Waite was reporting to Kuty, he says, not Sinunu.
Contributions and Promotions
When the Kan and Lee trial came a close in the summer of 2005, Sinunu replaced Kuty as Kennedy's chief assistant. As second in command, her influence over the office grew. And critics say they saw an unsettling pattern unfold, one that suggests Sinunu may be using her authority to benefit her political campaign.
Since 1994, Sinunu has been Kennedy's hiring coordinator, the person who pulls together diverse groups of attorneys to interview job candidates. When she became chief assistant, she adopted a higher role in this process: she conducted second interviews as candidates made it through the first panel, and then ranked them for Kennedy to consider.
In January, the DA's office started hiring again for the first time since 2002. So far they've brought on board 11 new attorneys. One of them, Andrew Vu, is a board member for the Asian Pacific American Democratic Club, which endorsed Sinunu in March.
Another new hire, Monique Nguyen-Camperi, is the daughter of DA investigator and Sinunu supporter John Nguyen. He, Monique and her husband, Mark Camperi, each contributed the maximum $500 to Sinunu's campaign.
Half of the promotions made in the past year also went to Sinunu contributors. JoAnne McCracken was made chief trial deputy; Dan Nishigaya (one of her campaign treasurers) became supervising deputy district attorney; Rolanda Pierre-Dixon was appointed assistant district attorney.
Sinunu refutes allegations that any of these changes were politically motivated.
"There are people who contributed to my campaign who have not been hired," she says.
"And the people who were hired are here on the merits of what they've done. It's actually an insult to them to say anything else."
Sinunu says Kennedy makes all of the promotions. "He has the final say. It's his office," she adds. As the chief assistant, Sinunu can move people around laterally and appoint team leaders. Higher supervisors, she explains, are chosen based on their level of experience.
"I'm not the all-powerful wizard over here," she counters. "If anyone thinks that for $500 I'll change the way I've done things for 20 years, I just won't."
Sinunu knows she has critics, and that they have ridiculed the Merc series as a whitewash, but she stands defiant.
"I've made many decisions that weren't popular, but I did the right thing," she says. "That's all I have to say. I've led an honorable life."
---
Correction
This April 12, 2006 article incorrectly reported facts about a juvenile proceeding involving a high school water polo player who allegedly injured a teammate during practice.ÝThe juvenile proceeding was dismissed without either an admission of guilt by the minor or any determination on the merits of the petition.ÝThe resolution involved payment on behalf of the minor to compensate the injured minor's family for out-of-pocket medical expenses and, separately, to the family's insurance company, in a total amount substantially less than that sought while the petition was pending. Metro regrets the errors.
Send a letter to the editor about this story.