04.15.09
home | metro silicon valley index | features | silicon valley | feature story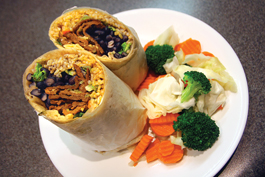 Photograph by Felipe Buitrago
IT'S A WRAP: Vegan burrito at Good Karma
Bite Size
Stett's Top 20 Downright Cheapest Ways to Fill Up on Good Food in Silicon Valley
By Stett Holbrook
TOUGH TIMES mean canceling the cable TV, putting off that trip to Hawaii and foregoing a new car, but belt-tightening doesn't have to mean giving up on good food. Multicourse benders at the French Laundry may have to wait until the black clouds lift, but living lean shouldn't force anyone to huddle over a hot plate warming up a can of beans. Eating well on the cheap is all about value—paying less for more. Here then are 20 picks for food that should cost more but don't, in order to help get us all through the doom and gloom.
For the budget conscious, sushi is probably one of the first dining choices to go, but you don't have to give up on your spider rolls and unagi. San Jose's Sushi Boat saves the day with half-price sushi on Mondays. Various locations, including 925 Blossom Hill Road, San Jose; 408.229.0777.
Indian lunch buffets abound in Silicon Valley, but at $9.50 Kabab and Curry's is a standout. For North Indian and Pakistani food, this is a real deal. At lunch, the restaurant reflects the diversity of Silicon Valley. Muslims and South Asians sit side by side with Dockers-wearing office workers of diverse nationalities united in their affection for good food. 1498 Isabella St., Santa Clara; 408.247.0745.
La Casita Chilanga is Silicon Valley's premier torteria. There are four locations in the Bay Area (including one torta truck), but my favorite is the original and smaller one on Middlefield Road in Redwood City, which in itself should be a destination for all Mexican food lovers. Tortas are all they make here, so right away you know you're in the hands of a specialist. While not expensive, tortas here go for more than the average super burrito. The Cubana, for example, costs $8.95, but it is worth every penny. 2928 Middlefield Road, Redwood City; 650.568.0351.
Pizza is a staple for lean times, but not all pizza is created equal. I say La Pizzeria makes the best thin-crust, Neopolitan pizza in Silicon Valley. The pizzas ($11–$14) arrive beautifully blistered on the edges and just thick enough to support the toppings. The crust is springy and light, but at times crisper than I like. Unlike the often leaden, cheese- and topping-heavy American pizza, these pies are quite light. 373 E. Campbell Ave., Campbell; 408.370.0826.
Got a buck? You're in luck. A good taco is Mexican food stripped down to its essentials: a tortilla topped with some delicious bits of meat, salsa and a bit of chopped onion and cilantro. That's it. Tacos Eva, a beautifully painted taco truck, sells the definitive taco for the low, low price of just $1 apiece. The al pastor taco is particularly delicious, with dry spice hints of cinnamon or clove. At that price, who can eat just one? 1565 Mabury Road, San Jose (across from flea-market parking lot).
Twist Cafe is an exemplar of value. The menu is satisfying and familiar but exudes a refinement seldom found at lunch shops, especially at these great prices. Walk up and place your order at the counter and choose from winners like the rock-shrimp cilantro wrap, fat and juicy shrimp with avocado, mixed greens, harissa (a North African chile paste) mayo and tangy salsa in a tomato-flavored flour tortilla. The roasted-chicken ravioli, rotisserie chicken and entree salads are also winners that go for less than $10. 247 E. Campbell Ave., Campbell. 408.374.8982.
Udupi Palace is the place for dosas and uthappams. Dosas are long, thin crepes made with rice flour. Uthappams are pancakes made with rice and lentil flour griddled up with various vegetables mixed into the batter or served on top like a pizza. Both are classic South Indian dishes served with South Indian standards coconut chutney and sambar, a moderately spicy sour soup made with tamarind broth, lentils and various spices. For a cheap, vegetarian treat, it would be hard to do better. 976 E. El Camino Real, Sunnyvale; 408.830.9600.
The weather is warming, and tomato season will soon be upon us. But good, heirloom tomatoes don't come cheap. Unless, that is, you grow your own. Bountiful Garden, a local nonprofit that sells tomatoes to help raise funds for disaster relief, is having one of its annual tomato sales April 19 at Memorial Park in Cupertino at the Earth Day Festival from 10am to 2pm. There will be as many as 150 varieties for sale (4-inch pots for $5 and 1-gallon pots for $10) and ready for planting in your yard. For more information go to bountiful-garden.org.
After the tomatoes go in, why not grow a whole variety of fruit and vegetables? Growing your own food is not only cheaper, but the fruits of your labors taste even better. Most Silicon Valley cities have community gardens for those who don't have space of their own. San Jose, for example, has 18 community gardens. Contact them at 408.793.4165.
Ethiopian food is always a bargain. But Selam restaurant is not only cheap, it's uncommonly delicious. The vegetarian options are particularly good. Timtmo is a fantastic red lentil dish. The pale red legumes don't look like much, but the mushy mound is enough to make a vegetarian of anyone, at least for one meal. It helps that, as with many Ethiopian dishes, the lentils are cooked with niter kibbeh, clarified butter that has been steeped with spices like cumin, coriander, turmeric and cardamom. The ingredient adds a complex, spicy richness to the lentils that transforms them into something other than a plate of mashed legumes. 3120 Williams St., San Jose; 408.984.9600.
Cin-Cin is one of Los Gatos' best new restaurants, but even though the place specializes in small plates, it's easy to rack up a not so small bill because the food is so good. That's why the restaurant's Sunday-night deals are such a bargain. Cin-Cin offers half-price on select wines and a three-course, prix fixe meal for $30 that includes recession-busting dishes such as peppercorn-seared ahi crudo and herb-marinated lamb chops. The restaurant also provides a great happy hour Tuesday–Friday, 3:30–6:30pm, where tapas and select cocktails and other adult beverages are half-off. 368 Village Lane, Los Gatos; 408.354.8006.
Mantra introduced high-style, modern Indian food to Palo Alto. Now it is offering its food at a great price. Every day in the restaurant's lounge, 4:30–6:30pm, the entire menu is 50 percent off. 632 Emerson St., Palo Alto; 650.322.3500.
The banh mi sandwich is the ultimate recession snack. Two bucks or so buys Vietnam's take on the sub sandwich loaded with the meat of your choice, cilantro, chile peppers, pickled radish and carrots and other fixings. Silicon Valley is flush with banh mi joints. Check out the grilled–pork banh mi at Huong Lan for starters. 1655 Tully Road, San Jose; 408.258.8868.
Costco is bargain city as everyone knows. For a quick and easy dinner with plenty for leftovers the next day, you can't beat the roast chicken for about $5. Various locations, including 150 Lawrence Station Road, Sunnyvale; 408.470.8000.
Downtown San Jose's Loft Bar and Bistro has nightly two-for-one-specials on food and drink. Monday and Tuesday martinis are two for one (well only). Wednesday brings two-for-one pasta dishes. Thursday is the night for two-for-one margaritas (well only), and Sunday gets you a free dessert with the purchase of two entrees. 90 S. Second St., San Jose; 408.291.0677.
St. John's Bar and Grill in Sunnyvale has a good deal every night of the week. Tuesday from 4 to 9:30pm all chicken dishes are half-price. Wednesday is burger night; all burgers are half-price from 4 to 9pm. Friday from 4 to 9:30pm is the time for half-price appetizers. 510 Lawrence Expwy., Sunnyvale; 408.738.8515.
Good Karma isn't offering any special deals on its food. It's just a good deal for delicious vegan food all the time. A three-item plate featuring mock meat dishes like barbecue chicken, shrimp skewers and chile verde pork goes for just $6.50. 37 S. First St., San Jose; 408.294.2694.
Saratoga's Ristorante Da Mario serves the greatest hits of Italian-American food—spaghetti Bolognese, spaghetti with meatballs, carpaccio, veal and ricotta cannelloni, saltimbocca—but prepares them with a freshness and integrity that elevates them from your typical red-and-white checkered tablecloth Italian-American restaurant. The quality of ingredients and several less-than-typical dishes further distinguish it. Monday–Wednesday nights, the restaurant serves any two pasta dishes for the price of one. 14441 Big Basin Way, Saratoga; 408.741.1518.
The lunch buffet is the workhorse of Indian restaurants, but Amber manages to enliven the self-serve steam table routine and serves what for $14.95 is one of the best all-you-can-eat lunches in Silicon Valley. The food is replaced frequently with fresh batches of food so dishes don't develop that been-there-too-long look. The lineup of food set into the gleaming brass urns changes daily. One of the constants of the buffet is the butter chicken. Songs have been written about lesser dishes. 377 Santana Row, San Jose; 408.248.5400.
Menlo Park's Marche is a fancy, expensive restaurant. But new executive chef Guillaume Bienaime has put together a great prix fixe menu for $45 that changes each week. The week of April 13, for example, the three-course, multicultural meal features Thai coconut soup with baby shiitake and spot prawns, Korean barbecue hanger steak and crème fraîche panna cotta with strawberries and basil. 898 Santa Cruz Ave., Menlo Park; 650.324.9092.
Send a letter to the editor about this story.