04.15.09
home | metro silicon valley index | features | silicon valley | feature story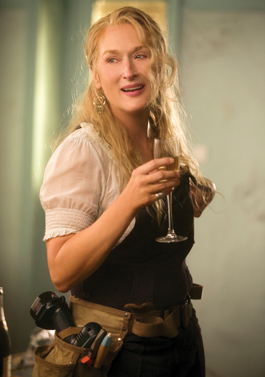 SHE'LL DRINK TO THAT: Meryl Streep raises her glass to the valley's outdoor free movie series; 'Mamma Mia!' shows this year in Redwood City's Old Courthouse Square.
Screen Gems on a Zirconium Budget
By Richard von Busack
THERE ARE more overrated films that cost $10 than there are underrated films that cost $6. Bargain matinees are increasingly more of a bargain, with local multiplexes firing up the projector at wacky hours like 9:30 or 10am. Movies look better in the morning, just like a cigarette tastes better outside. Also, the viewers who go at an early-bird hour are more dedicated to the art of cinema.
As for the free movies in the valley this summer: Redwood City is definitely online for its film series in Old Courthouse Square, which runs 13 weeks, June 18–Sept. 10; the lineup so far includes Mamma Mia!, Transformers, Apollo 13, School of Rock, Harry Potter and the Order of the Phoenix, and many others.
San Jose's annual free outdoor screening series, now known as Starlight Cinemas, runs for 11 Wednesdays, starting June 10 (skipping over July 1 and 29). The shows start at sundown in a variety of settings: St. James Park offers family-friendly movies on the first Wednesday; San Pedro Square hosts cult comedies on the second Wednesday; the historic district (defined as Post Street between First and Market) airs classic dramas on the third Wednesday; and the SoFA District is the place for indie movies on the fourth Wednesday. This year's titles run the gamut from Blazing Saddles to Casablanca to E.T. to A Streetcar Named Desire. All you need to provide is a lawn chair.
Send a letter to the editor about this story.