04.15.09
home | metro silicon valley index | features | silicon valley | feature story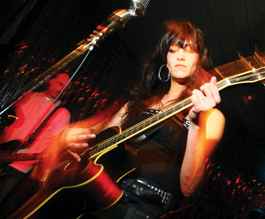 Photograph by Felipe Buitrago
WEDNESDAY WONDERS: All month long, Suicidal Barfly is the Blank Club's resident band for April.
Sound Ideas
Britney Spears may be out of reach, but the valley offers lots of better music for free 
By Steve Palopoli
ABOUT THE only thing that's recession-proof  in the music industry is the price of tickets for festivals and big headliners, which continue to skyrocket. Luckily, there's sweet relief to be found in the form of free live festivals, band showcases and DJ dance nights. Sometimes it takes a little bit of insider knowledge to party for free or discover the clubs that never charge a cover; here's where to go:
Music in the Park
When it comes to live music in San Jose, there's Music in the Park, and then there's everything else. Now in its 21st year, it's come to define summer-night entertainment downtown, to the point that if anyone within a certain radius of Plaza de Cesar Chavez on a Thursday evening isn't going to Music in the Park, they're very likely discussing why they can't go. This year's series opens on June 4 and runs through August, with several local favorites like Pete Escovedo (June 25), Better Than Ezra (Aug, 13), Third Eye Blind (June 18) and Eek-A-Mouse (July 9) slated to appear. 
Jazz on the Plazz
In 2003, Los Gatos Coffee Roasting Company's Teri Hope and KRML jazz radio host Michael Jacobi began bringing world-class jazz artists to Los Gatos on Wednesday nights in July and August. The blend of cultural sophistication with a casual, neighborly atmosphere turned out to be just the right mix for L.G., and this year the festival returns to Plaza Park on June 24 with another remarkable lineup of free performances, including Cleo Laine and John Dankworth (Aug. 26), Mimi Fox (July 8), Karrin Allyson (July 15) and Lara Price (Aug. 12).
The Blank Club's Wednesdays Live
All too aware of the giant sucking sound that was live music on Wednesday nights in San Jose, the Blank Club instituted Wednesdays Live, which not only provides a showcase for local bands but also gives local ears a chance to hear those bands for free. In April, Suicidal Barfly has taken up residency as the weekly Wednesday headliner, and they've done a good job of bringing in a range of other interesting local bands to support them each week. 44 S. Almaden Ave., San Jose; 408.292.5265.
Redwood City Blues Jam
After more than three years, this Wednesday night jam at the Little Fox is still the best-kept blues secret in the Bay Area. The sorry state of "jam nights" overall made even blues loyalists keep this event at arm's length for a long time. But slowly word started to get around about the top-notch local talent that was showing up regularly to kick out far better music than anyone wandering into a free mid-week blues show had a right to expect, and now the jams draw a crowd of regulars. 2209 Broadway, Redwood City; 650.369.4119.
Caravan Lounge
Q: Is there ever a cover for Caravan's live music? A: No. Q: But what about when a popular local band like the Whiskey Avengers plays there? A: No, there is never a cover. Q: But what about if it's a Saturday night? A: No, there is never a cover. Q: What about if it's one of the touring rock, punk or Americana bands they sometimes book? A: Christ on a crutch! There. Is. No. Cover. Q: You seem angry now. Can I make it up to you by taking you to a show at the Caravan? A: Yes! That would be great. Q: OK. Do you think there's a cover tonight? A: Why don't you ask this tranquilizer dart? 98 Almaden Ave., San Jose; 408.995.6220.
JJ's Blues
JJ's has been Silicon Valley's venerable home to the blues for over two decades. There is a cover for many Friday and Saturday night performers like Shane Dwight or Chris Cain, but here's the thing: JJ's has live music every night, and it's usually free. 3439 Stevens Creek Blvd., San Jose; 408.243.6441.
The Cypher
Andrew Moyco, better known by his handle Audio Dru, is one of the most popular DJs in the South Bay, three-peating in the Metro Best of Silicon Valley balloting for the Best Local Radio Jock category. He can be heard on KSJS-FM (90.5), but he's practically just as well known now for the Cypher, his open-mic underground hip-hop night on Wednesdays at Johnny V's. He calls the no cover policy  "The Downtown Bail-Out Plan." Some other Johnny V's shows have little to nothing in the way of cover: call ahead or look online beforehand, and plan to go before 10pm. 31 E. Santa Clara St., San Jose; 408.947.8470.
Club Guest Lists
A clubber's life can get expensive—steep cover charges at an ultralounge can cut into the budget for Grey Goose bottle service. So if a night at Wet, Vault, Vivid, et al., is calling, find out if the club has a guest list and sign up before 6pm. (Some clubs now even allow online sign-ups.) Interestingly, there used to be a pretty strict 10pm cutoff time for guest-listers, but in these tougher times, it's sometimes as late as 11 or 11:30pm, allowing more clubgoers to bounce between nightspots. Check the details for each club when mapping a way through the scene. 
O'Flaherty's Irish Pub
It's easy to get jealous about that whole Irish luck thing, but at least they're willing to share at O'Flaherty's, where every Sunday from 5 to 8pm and Tuesday from 6:30 to 9:30pm there's a session of Celtic music led by John Lavelle on the accordion or fiddler Art Friedman. 25 N. San Pedro St., San Jose; 408.947.8007.
Atomic
This indie and New Wave dance party every Thursday at the Blank Club is a measly $5 to start with, but before 10pm it's no cover with a one-drink minimum. That Jack and coke may come in handy when DJ Basura spins the gods of gloom.
Britannia Arms
Britannia Arms Almaden celebrated the big 2-0 last year, and on top of their tap, they also feature live bands on Thursday, Friday and Saturday night, with no cover. The sound runs to cover bands and new-school blues and R&B, with regulars like D Fuze and Uncle Melvin. Britannia Arms Downtown often has free live bands on Wednesday nights, with DJs on Fridays and Saturdays, which have an occasional cover charge. 5027 Almaden Expwy., San Jose; 408.266.0550; and 173 W. Santa Clara St., San Jose' 408.278.1400.
Santana Row
In addition to the street performances meant to provide some classy atmosphere while the South Bay shops, Santana Row also hosts the Flavors of Jazz series, which brings live jazz to various restaurants on the row on Tuesdays from 6 to 8:30pm beginning July 7. The series is produced by San Jose Jazz, who book a range of styles from traditional jazz to reggae and Eastern fusions.
Karaoke
Sometimes you have to make your own fun, and that's just what the South Bay's karaoke regulars do at spots throughout Silicon Valley. They're making (or rather, remaking) the music at dozens  of clubs and bars every week, notably 7 Bamboo (Tuesday–Saturday), Dive Bar (Wednesday), Fahrenheit (Monday), Red Stag Lounge (nightly) and Boswell's (Tuesday).
Send a letter to the editor about this story.