04.16.08
home | metro silicon valley index | features | silicon valley | feature story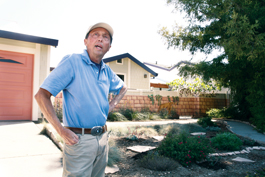 Photograph by Felipe Buitrago
DON'T FENCE ME IN: Frank Schiavo stands in front of his optical-illusion fence.
Wild in The City
Green pioneers build monuments to sustainability in the heart of downtown San Jose
By Vrinda Normand
TWO white footprints painted on the sidewalk in front of Frank Schiavo's house mark the spot where passers-by must stand in order to get the best view of an optical illusion on his front fence. The facade of terra-cotta bricks, lilacs and a slinky mountain lion blends into the exterior of the main house, which looks a bit like a faux Mediterranean villa.
The mural is just for fun. The more important things, Schiavo points out, are the recycled and eco-functional materials underneath the paint. The fence is made of a high-tech material called Trex, a durable combination of plastic and sawdust. The insulating shingles on the face of the house are a termite-and-rot-proof mixture of cement and fiber.
Schiavo's home is an example of how to live within a small environmental footprint, which is something he teaches others how to do. In fact, he's part of a growing contingent of San Jose homeowners that are pioneering the extreme end of green living in the middle of the city, on a budget. These trendsetters are finding creative ways to blend into nature while staying in tune with the modern world.
Schiavo practices what he preaches, down to the rinse water that he catches in a bucket underneath his sink every day (and feeds to the spare landscape in his front yard). When he's not busy squirreling away resources, he gets a kick out of showing off his house to hundreds of students every year.
On a sunny afternoon in April, he guides a group of 30 San Jose State students on a tour of his home.
"This is just plain old San Jose, with ordinary houses and ordinary people," he tells the crowd. "You can be environmentally responsible in the middle of the city."
Indeed, it's not exactly the kind of neighborhood we often see featured in magazine spreads on "green dream homes." But Schiavo stands proudly in front his modest one-story, with its salmon-colored garage door and plum purple trim. The featherweight 68-year-old has put his heart into the transformation of this normal residence into a cozy, energy-efficient haven.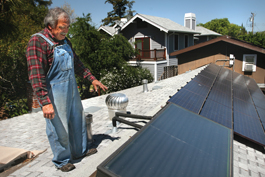 Photograph by Felipe Buitrago
MEET THE PANEL: Pat Ferraro looks over the solar panels he says save him $600 a year.
He refinished the roof with a smooth, white surface so it reflects sunlight and provides passive cooling. On top of that he installed a huge solar panel that heats his water, runs his appliances and shrinks his power bill. (Schiavo paid PG&E just $22 in February and says that was higher than normal.)
Nearly every nook and cranny is designed to avoid modern technology. The compost pile tucked behind his front fence erases the need for an electric garbage disposal. The strategically placed patio arbor on the side of the house blocks the sun from streaming through his windows—a cheap and easy way to keep the house cool without an air conditioner.
All of the windows are double-paned for insulation, and a sun room attached to the back of the house provides another temperature barrier and a nifty place to air-dry clothes.
Schiavo says he was the first person to get San Jose officials to approve the construction of his sun room in the early 1980s.
Inside the house, the air is cool. Several walls are lined waist-high with square water cans, which help keep the temperature at a pleasant 74 degrees when the city is burning at 90-plus degrees outside.
"I wanted to use my house as a way to teach others," Schiavo says. "It smells nice, it's affordable, there's art. What's wrong with this picture? Nothing!"
He says he invested about $23,000 in his home over the decades on a modest teacher's salary (he retired in 2003). For the amount he saves on electricity and gas, he says, going solar was kind of like pre-paying his PG&E bills for 20 years. But it's not the money that really motivates Schiavo and many of his fellow urban eco-home dwellers.
He doesn't have a TV or a computer (in protest of toxic dumping by the high-tech industry). His cupboards are stocked sparingly with all-organic, animal-free food. And Schiavo insists on living in the city, where he can spread the word about conservation. He says he doesn't even like wasting resources to travel to more natural settings. "When I hear the highway," he claims, "I can hear Yosemite Falls."
In 30 years of teaching, Schiavo says he has spread his message to over 7,000 students. And many of his former students are implementing sustainable living techniques, even if they can only do small steps at a time.
Ralph Schardt, who took a class with the green guru in 2000 and now serves as executive director of the Michael Lee Environmental Foundation, put a metal roof on his Willow Glen bungalow and cut his PG&E bill by about 20 percent.
"He's amazing," Schardt says about his former professor. "He's one of those rare people who walks the walk and talks the talk."
Clean Dirt
Pat Ferraro, a friend of Schiavo's, calls himself a "planetologist" and revels in living as close to nature as possible. Like his friend, he does so in downtown San Jose. His "Funky Farm" sits on the edge of the Coyote Creek near William Street. Standing on his wooden patio shaded by eucalyptus trees, one would hardly guess that City Hall is just over a mile away.
Below the deck in the woodsy back yard sits a chicken coop, which was in full service until last year. Ferraro says he mimicked the natural cycles by fertilizing his garden with chicken poop, harvesting the fruits and vegetables from the garden and then feeding the leftover kitchen scraps to the chickens.
Ferraro also prides himself on the solar energy loop he's created. The upstairs office in his two-story house tended to get hot and stuffy when the sun beats down on the roof in the afternoon. So he slapped a few solar panels on top of his house when he retired in 2003.
The panels convert the sun's heat into electricity and feed the air conditioner that keeps the little office cool. So in a weird way, the sun is heating and cooling Ferraro's house at the same time.
After tax credits and rebates from the state of California, Ferraro has spent about $25,000 on his solar panels and solar water heater. They've cut his PG&E bills in half, from about $1,200 down to $600 per year.
Ferraro says he saves another $600 per year in gas by jetting around town in his electric car. It looks like a golf cart and only goes 25 miles per hour, but it gets him to the grocery store, the post office, his chiropractor's office and nearby restaurants. He plugs it into an extension cord that stretches from his garage.
The retired engineer designed the water recycling system for the city of San Jose in 1970. Now he lives the recycling philosophy.
"We pull stuff out of the Earth, make stuff, use it, throw it away and go get new stuff," he explains. "That approach is unnatural, not sustainable."
Ferraro keeps a morbid symbol as a reminder—a decorative tombstone tucked behind the blooming yellow mustard plants in his front yard.
"Part of the organic lifestyle is this whole thing about cycles," he says. "It's good to have a constant reminder that you're going to end up back in the Earth. So don't worry about it."
Send a letter to the editor about this story.