04.16.08
home | metro silicon valley index | sports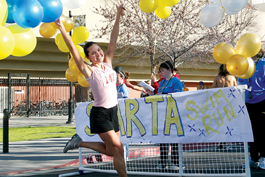 Photograph by Lisa Lynch
NEXT: DANCING WITH THE SPARTANS Alicia Forbich, president of the newly founded Triathlon Club, finishes her run at the SJSU Duathlon in April.
Triathlon Starter Kit
By Felipe Buitrago
DID YOU ever wish you could finish a triathlon in less than an hour? How about 45 minutes? Wish no more, because here is your chance. The SJSU Mini-Triathlon that will be held Saturday, April 26, at the Aquatic Center at SJSU.
Now, normally this is where you read about the distances in swimming, biking and running, but this triathlon has a catch. Fifteen-minute intervals will be allowed for each leg, and competitors will be awarded points for the distances traveled in each part. The swimming and running will be measured by laps but the cycling leg will be measured by stationary bikes with computerized mile markers that will be set up on the deck of the pool.
As unique as this type of triathlon may sound, it isn't that uncommon. Since the birth of the modern-day multisport race in 1974, triathlons have gone from local celebrations to Olympic status and have branched into many variations. This one in particular, also known as an Indoor Triathlon and celebrated in areas that don't offer open water swimming or where weather conditions are too adverse for participants, is not as rigorous as an average Olympic distance tri-event. So if you have ever been interested in a triple challenge, but wanted just a taste, this is the perfect way to get started. But seasoned athletes need not shy away, as this is also an ideal way to help prepare for the bigger triathlons that are coming our way this summer.
For more information, call the SJSU Aquatic Center 408.924.6341 or visit www.union.sjsu.edu.
Send a letter to the editor about this story.