04.16.08
home | metro silicon valley index | features | silicon valley | column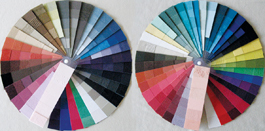 Spring Color
By Joseph Rosenfeld
COLOR is one of the greatest communicative personal style elements. Maybe you don't care for the latest style trends, or they aren't meant to flatter your body. But when you successfully wear current colors, your individuality and style is expressed. Color can help you concentrate at the office, or escape on evenings and weekends. Check out the accompanying color wheels as we tour of spring's expressive colors and see what hues will help you pop with personality.
Ladies
A prevailing cool breeze of colors has come ashore for spring. Soft seafoam greens appear dewy, while toned-down mossy greens represent renewal. The clouds disappear when the wheel dials in to a more cheerful green-blue. Blues this season range from deep and dignified to bold and blithe. Transcendent teal is tranquil, and tinted blue is the tip of the iceberg.
Warmth does find a way of working itself into the spring palette. Sunny yellows and sunset oranges are solid statements of spring's surprises. A bit of brown signifies a sign of strength and olive extends its branch of peace. Things really heat up with red's powerful presence, but there's no smoke to be found when eyeing fiery blood orange.
The sharpest colors of the season are typically found in dresses, either as solids, as two contrasting colors or even as several creatively selected colors. White is a popular counterpoint to virtually all colors this season. In fact, it's a bit ironic to see so much black and white clothing during such a colorful season. Safe, yet dramatic, it could be the way to go. Some hues are softened or deep tones, sedate and businesslike while others are whitewashed and muted, perfect for relaxing moments.
Men
The mood for men is still expressive, yet less ebullient than the ladies. Bursts of preppy, energetic hues contrast sharply against a more restrained palette. Gray dominates the season, suggesting it's time men take it easy and get some rest. Especially strong in suitings, gray is a beautiful backdrop for more lively colors. Just beware-there are greenish grays, bluish grays and even brownish grays. Choose the one that picks up on either your eye or hair coloring and you'll get the right gray.
Why designers maintained a relatively somber approach to men's fashion colors this season is a bit mysterious. But spring is definitely a time of deep reflection as purple rains its powerful presence down upon the fashionable. Warm tones like trustworthy brown and cooler colors like aubergine combine passion with inner strength. While it's definitely a season to wear your emotion on your sleeve, it's also a time to kick back and relax. Neutrals and blues are soft and soothing. If all else fails, there's plenty of white, midnight blue and black to keep you bold, if not beautiful.
Joseph Rosenfeld, the nation's only male Certified Image Professional, helps men, women and corporate employee groups to become more dynamic, compelling and stylish. Visit www.JRImageMentor.com for more information.
Send a letter to the editor about this story.