April 18-24, 2007
home | metro silicon valley index | features | silicon valley | sports news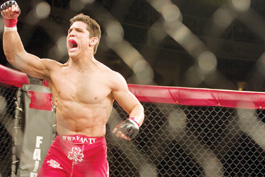 Photograph by Felipe Buitrago
'This is my house!': Shamrock proves to the crowd what happens when you come over empty handed—a right hook sent Cesar Gracie to the mat.
The End Is Near
By Felipe Buitrago
IT'S OFFICIAL: "Judgment Day" has been scheduled for June 22, 2007, and local loose cannon Frank Shamrock is headlining. Once again the HP Pavilion will be hosting Strike Force Mixed Martial Arts. Frank Shamrock inaugurated the sanction of Strike Force MMA in California with his fight against Cesar Gracie in March of 2006, where he took all of 21 seconds to drop the contender like third period French. This time he'll be disputing a long awaited duel against the "New York Badass" Phil Baroni. The bill also includes another San Jose favorite and repeat contender: Cung Le who will be dancing on the mat with Tony "The Freak" Fryklund. But keep your eyes on the new guy, Carter Williams, who paved his way to Strikeforce by beating down three straight opponents to take the K-1 North America tournament championship in '03. He'll be facing off with Paul Buentello in the heavyweight match up. Other pairings include Charles "Krazy Horse" Bennett and Victor "Joe Boxer" Valenzuela. Now you may think you have time to do all those things you've wanted to do before Armageddon arrives, but don't be fooled, tickets will go on sale through Ticketmaster and this Saturday, April 21, at 10am at the box office at the Pavilion. The first Mixed Martial Arts bout in San Jose brought in a total of over 18,000 spectators, so make a move or else you may end up with a nosebleed.
Send a letter to the editor about this story.