April 18-24, 2007
home | metro silicon valley index | features | silicon valley | column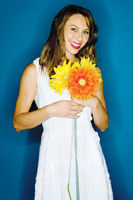 Bloom sticks: Holding giant flowers in front of your spring dress is the perfect way to say 'I'm crazy.'
Spring Things: Forwarding a Dress
By Joseph Rosenfeld
WHETHER you want to step out in cocktail party style or if you have your sights on becoming this year's prom queen, this spring sheath yourself in a sleek new dress and you will be the brightest star of the evening. All eyes have cast gaze upon gaze at the one wearing the little black dress, but this season wearing a dazzling dress will turn all eyes upon you for a change. I can just see catfights in the dressing rooms this season as mothers and daughters fight not over which dress is best but over who looks best in the most coveted dress.
Prom Night
Look like the latest confection in a short dress. If you've got the legs for a short dress, guys will get frothy over your flirty frock. Look as delectable as taffy in a taffeta dress with a sweet bow in a transcendent tint. If it looks good on you, a sugary treat could be to color yourself buttercream yellow. But if yellow is too mellow, rev up the color quotient by choosing from a vivid variety of bright colors like temperamental turquoise, breezy blues or passionate pinks. If you see yourself less like M&M's and are in more of a metallic mood, choose from satin or organza fabrics and you'll look prettier than a foil wrapped Hershey's kiss! From more informal minidresses to gorgeous gowns, there's a prom dress for your taste, whether it's sourball or cotton candy.
Take Me Out to the Ball ...
No peanuts and Cracker Jacks will be on the menu when you make your appearance in a long satiny gown. This season's long dresses range in attitudes from idyllic ingénue to downright dramatic. Reclaim your youth in a sprite style with a solid spring color, like spearmint or lemon. If your attitude is more devil-may-care, strut your stuff in a chili pepper red number and keep your devilish date's attention all night long. If you want to be a real show stopper at the next big party, let a print pronounce your presence. Geometrics give you dramatic direction, while animal prints suggest that you're on the prowl for fun and games. If you don't long for a long dress, shirt dresses and hemlines that cut above the knee are other great options to explore in your favorite store for your next big night out.
Taking the Cake
Accessories are the surest way to turn the simplest dress style into sweet surrender. After all, no Cinderella is complete without her slippers. Look supreme in a pair of stilettos with your sexy new dress and go all out by exposing prettily pedicured toes through peep-toed sandals. An elegant and elongating look is to maintain the same color family between the dress and shoes. Since this spring's dress styles emphasize shape, don't try to fight the emphasis by creating funky focal points with jewelry. If you're not careful you can sack your whole look with the wrong bag. Select a clutch that pays a subtle compliment to your dress. Keep to a simple and chic style and keep the focus on you.
Joseph Rosenfeld, AICI, CIP, the nation's only male certified image professional, is a men's image mentor based in downtown San Jose. Contact him at: [email protected].
Send a letter to the editor about this story.