April 19-25, 2006
home | metro silicon valley index | features | silicon valley | sports preview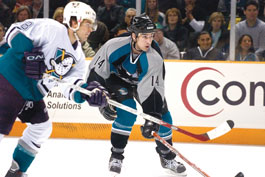 Photograph by Felipe Buitrago
Never Stop Moving: In Saturday's game, the Sharks' Jonathan Cheechoo scored his 55th goal and fifth hat trick of the season.
Deep Blue Scene
By Felipe Buitrago
SHARKIE, YOU CAN take the rest of the season off. The Sharks are so good right now it's getting ridiculous. And as the playoffs approach, the fans are in a frenzy—I mean, have you ever seen people so pumped at HP?
Take their 6-3 victory over the Anaheim Ducks on April 15. Saturday's high-speed game started off when Joe Thornton took less than a minute to blitz the puck past Anaheim goalie Giguere. With the Sharks up on top so quickly, the Ducks had their fate sealed. During the entire first period the Sharks would not give the Ducks a chance on goal, not even when they were down on a five-on-three power play. Seconds after Bernier got out of the penalty box he broke away, puck in stick, and smacked the 3-0 on the scoreboard. Then 4-0 came when Jonathan Cheechoo decided it was time to make a move and score his second goal against the Ducks and his 55th goal this season. In the second half, the Ducks' Ryan Getzlaf tried desperately to close the gap and managed to fool Toskala. But the Sharks' tenacity was at its peak and Ekman, set up by Cheechoo, scored the 5-1. The last bit of the game was a tug-o-war of shots between the two teams: the Ducks scored two within scarce minutes of each other. But the Sharks would not let it slide—with barely two minutes left of game play, and the Ducks without a goalie, Cheechoo again slapped one beyond the center line and found open net, scoring his fifth hat trick of the season and taking the score to 6-3 for the Sharks.
Saturday made the Sharks' eighth win in a row, and secured the team a fifth seed in the Western Conference, putting them in a first-round series against the Nashville Predators. In previous encounters with the Predators this season, both teams have won and lost twice by only one point.
Send a letter to the editor about this story.