04.22.09
home | metro silicon valley index | features | silicon valley | feature story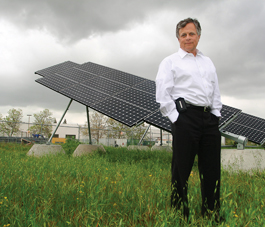 Photograph by Felipe Buitrago
BIG SOLAR: Dr. Richard Swanson, who founded SunPower in 1985 and serves as its chief technology officer, still sees a massive upside in green tech.
The Valley of the Green Giants
Thanks to federal stimulus money, a new technology is ready to blossom in the land of high-tech innovation
By Diane Solomon
IF Silicon Valley 1.0 was semiconductors and computers and Silicon Valley 2.0 was the web and networks, will Silicon Valley 3.0 be solar power, with green jobs for all?
Dr. Greg Bernal-Mendoza Smestad says yes. A world-class solar-science nerd—editor of the Solar Energy Materials and Solar Cells Journal—Smestad brings a unique perspective to the valley: he's a descendent of the Bernal and Peralta families that founded the Pueblo of San José in 1777. His ancestors built the Peralta Adobe and mined New Almaden cinnabar. And now he's making some history himself.
Smestad received one of San Jose's first federal Recovery Act gigs, as an independent consultant-scientist for the U.S. Department of Energy, reviewing requests for stimulus-package money. He has analyzed almost 40 grant proposals this year and says that even though only 10 percent are from Silicon Valley applicants, the other 90 percent could bring work here.
Solar-cell technology, Smestad points out, is a first cousin to semiconductor technology. So it isn't a stretch to repurpose semiconductor-industry workers and their companies into solar. In fact, two of Silicon Valley 2.0's biggest success stories are already doing so.
Applied Materials, the giant equipment and semiconductor manufacturer, now builds the photovoltaic production equipment that solar panel makers need. And Cypress Semiconductor helped launch SunPower, which invents and manufactures high-efficiency solar systems and sells them to customers like Nellis Air Force Base in Nevada, which now has one of the largest solar photovoltaic power plants in North America.
"Silicon Valley already has this expertise in understanding, characterizing and producing solar cells," Smestad says, "because a solar cell is a large-area semiconductor—most commonly made of silicon. So Silicon Valley is a natural to switch from the silicon-based technology that makes computer chips to silicon-based or semiconductor-based solar cells. If you understand the one, you'll understand the other."
In February, Smestad attended a by-invitation-only Department of Energy meeting with fellow scientists, industry leaders and government representatives to discuss the nation's green future. The consensus, he reports, was that solar will be bigger than the semiconductor industry—and could rival the automotive industry.
This was not the first time anyone had put that idea out on the table. Even before President Obama green-lighted the $787 billion American Recovery and Reinvestment Act, the number of green jobs ahead seemed huge. Supporters of the federal Solar Tax Credit promised 444,000 new jobs, while international energy consultants Kema Inc. says smart-grid electricity deployment projects could create as many as 500,000. Gov. Arnold Schwarzenegger's "1 Million Solar Roofs" initiative will need a lot of installers, and another 160,000 workers will be building California's proposed high-speed train.
On top of all that, Obama's New Energy for America Proposal wants to invest $150 billion to create 5 million green-collar jobs over 10 years.
The numbers are staggering. Hundreds of billions of dollars are slated to develop green technologies like solar and wind power and to support the infrastructures they will need to replace our carbon-intensive power sources. Billions will be used to train green workers, and billions more will be spent to install solar panels and weatherize and retrofit buildings so they're more energy-efficient.
That's the good news. Meanwhile, Silicon Valley's double-digit unemployment rate finds bankers, Realtors, engineers and all kinds of worker bees out of work or bagging groceries at Trader Joe's. So where exactly are the green jobs and where will they come from?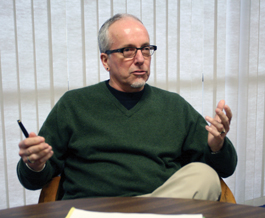 NEW NEW THING: Stephen Wright of SunPower, which was once one of Cypress Semiconductor's prize holdings
Business Initiative
As one of the U.S. Department of Energy's 25 Solar America Cities, San Jose receives funding and expertise to accelerate the development of advanced solar technologies and marketplace adoption. Two local consortiums—Joint Venture Silicon Valley and SolarTech—have been working to grow the area's clean-and-green industries. Their members represent business, local governments, labor, academia and community groups.
Mayor Chuck Reed co-chairs the board of Joint Venture Silicon Valley, a public-private enterprise that identifies promising local initiatives. That organization's new "Climate Prosperity Greenprint" predicts that the valley will come out of this downturn—if government and industry make the shift.
SolarTech spun off from the Silicon Valley Leadership Group, which represents many of the valley's familiar corporate names, including Apple, Google and Hewlett-Packard. Doug Payne, SolarTech's executive director, describes its 60-plus members as manufacturers, financiers, companies that test and certify, utilities, building jurisdictions and workforce organizations.
"Our focus is understanding what needs to be in place to handle the kind of industry growth we expect here over the next few years," Payne says, "and removing local barriers that delay the design, development, deployment and connection of solar projects."
He points out that government can help by greasing the bureaucratic skids. He reports that when customers buy solar systems, the installation takes only three to five days, but paperwork requirements, building permits, system inspections and material lead times add 120 to 200 days. "Until these processes happen faster and more predictably," Payne says, "it's risky for solar companies to hire."
Already, a handful of green startups, plus companies like SunPower and Applied Materials, are having an economic impact. Smestad says Applied Materials' semiconductor workers were able to learn the new tricks of the solar trade. "They employ thousands of people who have been able to change their job descriptions slightly to make chips for solar-cell production," Smestad says. "This is very important because many of the people employed there would have been laid off during the downturn of the semiconductor industry had they not."
He points to a much-overlooked development that he says is significant: Enough is going on here to have made it profitable last July for Underwriters Laboratories (UL) to open North America's largest commercially focused photovoltaic testing and certification facility in San Jose.
UL is the world's most important independent product-safety certification organization. It's been testing products and writing standards for more than a century. Given the national requirement that photovoltaic modules be safety certified to UL standards, UL's Zanker Road facility could become a magnet for the solar industry.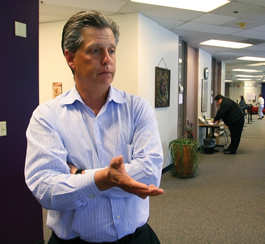 GREEN COLLAR MAN: Jeff Ruster of Work2Future, which has a retraining program geared to green technology
Green Gold
Smestad says that during the Gold Rush, San Jose's residents made a lot of money selling gold miners what they needed, not by traveling to the gold fields themselves. San Jose residents sold shovels, Levi's, railroad freight and mineral-extraction services to gold miners.
The New Almaden Mine, where Smestad's family worked, was the most productive mercury mine in the United States, providing a crucial ingredient for the extraction of gold and silver. In the same way, Smestad thinks San Jose could reinvent itself as the epicenter of the solar industry because of the time-honored convergence of industrial know-how, venture capital and nearby universities.
"You need people here who are helping to process and purify the silicon and the other materials that are being used in solar panels. Solaicx in Santa Clara grows silicon crystals and purifies the silicon. They slice it up, and they sell it to companies like SunPower. That's a green job."
Smestad thinks the UL lab is as important to Silicon Valley's fledgling solar industry as the cinnabar mine was to San Jose's Gold Rush economy.
"On the West Coast, everybody's going to come to San Jose to test," says Smestad. "Product certification and validation can be one of the most time-consuming steps, and if you're not on the market right now, you're going to lose out. In this economy, investors aren't willing to support an unproven, untested technology. So Underwriters Laboratory is able to certify the haves and the have-nots."
Dr. Richard Swanson, SunPower Inc.'s chief technology officer, says the company employs about 500 employees in Northern California and more than 4,000 outside of the United States. SunPower has managed to weather the economic downturn because of strong product demand—and a $24.7 million Solar America Initiative grant.
Swanson says when you figure that solar generates less than 1 percent of the electricity in the world, there's a huge upside to come.
He says because only about half of the cost of a solar system is for the panels, there will be lots of local work on the electronics that connect panels—plus installation, system design and even building the racks that hold panels in place.
Swanson sees even more green jobs panning out as part of the movement toward energy efficiency, which will include weatherization, electric cars and the smart grid. The key, he says, is investment in renewable energy sources.
"The way the utility system works is still the way George Westinghouse conceived of it at the turn of the last century," Swanson explains. "There's AC, transformers and miles of wires. Sure there have been advances, but it's fundamentally the same thing."
"I think we'll see a lot of job growth," Swanson says, "but at the same time, Americans have to realize that we're competing globally, and there's a lot of people that would like these jobs. We can't make this solar valley and somehow have $50 an hour jobs for people with no education—because we're competing with Suntech in China; we're competing with the rest of the world."
Bringing It Home
Local companies are applying for DOE grants and loan guarantees, and Santa Clara County's two federally funded Workforce Investment Boards will be getting Stimulus Package money soon. Work2Future has "One-Stop" centers in San Jose, Campbell and Gilroy. The North Valley Job Training Consortium (NOVA) has a center in Sunnyvale.
NOVA's Mike Curran says any documented worker can walk into a Workforce Investment Board and get free vocational counseling and coaching, as well as training and job-placement services. He says that Stimulus Package money will put more counselors on their floors and enable them to provide a new summer youth employment readiness program. Because of the demand, NOVA now holds two workshops a week called "Exploring Green Jobs."
Curran says that NOVA's clients range from the undereducated and economically disadvantaged to people with Ph.D.s. Last year, they helped about 86 percent of their enrolled clients find new jobs, but this year is different.
"Given the realities of the economy," Curran says, "we're shifting some of our emphasis from getting you a job to getting you the skills you'll need when the jobs come back so you're competitive."
A mother lode of green jobs may not be on the way, he cautions, but most jobs will become greener as national and local initiatives kick in.
"While you're not working, probably one of the best things you can do is to upgrade the things that go on your résumé," he says. "For some people that may be new skills to move to a new type of job, while other people may need communication or customer service or leadership skills improvement."
Van Jones is credited with coining the phrase "green collar jobs" and is the author of the recent book The Green Collar Economy. This upbeat manifesto argues that if federal and local governments train and put disadvantaged youths and other chronically unemployed people to work in their communities weatherizing and retrofitting buildings and installing solar systems, it will rescue the economy and these workers.
"We aren't going to put a new battery in a broken system," Jones said last month at the annual PowerShift09 confab in Washington, D.C. "We can't have a green economy that's passionate about reclaiming thrown-away stuff but indifferent to reclaiming thrown-away lives. We have to create a green economy that includes everybody, that has a place for everybody. That's why we say 'green for all.' We're not going to leave anybody out."
Jones started the Oakland-based organization Green for All in 2007. The group collaborates with community leaders and local governments to fund and create green jobs and train its workforce. This movement sprang from the Ella Baker Center for Human Rights, a nonprofit he co-founded in 1996.
With a multimillion-dollar annual budget, 32 staff members and an online network of 70,000 people, Green for All won a $500 million grant from the Stimulus Package's $48 billion job-training and education funds.
Last month, Obama hired Jones as his Special Advisor for Green Jobs, Enterprise & Innovation at the White House Council on Environmental Quality, where he will help shape and implement job-generating climate policy and work to ensure equal protection and equal opportunity.
Phaedra Ellis-Lamkins, the former director of the South Bay Labor Council, resigned last month to become Green for All's new executive director. Jones says of Ellis-Lamkins' appointment: "It's time to move from hope to change, and that means we need folks who understand things like workforce development, community economic development, project labor agreements, community benefits agreements and all the things that get real work to real people."
Green for Whom?
In addition to NOVA's and Work2Future's green-for-all efforts connecting job seekers with training, the Solar-Industry-Driven Regional Collaborative (Solar IDRC) has co-created a community college curriculum in photovoltaic design and installation. Its members are a lot of the same players: NOVA and Work2Future, SolarTech, the Silicon Valley Leadership Group, as well as the area's six community colleges.
The collaborative's solar panel–installation class is offered at Ohlone, San Jose City College and Cabrillo College in Aptos. It takes about 80 to 120 hours to complete, has a paid internship component and can be delivered in accelerated formats. The class prepares students for an entry level certification from the North American Board of Certified Energy Practitioners (NABCEP).
"Our goal is to train people for high-skill, high-wage jobs, and to make sure there are no barriers preventing people from getting this training," says Kathy Werle, SJCC's dean of Applied Science and Technology. "The idea is to make sure the disenfranchised have a crack at these jobs, and they pay prevailing wages.
"We aren't talking $15-an-hour jobs—which is what many solar-install jobs start at—we're taking about $20 an hour with benefits."
Werle says if the Stimulus Package creates more demand, SJCC can quickly offer additional classes through a different funding mechanism. "We could accommodate an unlimited number of students if the jobs are there."
The collaborative works closely with industry, which it hopes will rely on a community-college-trained workforce. "We have a contact at [Silicon Valley Leadership Group] who works placing our students," says Werle, "so as soon as one of us learns there is a need, we all know about it and can place our students."
Neil Struthers, head of the local Building & Construction Trades Council, which is part of the AFL-CIO, hopes employers will use his people to staff Stimulus Package jobs, because 20 percent of them are unemployed.
Struthers represents 23 unions with 30,000 members—and represents labor at Joint Venture and SolarTech. He says they don't need Stimulus Package–funded training, because they're already trained. He says his unions have been installing solar since the 1970s, weatherizing buildings for 100 years and have paid apprenticeship programs for both.
He says that without some sort of regulation or intervention, the Stimulus Package could just create more low-skill, low-wage jobs that replace the construction industry's unemployed—which won't stimulate the economy. "Training schools and low-bid contractors can't outsource solar installation and weatherization work," Struthers says, "but they can in-source it by bringing in low-wage workers from out of state or county, or by paying locals $15 an hour with no benefits.
"We've seen stimulus packages before," Struthers adds, pointing out that FDR's Works Progress Administration didn't regulate wages when it was first introduced. The program quickly instituted a requirement that WPA jobs pay fair wages, to shut down contractors with migrant labor forces who low-bid jobs. "That could happen with the Stimulus Package's projects," Struthers warns. "You've got to pay people a prevailing wage. If you don't, you undermine the local economy and the purpose of this."
"You can't regulate private companies," he says, "but there needs to be a way to create an expectation in the government contracts that makes sure employers provide high-skill, high-wage jobs—and we haven't seen that.
"We'd like to see a local requirement that to get stimulus package money you have to create a pathway out of poverty for the workers. Henry Ford knew this. He paid people more so they'd buy his cars."
"It's like a rope being pulled in different directions," Smestad says. "On one side, the economic crisis has dried up venture capital and credit; at the same time, Obama is giving money to companies to do research and development. He's also at the other end of the supply chain giving incentives for installing solar panels, while the governor has been financing state research programs and incentives. It's a tug-of-war. If the recession gets worse the rope might get pulled one way; if these measures take effect, the rope gets pulled the other way."
"There's so many elements converging here now: scientific innovation, the educational institutions, the companies and individuals with the know-how, venture capital, federal, state and local initiatives and the will of the environmental justice movement, so if it doesn't happen now, it isn't going to happen."
"If the economy based on carbon is shutting down, then it's an opportunity for a new industry to grow. San Jose has reinvented itself several times. This is an evolution, and I hope it's a rebirth."
Green Jobs Resources
• Career counseling, skill assessment and coaching are available at NOVA or Work2Future. Visit www.novaworks .org or www.work2future.biz.
• Solar-panel installation classes are available at San Jose City College, and Ohlone Community College.
• The Solar Living Institute and Acterra offer internships and green living classes: www.solarliving.org or www.acterra.org.
• PG&E's Pacific Energy Center offers classes and resources: www.pge.com/pec.
• Van Jones' The Green Collar Economy is the clean-tech bible, as is www.greenforall.org.
• Joint Venture Silicon Valley's "Climate Prosperity: A Greenprint for Silicon Valley" is also worth a read: www.jointventure.org.
• Follow the big dogs of local solar at www.solartech.org.
• Learn about energy, resources and environmental stewardship at DeAnza Community College's Kirsch Center for Environmental Studies, www.deanza.edu/kirschcenter or go hang with student group www.wise37.com, which is working on- and off-campus making a greener planet.
• SJSU's Environmental Resource Center has an Internship Database with job listings and internships available locally and nationally in environmental fields. http://erc.thinkhost.net.
• Schmooze and cruise for your next boss at EcoTuesday, a monthly networking event for business leaders interested in sustainability.
• Labs' Susan Hollingshead speaks on April 28, 6:30–9pm, at Cabana Hotel, 4290 El Camino Real, Palo Alto; www .ecotuesday.com.
• Green Drinks Silicon Valley is a monthly mixer of greenies who work for NGOs, academia, government and business. They meet on the first Wednesday of the month at 5:30pm at Bella Mia Restaurant & Bar unless there is a special event elsewhere. 58 S. First St., San Jose, www.greendrinks.org.
• Women's Environmental Network has a monthly newsletter and Bay Area events: www.wencal.org.
Send a letter to the editor about this story.