04.23.08
home | metro silicon valley index | news | silicon valley | news article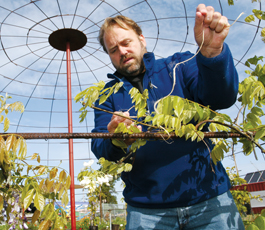 Photograph by Felipe Buitrago
GROWING GREEN: Wolfram Alderson of the group Collective Roots ties wisteria vines to a dome that will eventually create a completely natural greenhouse at East Palo Alto Charter School. Alderson's group will hold the first East Palo Alto farmers market in May.
All You Can't Eat
In the 'food desert' of East Palo Alto, a local farmers market wages a battle against obesity and near-starvation
By By Crystal Allen
AT THE turn of the last century, there were 1,000 1-acre farms in Ravenswood, a small rural community bordering the southwestern tip of the San Francisco Bay. A thousand families owned their own farms, which included chickens to fill their pots and fertilize the crops. The families sold eggs and produce to cooperatives that sold them to the folks in the cities. After World War II, Japanese-Americans freed from internment camps settled in, then African Americans, and then Latinos. As the new century wore on, the town underwent transformations and name changes becoming what is today East Palo Alto. Somewhere in the process, the town lost touch with its agricultural history—as did most American communities.
And like many poor urban communities, East Palo Alto has become a place devoid of fresh food sources, what activists have come to call a "food desert." While there are dozens of fast-food joints pumping out tons of processed junk, there are no farmers markets, hardly even any grocery stores. Recent studies have shown that children who grow up in such places develop health problems similar to those of people who are starving. Paradoxically, obesity (and obesity-related diabetes) is rampant.
In response, a group of "slow food" advocates are determined to bring back at least a piece of the place's healthy agrarian past.
After successfully implementing the East Palo Alto Charter School's educational school garden, one local organization is now spearheading the East Palo Alto Farmers Market, scheduled to make its debut in May. The group, known as Collective Roots, is devoted to encouraging urban leaders to create workable food systems in their community. "We are the catalyst and have critical input," says Wolfram Alderson, "but we don't want to be the center. We want the community to become the center of this."
Alderson's strategy is to target communities that are food deserts and provide a mechanism for access to better alternatives, while providing opportunities for education regarding the health benefits of fresh food.
"There are two McDonald's, a Taco Bell and a Togo's here, and that's about it," Alderson says. "There's very little access to fresh produce. It's easy to conclude that East Palo Alto doesn't have grocery stores because the business just isn't there, but this community spends $68 million on groceries every year. Much of that money goes outside the community, as residents are forced to go to nearby towns for grocery stores.
"I have to spend my Sundays plotting which grocery stores to hit," says Letticia Rayson, a lifelong resident of East Palo Alto. "I have to travel outside the city just to find a Safeway where I can get regular produce."
Rayson, who is helping organize the farmers market, says it will have tangible and intangible benefits. "The immediate effect is we would have healthy food right around the corner," she says. "The intangible aspect is that we deserve to have access to high-quality food. We've become accustomed to this insidious apathy and you don't even notice you've gotten used to this lower standard of living.
"The farmers market is a way of saying 'This is what we really deserve.' I think raising that level of expectation will cause people to get more vocal and insistent on expecting more."
Others are hopeful that the move will help develop a healthier student population. According to the California Physical Fitness Report, only 9.7 percent of children in the Ravenswood City Elementary school are in top physical shape, while the average for fifth graders is 25.6 percent.
In addition to putting children at high risk for heart disease and diabetes, poor nutrition also hampers their ability to learn. Numerous studies have shown a direct link between good nutrition and cognitive ability.
The kids most vulnerable to developing a low attention span and behavioral problems as a result of poor nutrition are children who live in poor, at-risk communities where junk food is plentiful and fresh food is hard to come by.
Disease by Design
This world where junk food is much cheaper than fresh food was created from moldy government policies. The idea was allegedly to make the main staples of the American diet inexpensive in order to ensure a plentitude of easily affordable food. But these good intentions wound down to the pit of nutritional hell as corn, wheat and soybeans, made artificially cheap by heavy government subsidies, were transformed into cheap value-added products like high-fructose corn syrup, bleached flour and hydrogenated soybean oil. These are the cornerstones of America's junk food empire.
Prolific in fats and calories though they are, these snack foods are virtually devoid of nutrition. What characterizes a food desert is not the amount of digestible calories per square mile, but rather the amount of available nutrition.
Food deserts are also distinguished by the paradox of obesity walking hand-in-hand with malnutrition. This state of affairs can actually cause a cycle of destructive eating wherein an individual with little access to fresh food will be driven by his body's craving for nutrition to eat more and more of the fat- and calorie-laden junk food that can quickly lead to heart disease and diabetes, two of the biggest, most expensive killers in the nation.
"I don't like to say that the farmers market is a health intervention because that doesn't sell," said Alderson. "But that's essentially what it is. A healthy community needs regular access to fresh food."
In addition to fresh locally grown produce, the market will offer glucose screening and health education programs. "Health navigators" from the Ravenswood Family Health Center will be on-site with answers to questions about how diet affects wellness.
Farmers markets can also provide an opportunity for cultural integration. Many small communities are diverse, but segmented. Farmers markets provide a forum wherein locals from different backgrounds can interact on a regular basis and become familiar with one another. Productive Parks
One more benefit slow food advocates are hoping to get out of the farmers market is an increased awareness of the importance of preserving dwindling farmland in the area. Farmland in the Ravenswood area is not as easy to come by as it once was. East Palo Alto currently has the least amount of open space in the Silicon Valley area, just one-half acre per thousand people. The high end in San Mateo County is 30 acres per thousand people. Real estate development has taken up much of the open space.
One farm left in East Palo Alto is Happy Quail Farms. Dave Winsberg came West in search of reasonably priced farmland in the hopes of trying his hand at microfarming. He was happy to buy 2 acres in East Palo Alto, comprised of several backyard lots. After trying flowers, and even quail eggs for a time—which gave rise to the name—Winsberg eventually discovered the Padrones chile, a gourmet variety popular in tapas bars and fine restaurants throughout the Bay Area. Now Winsberg grows over 30 varieties of peppers, as well as cucumbers, eggplant, rhubarb, squashes and horseradish. He's proven that with some good market horse sense, a small farmer can still prosper. It is also a happy indication that the town has not entirely lost touch with its agrarian past. In fact, the community may be the beginning of a revival.
In the garden of the East Palo Alto Charter School there is an odd, imposing structure—a half dome roughly two stories tall, made of a network of rebar. At the toe of each pole, poking up through the mulch, is a cheerful sprout of wisteria. One day, as Wolfram Alderson explains it, the skeletal dome will be covered in velvety green leaves, dripping with clusters of lavender blossoms creating a charming classroom-size gazebo where students and teachers can have their lessons on warm sunny days. A network of strong wooden vines will have taken the place of the rebar skeleton. In similar fashion, the guiding force that Collective Roots has been for the East Palo Alto Farmers Market will hopefully become less and less necessary as the local community become the structure of the operation and make it their own.
Send a letter to the editor about this story.