April 25-May 1, 2007
home | metro silicon valley index | features | silicon valley | sports news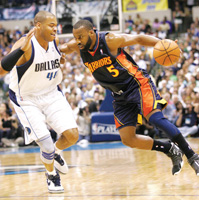 Khampha Bouaphanh/Fort Worth Star-Telegram/MCT
A drive through Texas: The Warriors' Baron Davis dismantled Dallas, including Devean George, in Game 1 of the playoffs Sunday.
Warriors Dream, Dallas Screams
By Steve Palopoli
HOW GOOD are the Golden State Warriors right now? So good they almost made Dallas Mavericks owner Mark Cuban's head explode in Game 1 of their first-round playoff series Sunday night. Cuban—you know, the annoying billionaire with hair like Moe from the Three Stooges—got so angry about how the Warriors were whupping his team that every time the camera would cut to him it looked like that scene in Total Recall where Arnie's head almost pops off on Mars. Alas, no such luck, Cuban's head never actually came off. But, hey, gotta save something for Game 2, right? The Mavericks organization has always been a bunch of whiners, from Cuban to star Dirk Nowitzki. They talk a big game, play efficient but dreadfully uninspiring basketball and then cry like babies about how it's everyone else's fault when they choke in the big moments. This time around they tried to make it about an imagined foul on Devon Harris by Jason Richardson in the fourth quarter, which no one was buying on TNT's Inside the NBA, or anywhere else except Dallas. When that didn't work, they whined that it was just too hard to play an underdog when everyone expects you to win. Waah! The truth is the Warriors absolutely humbled the Mavericks in their first game, outplaying them for the entire second half, and continuing to own them as they have all season and even before that. It was the biggest moment yet in Bay Area basketball fans' favorite new game, "Please God Nobody Pinch Me, 'Cause If This Is a Dream I Never Want to Wake Up." As all the Dallas defenders are quick to note, a series is seven games. The rest of the basketball world—Mark Cuban, especially—doesn't expect the Warriors to win even one more, let alone the series, whether they admit it or not. But as everyone should have learned after unjustly counting Golden State out of the playoffs, this team is for real. Coach Don Nelson has brought out the best in a team that was waiting to be inspired to overachieve. Count on the Warriors to give Dallas everything they've got, and then ... see you in Round 2? Even though an eighth seed has never beaten a one seed in a seven-game series, it could be one more dream come true for the Warriors.
Send a letter to the editor about this story.