04.30.08
home | metro silicon valley index | news | silicon valley | news article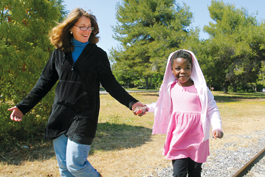 Photograph by Felipe Buitrago
No Spray Day: Surgeon Cindy Russell, shown here with her daughter Kayla at Vasona Park, became concernedabout pesticides when she witnessed a spike in breast cancer among her young patients.
Grounds for Suspicion
County puts former pesticide-company exec in charge of project to rid public lands of poisonous chemicals
By Vrinda Normand
NARESH DUGGAL'S bushy eyebrows are drawn together in consternation. His eyes peer out impatiently from behind dark-rimmed glasses and dart between two groups of people who've been pulling him in opposite directions for years.
On one side are Cindy Russell and Charlene Lilie, citizen activists who have fought the use of chemical pesticides on county property since the late 1990s. They're sitting side-by-side at this task force meeting, quick to remind the roomful of high-level managers that they're the reason Santa Clara County passed an integrated pest management (IPM) ordinance in the first place. The 2002 law mandated the reduction of pesticides and the use of least-toxic methods wherever possible.
They're also the reason this IPM oversight task force exists—and why Duggal has a job as the IPM manager, a position created by the ordinance. He's tasked with supervising a huge transition: No longer can the county reach for the cheap-and-easy solution of bug sprays and weed-killers.
The county's 28 parks encompass 45,000 acres of land, all vulnerable to pest insects and weeds. In addition, 700 miles of county roads need to be kept trim and clear of overgrowth. And there are at least 160 county-owned buildings that need protection against termites, ants, cockroaches, flies and rodents.
Transforming the way all this property is maintained is no small feat.
And while the 2002 ordinance clearly demands a move away from chemical pesticides, there are still county officials fighting to keep strong chemicals in their arsenal.
Take Chris Nucci and Jim Meide. They manage the county's three small municipal airports in San Jose, Palo Alto and San Martin, and they're at this IPM task force meeting to request a special exemption to the ordinance. Nucci and Meide explain that their taxiways are being turned into Swiss cheese by gophers. Stubborn, out-of-control weeds on their airport grounds are pushing federal safety regulations.
Nucci says he's tried mowing, even torching the unwanted plants, but his crew doesn't have enough manpower to keep it up effectively. The ultratight county budget has everyone working with minimal resources.
"We're just killing ourselves for nothing," Nucci tells the group. "We're out there breaking our backs in the middle of the day with weed wackers and then the weeds come back right away."
"These ladies can sit here and argue all day," Meide adds, motioning to Lilie and Russell, "but they're missing the costs of all this. There's an appalling lack of knowledge about how these things affect the real world."
Russell remains cool and diplomatic. "I really appreciate you guys talking about this so we can come up with a solution," she says.
Duggal tries to mediate the tense discussion while keeping his meeting on schedule. "Don't worry," he tells the airport guys, "I'll help you. Whatever is needed, we'll do it. It's just a matter of finding out what we need to do first."
The IPM chief outlines a quick procedure to divide the airport properties into three priority levels for study. After an inspection and review period, he assures them, he may compromise to allow them to break out the spray guns.
Trace Amounts
The idea behind IPM is that small amounts of pesticides and herbicides can be "integrated" with more organic means. By its very nature it seeks a compromise between those seeking to protect the environment and those who need to control it. Striking the right balance to keep everyone happy is the hard part.
Santa Clara County's ordinance leaves much of this open to interpretation, saying only that "preference shall be given to available non-pesticide alternatives, where feasible ...[using] the least hazardous pesticides only as a last resort."
"It's a gray area," Russell points out. "When is using a particular pesticide the last resort? Who decides?"
Ultimately, Duggal does. He's the one who makes the final call about what type of pest control is "feasible," which approach gets "preference" and when it's appropriate to use certain chemicals—including, occasionally, those that aren't approved by the ordinance.
A trained entomologist, Duggal did not come upon his pest-control expertise working to reduce the use of chemicals in the environment. In fact, before he became the county's IPM czar, Duggal worked for one of the largest pesticide companies in the United States.
His appointment struck some local environmentalists as a case of the county hiring the chemical-industry wolf to guard the henhouse.
That impression was bolstered one year after Duggal arrived, when Orkin won the contract to become the county's structural pest control provider. The company got $650,000 for inspecting and tackling bugs in county buildings just last year. Its five-year agreement is up this June.
Duggal says he had nothing to do with Orkin winning the county contract. He was unresponsive to further questions about the appearance of a conflict of interest. And there is no evidence of such a conflict: Public documents from 2003 show that Orkin competed with three other companies for the contract and submitted the lowest bid.
However, several IPM experts expressed concern about Duggal's connection with Orkin. While nobody alleges any kind of financial misdeeds, several IPM experts question whether a former pesticide company exec ought to be in charge of the county's anti-pesticide efforts.
"That looks pretty odd," says Steve Scholl-Buckwald, a scientist with the Pesticide Action Network based in San Francisco. Jonathan Kaplan of the Natural Resources Defense Council expressed similar concern. "There is a potential conflict of interest there," Kaplan says, "I just don't know if it's real or not."
"I want to see a declining trend," says Carolyn Cox, a scientist at the Center for Environmental Health in Oakland. "I don't want to see pesticide use going up or reaching a plateau."
Say It: Don't Spray It
In 1996, San Francisco activists launched a movement against pesticides on county property and got a strict ordinance passed just a few months later—the first of its kind in California.
San Francisco leaders created a list of approved chemicals, screened for the lowest toxicity, which they review and trim every year. In 2008, there are 73 low-risk substances available to the city's pest-control contractor, a local, family-owned business called Pestec that only does IPM.
"Chemical pesticides are not sustainable and contradict the goals of pest management: protecting human health and our home, planet earth," Pestec claims on its website.
On average, San Francisco grants less than 10 temporary exemptions for nonapproved chemicals each year (28 in four years between 2004 and 2007).
And because reporting and tracking is such a huge part of IPM, San Francisco maintains a thorough and user-friendly website that anyone can access.
Online reports detail all chemicals used and in what quantity. There are tables showing all the exemptions granted and why. Since 1996, San Francisco has reduced pesticide use by 85 percent.
Santa Clara County's program is much younger. But so far it's difficult to see how Duggal's early efforts will lead to the kind of success San Francisco experienced.
Chemical Warfare
Lilie and Russell formed Pesticide Alternatives for Santa Clara County (PASCC) in 1999, inspired by the events in San Francisco. They started lobbying for an ordinance that had teeth strong enough to result in large-scale change.
Russell, a surgeon who does breast-reconstruction surgery for cancer patients, had become concerned about environmental contaminants like pesticides when she noticed more young women developing breast cancer and producing breast milk with high levels of toxins.
When she met Lilie, Russell realized, "This is really a no-brainer. Pesticides are bad things. Let's just do the whole ordinance."
It took the activists three years to get the law passed, after many heated public meetings. The law finally went through in 2002, and Duggal was hired shortly thereafter to implement the plan. He finished preparing the approved chemical list in 2004. Although the county law says this list is supposed to be updated annually, Duggal provided Metro with only the original version.
The "approved" list includes 399 different chemicals—172 available for regular or limited use. That list of allowed chemicals is more than twice as big as San Francisco's, and yet the county has granted more exemptions for unapproved pesticides.
In four years between 2004 and 2007, there were 48 exemptions requested, and all but one were granted. The exemptions dropped to 12 in 2004 and to seven in 2005. But they spiked to 20 in 2006. Duggal says the increase was caused by unseasonable rainfall patterns that year.
During Duggal's administration, the use of Orkin's Roundup herbicide increased in airports from 95 pounds in 2003 to 231 pounds in 2006. The amount dropped to zero in 2007 because of a lawsuit against the Environmental Protection Agency protecting the California red-legged frog.
The county roads department used the highest quantity of Roundup in 2004–05—5,097 pounds, up from the previous year. In 2006–07 that number dropped to 1,392 pounds.
In public buildings, Orkin has begun using a lot more boric acid to battle pests, which is a naturally occurring substance that's general considered safe for humans and bad for cockroaches and ants. But the pest control company is still using the traditional chemical methods to treat termite infestations.
The sulfuric fluoride gas (Vikane) used to fumigate termites is considered "extremely hazardous" by pesticide scientists and has the potential to cause breathing failure. Orkin has received 14 exemptions to use Vikane and another hazardous chemical (Premise) in county buildings.
Duggal experimented with alternative termite treatments that involve heat and boric acid in only two cases: a small ranger's house and a barn. (So far, the safer methods seem to be working: the termites tackled last fall are dead and haven't returned.)
In an email sent in February of this year, Duggal said he isn't sure the "trial" will be 100 percent effective. "It will be wise to keep our option to Vikane fumigation, until we find a viable and proven alternative," he wrote, paving the way for another chemical gassing.
Mulch Ado
Russell and Lilie haven't received any kind of overview of these exemptions, although they are aware of them on a case-by-case basis as requests come up in task force meetings.
"They should be easily available online," Russell says about the exemptions, "that was the goal of the ordinance. It was so we could understand easily what is being used."
"That's part of the frustration," she continues. "It's hard to see exactly what the county is doing." The approved list is difficult to find on the county's website. It's five clicks away from the home page on a small, obscure link. The website has a lot of information about the purpose and mission of the IPM program, but little for anyone to actually monitor its progress.
Duggal provided a few snapshots of his program that showed some positive results. The biggest improvements, however, were due to outside legal action protecting the red-legged frog.
At the same time, Duggal has been conducting trials for organic pest control methods with Craig Crawford from the Parks Department. They've had success with rubberized mulch to stop weeds, and have discovered a gentle and effective way to catch ground squirrels without killing them.
"The County is committed to the implementation of Integrated Pest Management, which represents a culture change in the way the organization approaches pest management," Duggal wrote in an email. "Such changes always take time. We are pleased with the progress being made."
Duggal says he's developing an online reporting system that will make data more easily available "This is not an overnight project," he says. "We have limited resources for this kind of work."
Indeed, the IPM manager juggles many responsibilities and also feels the pinch of the county's budget. At the task force meeting he admitted, "It takes a lot of resources and hours on my end to be on top of each and every issue here."
Even though Russell is unsure about the IPM program's performance, she gives Duggal the benefit of the doubt. "Overall we've been pretty happy with Naresh," she says. "It's a hard job."
But she also says she wants to see the county doing more creative IPM practices that don't involve chemicals. And she'd like to see other pest control contractors participate in the process.
"That's why we feel like we still have to be apart of this," Russell adds. "I think it's important to keep an eye on the program."
Send a letter to the editor about this story.