04.30.08
home | metro silicon valley index | sports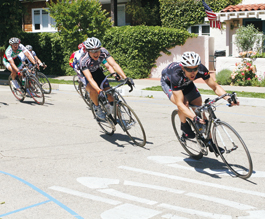 Photograph by Felipe Buitrago
FULL TILT Coming into the last turn before the straight-away to the finish line at the Cat's Hill Classic in 2007.
Hill Is for Heroes
By Felipe Buitrago
SUPERHEROES wear spandex, but just because you ride a bike in spandex doesn't necessarily make you a hero, unless of course you're brave enough to face the legendary Cat's Hill Classic. If bravery is your thing, then you're in luck—you'll have a chance to battle this brutal behemoth of a 23 percent grade worthy of super strength that stands smack in the middle of the criterium race on Saturday, May 3, in Los Gatos. Criterium, or closed circuit races, can be tame, like the EBC Crit, which makes "Great Asphalt!" its claim to fame. Or like the Golden State Criterium, which is described as "four right turns, one left turn and one 180 degree turn. Course is wide, and pavement is excellent." No such luck here, hero. The unleveled and cracked pavement, notorious for swallowing wheels, rivals even the most lightning fast of reflexes. And though the course is wide, some turns are very sharp, especially entering the hill and coming into the last stretch. Choose your battles wisely; breakaways are frequent, but aren't always effective, so make sure that yours is the one that counts. The end of the race can be anywhere between 10 laps for Category 5 riders and an hour-and-a-half riding time for Pros.
The 35th annual CAT'S HILL CLASSIC happens Saturday, May 3, at 9:30am at Tait Avenue and Nicholson Avenue, Los Gatos; free; visit www.catshill.org to register. (408.395.6611)
Send a letter to the editor about this story.