04.30.08
home | metro silicon valley index | features | silicon valley | column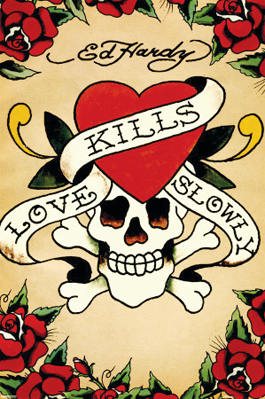 Going Glam
By Joseph Rosenfeld
MEN aren't known for wearing their hearts on their sleeves. But nowadays many are wearing lots of art on their sleeves, chests, backs and behinds. A few weeks ago I wrote about spring design concepts for men. This time around I've prepared a cheat sheet for you to use on your next trip to the mall so you will know what the latest trends are and how to wear them.
WEAR YOUR ART Novelty prints are hot commodities this season. Bill O'Brien, a Macy's By Appointment personal shopper, pointed out how "fashion has become a place to paint your artwork on," while touring Macy's Valley Fair men's department. The designs of painter, printmaker and tattoo artist Don Ed Hardy are causing a stir, putting prints center stage. French-born brand maker Christian Audigier teamed up with Hardy to create a line of iconographic tattoo-inspired clothing with a rock & roll edge. Together, they've brought L.A. style to the masses. It's the way to wear a multicolored skull emblazoned on a hoodie. Complete the look with a pair of fully embroidered jeans.
TRICKED-OUT JACKETS O'Brien mused how American Idol contestant Chikezie recently wore an embroidered pinstriped jacket complete with flap pockets, rear center vent and top-stitching. Created by Marc Ecko's "Cut & Sew" line, a jacket like this, despite its classic elements, should be worn with jeans and an untucked shirt. Or try something with fewer tricks, like a black, pinstriped cotton jacket by Ralph Lauren Polo.
THE 'LIVED-IN' LOOK Men are known to wash, dry and wear their clothes without touching them up with a steamer or iron. It seems apparent that men are in quite a hurry these days because of the plentiful selection of pre-wrinkled shirts. Now you don't even have to do laundry to get the lived-in look! If comfort and ease embody your style, these shirts are right up your alley; but wear a pressed shirt to make a more polished impression for that first date.
EMBROIDERY As mentioned all ready, embroidery is present on everything from T-shirts and jeans to tricked-out jackets and pre-wrinkled shirts. Embroidery is so important that even denim brand 7 For All Mankind produces new novelty pockets several times a year so your derrière can don a new decoration.
SLIM SKINNY When it comes to tailored clothing trends, slim and skinny are what to look for. Here, personal shopper Bill O'Brien pointed to house brand Alfani's Red label as an example of what's new in tailored clothing. He helped me into a size 40 jacket that fit my size 38 body beautifully, proving the line's slim, European cut. The shorter coat length and skinny lapels add to the jacket's slim lines. Similar in fit is the Hugo Boss Red label, but jackets maintain a more classic length. Even if you tend to eschew trends, more typical suitings celebrate the slim motif with classic stripes. If you opt for one of the slim suits be open to wearing a skinny tie, too.
Joseph Rosenfeld, the nation's only male Certified Image Professional, helps men, women and corporate sales, training and service organizations build professional images. Visit www.JRImageMentor.com for more information.
Send a letter to the editor about this story.