May 3-9, 2006
home | metro silicon valley index | features | silicon valley | sports preview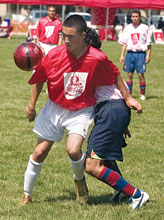 Photograph by Felipe Buitrago
Gold Digging: Miguel "Mikey" Lopez uses his golden soccer boots to get passed the defense at the Copa Coca-Cola.
Ten and Kicking
By Felipe Buitrago
IT ISN'T EASY being No. 1. But how about No. 10? Pele and Maradona, two of the world's greatest soccer players, were No. 10. San Jose is the 10th largest city in the nation. Coincidence? It didn't seem like it last weekend when hundreds of kids played in the Copa Coca-Cola, a yearly soccer tournament of international proportions that may give San Jose a place in the world soccer camp in Germany later this year.
Copa Coca-Cola is a 7-year-old tournament that started for under-15 Mexican youth and has grown to reach nations all over the world, becoming a World Cup-class event in a mere five years. Sure the United States still has far to go to reach certain worldly standards. But we've come a long way in a very short time. Targeting just two cities in 2001 and 2002 with only 16 teams each, "The Copa" is hitting 10 cities with over 480 teams and 7,680 players nationwide in 2006. The winners of the local tournaments, the early stages of which were held at the Morgan Hill soccer complex, will play for the national title in Los Angeles later this spring. The No. 1 team will then move on to Germany in June to represent the United States in an international soccer camp.
Send a letter to the editor about this story.