05.06.09
home | metro silicon valley index | features | silicon valley | sports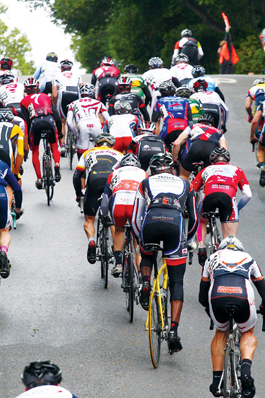 Photograph by Felipe Buitrago
TIME TO GEAR DOWN: Men's Category 3 riders used assertive shifting to tackle the behemoth of Nicholson hill at the 36th Annual Cat's Hill Criterium celebrated last weekend.
The Hill
By Felipe Buitrago
LAST Saturday (May 2) was proof that it would take something really grave to keep the 36th Annual Cat's Hill Criterium's wheels from turning. The usual roads in the usual conditions are a given, but this year proved to be extra difficult thanks to the fluctuating weather. I chose this weather front and this event to make my debut as a competitive cyclist. I consider myself an average cyclist whose experience includes a couple of century rides, one of them on a fixed gear, several triathlons and of course as a daily commuter. But nothing can prepare you for that nasty hill on Nicholson.
Much has been said in the past about how Nicholson has tortured cyclists for 3 1/2 decades, but not only do people keep coming back but newbies sign on as well. I can speak firsthand of the rigorous training these athletes put themselves through to snag a spot on the podium, which is obviously more than what I put in. Nonetheless, I tried to take heed of some words I overheard at the starting line: "At the top of the hill the road dips; use that moment to make your move." And it's true, but only if you can make up the hill 10 times, and that's if you're a beginner.
Send a letter to the editor about this story.