05.07.08
home | metro silicon valley index | features | silicon valley | feature story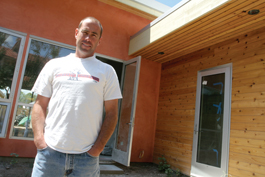 Photograph by Felipe Buitrago
MISSILE YOU MUCH: Scott Tuax, in front of a house he's working on in Campbell. Tuax's father is a legendary figure in rocketry, but after taking up life as a carpenter he thought that was all behind him.
Let's Do Launch
Silicon Valley powered the world's most famous daredevil when the man building Evel Knievel's rockets lived here. Now his son, who turned his back on rocketry for a simpler life, remembers the rush of the glory days and considers picking up where his dad left off.
By Stett Holbrook
IT WAS one thing to have an Evel Knievel lunchbox or an Evel Knievel action figure, but for a kid in the '70s, it was quite another to have the daredevil himself pull up in front of your house in an 18-wheeler and call you "buddy" while the neighbors looked on in awe. But indeed, when Scott Truax was 6 years old, Knievel parked in front of his Saratoga house in a red and gold semi emblazoned with his name. The truck was Knievel's home on wheels and it hauled several of his motorcycles. The cab was outfitted with a sleeper and a plush vinyl bar pimped out in classic '70s style. When Knievel stepped out of the truck, neighborhood kids couldn't believe the world's most famous stuntman was parked on their street, and they mobbed him. "It was a madhouse," remembers Truax, who is 40 now. "Kids everywhere. Traffic. Everywhere that guy went it was mayhem."
Knievel signed autographs and handed out posters before meeting with Truax's dad, Robert Truax, to talk business. The elder Truax was a retired Navy captain and rocket engineer who had teamed up with Knievel to build a rocket-powered vehicle that would launch him over Idaho's Snake River Canyon. It was to be Knievel's greatest stunt to date.
Knievel had come to Saratoga to check on the progress of the Skycycle X-2, as the rocket was called, because the launch date of Sept. 8, 1974, was nearing. The X-2, more of a two-wheeled torpedo than a motorcycle, was an enclosed, missile-shaped craft that would transfix the world.
For a young Scott Truax, rockets, Knievel and the obsessions of his father would shape his life in powerful ways. With his "benevolently detached" father forever tinkering in the garage, Scott spent his days roaming around what was then a semirural Saratoga on his bikes (one of which was a Huffy Evel Knievel model) and building forts, discovering a skill for construction that would serve him well later in life.
"With my dad it was rockets first and everything else second, including family," he said. "But I had the best childhood you could ask for."
In spite of the thrill of meeting Knievel and sitting in the X-2 before its fateful launch over the Snake River, at the time he didn't think his life and what his dad did behind the doors of their four-car garage was anything special.
"To me I just thought it was normal," he said. "You don't question your existence when you're a kid. You just exist."
But in time his father's obsession rubbed off on him and exerted a force over his life that continues to this day.
The Daredevil Years
In the world of American rocketry, Scott's father is a legend. Although he's 90 now and suffering from dementia, Scott says his dad still lights up when he talks about rockets. Robert Truax's fascination with rockets began as a teenager after reading about them in Popular Mechanics while living in Alameda. He reportedly conducted his first rocket experiments when he was 15 in 1932. After graduating from the U.S. Naval Academy with a degree in mechanical engineering, he served in World War II where he built rockets and experimented with rocket fuels.
After the war and during the early years of the Cold War, he helped develop the Thor, Viking and Polaris missiles before retiring in 1959 from the military and entering the private sector. Truax became increasingly critical of what he saw as the government's needlessly expensive space exploration and rocket programs. He was convinced there were better and cheaper ways to explore space.
Truax had recently left Aerojet, a major rocket and missile manufacturer, when he met Knievel and embarked on an era of his life that he later described in his unpublished autobiography as "wondrous times."
After Knievel boasted that he would jump over the Grand Canyon, he strapped a pair of rocket engines onto a motorcycle and displayed the bike as the one that would fly him across it. When aerospace engineer and inventor Doug Malewicki examined the motorcycle, he quickly concluded the motorcycle was doomed to fail and told Knievel so. Knievel then hired Malewicki as his engineer.
In his search for a rocket to power the vehicle he was designing, Malewicki called on Aerojet, but was discouraged when he learned what a rocket would cost. But before he left, someone suggested he contact Robert Truax because of his experience building low-cost, steam-powered rockets. After Aerojet, Robert Truax had formed Truax Engineering Inc. and was making steam-powered rockets for dragsters, which turned out to be just the kind of know-how Knievel was looking for.
Truax and Knievel formed a partnership of sorts and he ultimately took over the project when Knievel fired Malewicki for what was described as a public relations blunder.
"Knievel kept the purse strings and it was definitely a pay as you go proposition," wrote Truax in his autobiography. "I started to work, and Knievel started to pay. ... Time and again Knievel would get behind in his payments, and I would threaten to stop work (though I never actually did). Sooner or later Evel would come through with a check. Half of the time it would bounce, but eventually he paid up."
While Truax worked furiously to build the X-2, Knievel, ever the wheeler-dealer, tried to find new ways to raise money for the stunt.
"One night I got a call from Evel," wrote Truax. "'Bob, will that thing run on beer?' At first I thought he was pulling my leg. He kept pressing me for an answer. Finally, 'I'm here in Milwaukee. I'm with the Pabst people.' Well, beer is mostly water, and if we heated a keg with the bung out for a while and boiled off the alcohol, we would have an acceptable propellant. He was not able to cut a deal however and I escaped having to face the problem of using contaminated water."
As the X-2 project neared completion, Truax moved his family from Maryland to Saratoga in 1974, joining the many defense contractors and electronics engineers in what would soon become Silicon Valley.
The project and canyon jump picked up steam when Knievel told Truax he had found a sponsor with deep pockets. Bob Arum, Mohammed Ali's attorney and infamous boxing promoter, had put up enough money to see the project through. Additionally, Knievel had worked out a deal to show the jump on closed-circuit television in movie theaters. The catch was that the jump had to happen Sept. 8 between 2 and 2:20pm. Arum figured theater audiences would only stay in their seats for 20 minutes before they started demanding their money back. Ready or not, Knievel was committed to the launch date.
While Knievel may not have been much of a father or a husband, Scott Truax said Knievel never wanted to disappoint his fans. Scott Truax traveled back to Idaho Falls recently, nearly 35 years after the jump. Standing on the remains of the launch ramp and looking into the mouth of canyon, he was awestruck by the magnitude of what Knievel and his father set out to do. The fact that Knievel was willing to make the launch whether the X-2 was fully tested or not was incredible, he says.
"Evel had some serious balls," he said.
The day before the jump, the Truax family and crew caravaned up to Idaho Falls for the big event. More than 35,000 paying spectators had turned out for the highly publicized stunt and ABC's Wide World of Sports was on-site to film it.
After years of preparation and hundreds of thousands of dollars, the intensely anticipated moment had finally come. A crane lowered the X-2 onto the steeply pitched ramp. Knievel strapped himself in and at 2pm they were ready. Five thousand pounds of thrust roared to life and the X-2 up flew up and off the ramp, when suddenly one of the parachutes came out. A few seconds later the main canopy deployed. The engine sputtered out and Knievel drifted into the canyon below.
After bouncing once off a rock 50 feet above the canyon floor he floated again before coming to a rest. Knievel, who didn't know how to swim and feared he would drown if he fell into to the river, emerged from the X-2 with nothing more than a scratch on his nose.
Because of the deadline for the launch, the only system Robert Truax had not tested was the parachutes, and it quickly became clear that the thrust of the rocket had caused them to deploy prematurely.
According to Robert Truax's autobiography, the first thing Knievel said after being hauled out of the canyon by helicopter was, "Bob, that is going to be a hell of a hard act to follow. What else have you got up your sleeve?"
Truax, who had already been thinking about Knievel's next trick, had a ready reply.
"If you can raise about a million dollars, I think I can make you the world's first private astronaut," Truax said.
Knievel was in and Truax got to work on building their next project: the Skycycle X-3.
Crash and Burn
Robert Truax's partnership with Knievel and his efforts to launch him into space proved to be short-lived. In 1977, Knievel attacked Shelly Saltman for writing a tell-all book about Knievel's reputed drug use and abuse of his wife and children. Saltman was one of the promoters of the Snake River Canyon jump. Because Knievel was recovering from injuries from another stunt, one of Knievel's friends reportedly held Saltman down while Knievel clubbed him with an aluminum bat, breaking his arm and wrist and leaving him unconscious.
Knievel pleaded guilty to battery and was sentenced to three years' probation and six months in jail. As a result, his sponsorships dried up and his lucrative line of Evel Knievel toys got yanked. Knievel later filed for bankruptcy. He tried to make a few comebacks, but financial woes and growing medical problems stemming from his many injuries dogged him. Knievel died last November at 69.
With Knievel out of the picture, Robert Truax carried on with his project to put the first private astronaut into space. He called it the "volksrocket" and solicited would-be astronauts willing to pony up $100,000.
As thrilling as the Knievel days were for Scott Truax, it was the post-Evel era that really caught his imagination.
"While it lasted it was a phenomenon. It was 'wondrous times,'" he said, using his father's phrase. But now instead of watching his dad work in his garage, he worked with him, helping to manufacture parts for his various projects. But raising money for a project to shoot someone into space proved difficult and the project never got off the ground.
The family got a boost when the Navy awarded Robert Truax a contract to build a water-launched, recoverable rocket or Sea Launch and Recovery (SEALAR). This was precisely the kind of low-cost, efficient rocket that Robert Truax had been advocating for years. "That was such an exciting time," says Scott Truax.
For a while he lived on a barge in the Port of Redwood City where they performed a lot of their rocket tests. Because of his father's open-door approach, fellow engineers and rocket freaks were always coming in and out of the Truax house wanting to help and learn from the rocket pioneer. One student from Oklahoma showed up and ended up living in their driveway for three weeks while he worked with Robert Truax.
"We were always meeting all kinds of crackpots and some not so crackpots," he said.
Robbie Knievel, who followed in his father's footsteps and became a daredevil, called several times asking if Robert Truax could build another X-2. Truax told him he could do it for $1 million, but nothing ever came of it.
As they continued to work on the SEALAR project, the Truax family moved to San Diego and bought a big new house and sold their beloved Saratoga home. But soon after, the Navy pulled the contract and everything came crashing down.
"The contract was up and we were out of business," says Scott Truax. "Those were the worst of times."
His father lost his house, a four-bedroom estate on four acres. His mother died the next year of pancreatic cancer, and Scott's marriage started to unravel.
"By 1994 we had exhausted every penny my dad had and nothing worked," he said. "It makes me appreciate my life today because nothing has been so bad."
Starting Over In San Jose
Looking to put those "dark times" behind him, Scott Truax moved back up to San Jose. In the early 1990s San Diego was suffering through a deep recession and the economy of the Silicon Valley looked more promising.
"One thing about the Bay Area, even during a recession there's always work," he said.
He got a job working for a satellite component maker, but he soon grew bored and decided to change careers and do what he set out to do when he was a kid in Saratoga building forts: become a carpenter. At 30 years old, he started out as a laborer, learning along the way until he taught himself how to build homes. Ten years later, he now he specializes in custom home construction.
"I never looked back," he said. "It was the best thing I could have done."
He also divorced his wife of 15 years. Six months after his divorce was finalized he met the woman who would become his new wife online at hotornot.com. She lives in Utah and as soon as he's finished building his current construction project in Campbell, he's joining her and hopes his two daughters from his first marriage, Kristi, 16, and Rachael, 14, will come with him.
While he's happily married and enjoying his new life, it's not quite true to say that he's never looked back. He carries a photo in his cell phone of the trip he and his wife took to the Snake River Canyon. The picture is of him standing atop the old launch site on what looks like a cold, wind-swept day with the canyon behind him.
"I've always wanted to do the Knievel thing again and rebuild my father's rocket," he says.
His father's passion for rockets has clearly rubbed off on him. It's still hush-hush, but Scott Truax says the X-2 may take off again. Some people believe Knievel's Snake River Canyon jump failed because of the rocket's faulty design, but if Scott is successful he hopes to clear his father's name and maybe make some money for the financially destitute rocket pioneer in the process.
"That thing would have worked. Anytime something is attempted it has to be completed. It's just something that needs to happen."
Plus, he says, "there's just something inherently cool about rockets."
Send a letter to the editor about this story.