05.07.08
home | metro silicon valley index | news | silicon valley | news article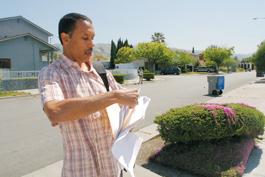 Photograph by Felipe Buitrago
THE RUNNING MANN: Craig Mann looks over a list of registered voters while walking precincts on San Jose's East Side.
Teflon Mann
Scandals build name recognition. And that's Craig Mann's ace-in-the-hole in his run for San Jose City Council.
By Erin Sherbert
CRAIG MANN bypasses a house with a "no solicitors" sign posted. He crosses the address off his list and knocks on the next door. It doesn't take long for him to spit out his 30-second pitch.
His friendly, animated patter keeps residents lingering at their front doors. He tells them the one attribute he has that no other candidate in the race has: insider knowledge of San Jose City Hall.
As he traverses this East Side neighborhood, Mann charms voters with his chatty style. That's probably why he has managed to get elected to public office four times over the last decade, despite the fact that he's been mired in a long string of political controversies, including a couple of headline-making scandals.
This time he's looking to secure a seat on the San Jose City Council as the District 8's council representative.
"Evergreen deserves an experienced councilmember," Mann sound-bites. "I've worked City Hall as a chief of staff—so I know how it works and, quite frankly, how it could work better."
Although he's the best-known candidate in this race, Mann knows he's got a competitive battle ahead. He's up against six other credible candidates in the June 3 primary, including the business-backed Rose Herrera, who was endorsed by the San Jose Silicon Valley Chamber of Commerce, and the popular Lan Nguyen, who has served with Mann as a trustee on the East Side Union High School District board. Also in the race is businesswoman Van Le, who has been active in the Vietnamese community and at City Hall.
But it could be that Mann's toughest opponent in this race is himself. Mann is remembered as the chief of staff to former City Councilman Terry Gregory, who resigned in disgrace in a deal with the district attorney over food, booze, sports tickets and loans that he accepted while an officeholder, sometimes from people who had projects before the city. Until Gregory fired him, Mann could be seen at Gregory's side frequently as he made his rounds in the community. Only after the termination did Mann go public with information about the improprieties.
A year earlier, when Mann was serving on the board of the East Side Union High School District, a civil grand jury inquiry found that a number of staff members and trustees had used district-issued credit cards inappropriately. Mann was named as an offender, but to this day, he insists he used the credit card for legitimate travel.
On the county education board where he now serves, Mann again drew heat. He was one of a group of trustees who helped drop the ax on popular former county Superintendent Colleen Wilcox, who last year was pressed to resign amid accusations of harassing employees.
"Wherever he goes, there seems to be controversy that follows," says Wendy Stegeman, union rep at Andrew Hill High School and chairwoman of the East Side Teachers Association's political action committee. "I think he sees it as a positive."
Mann seems to look back on his various battles with pride, and voters seem to have forgiven his transgressions. They elected Mann four times over the last decade, three times to the East Side Union High School District Board, and again in 2006, when he ran unopposed for his current post on the Santa Clara County Board of Education.
Even in the midst of controversy in 2004, while the Gregory scandal was unfolding and when Mann himself was facing questions about his district credit card, he managed to garner the most votes among a field of candidates in the East Side school board election.
Mann's opponents in this race admit that his name recognition and knack for fundraising (he's collected more than $40,000 from donors and loans, according to March election records) make him a likely frontrunner for the November primary.
Shirt Happens
One of Mann's most vociferous foes is Stegeman's East Side Teachers Association, which represents 1,300 teachers, counselors and librarians from 12 high schools. The acrimonious relationship between the group and Mann has been so blatant that he didn't even bother asking for their endorsement in this council election.
In 1998, the Teachers Association supported Mann in his first run for the board and even cut him a $1,500 check. That relationship quickly soured as Mann sided with the superintendent, Dr. Esperanza Zendejas, who was considered a fiscal hawk and was despised by the union.
The teachers group said Mann treated schools as though they were a business and he was the CEO. They continue to say that Mann has consistently supported decisions that hurt teachers, such as offering shabby benefit packages as a way to ease budget problems.
A quintessential Mann moment occurred in March of 2005, when he donned a pink shirt on a day the district sent out more than 900 pink slips to teachers. Mann says he was wearing the shirt as a display of solidarity with the teachers (he's married to a high school principal). But the teachers who oppose him believe it was intended as a slap in the face.
Mann believes the rift with the teacher's union is based on his staunch support of charter schools in the district.
"There may be some circles where they think he is Prince Charming," Stegeman says. "But as far as I know, most teachers do not support Craig Mann."
Nevertheless, Mann has secured endorsements from more than 20 educators in the region, including Anna Song, a trustee on the Santa Clara County Board of Education, and Angela Cornelius, the assistant principal at Evergreen Valley High School, according to his campaign website.
"Educators love me," Mann says, adding that he comes from a family of educators. "For anyone to say I hate teachers—they are off their rocker."
Cut Off Credit
Regardless of the source of the union's animosity, it has hurt Mann in the past. In 2003, when he was seeking re-election on the school board, the Teachers Association dug up spending records showing Mann had spent about $31,000 between 1998 and 2003 using his district-issued credit card. Mann wasn't the only trustee racking up bills on the district's credit card, but his tab was certainly among the highest.
The teacher's group called a press conference and pushed the district to investigate whether the credit cards had been abused.
Mann says his purchases were legitimate; trustees were in fact given a spending allowance of roughly $4,000 per year for travel and other education-related expenses (which would account for more than two-thirds of the money he spent).
Records show he used the district's card to travel to various education conferences all over the country, including the National School Board Association conference. They also showed Mann spent around $2,000 for Dell computer equipment. And, famously, he once spent $80 on a masseuse. (Mann says the hotel records made a mistake and that he actually paid for the masseuse in cash.)
When the alleged "spending spree" hit the news, Mann went through all his credit card records, crunched some numbers, and found that he actually owed the district money for the Democratic Party Convention he had attended, but mistakenly paid for the trip with his district card. Mann eventually cut some checks to the district, totaling roughly $1,000.
"I blew it, I own it," he says today.
The credit card controversy caused enough concern that district officials no longer issue credit cards to trustees.
"He apologized and said, 'I made a mistake and I will pay back what I owe,' then it just went away," says Marisa Hanson, president of the East Side Teachers Association. "The public still re-elected him. And that's what I was surprised about."
After that incident, Mann was keen on keeping his record squeaky clean. So he made a public pledge never to spend a dime of district funds for conferences, meals or traveling. Apparently, he's made good on that promise.
East Side District leaders say that after 2003, Mann has never turned in any receipts for reimbursement. And since elected to the county Board of Education, Mann's spending records are zero, according to district officials.
Mann says he plans to carry that anti-spending pledge all the way to San Jose City Hall. That's probably a good idea, since Mayor Chuck Reed has made a major issue out of repairing the corrupt image and closed-door culture of local government since he took office last year.
"You won't find even half of a zero of expenditure on this guy here," Mann says.
Splashing Sewage
Two months after the credit card abuse allegations surfaced, Mann's boss and friend, Terry Gregory, fired him as chief of staff.
Mann rolls his eyes when he hears Gregory's name. The two were buddies who had met as they were both serving on education boards. A few years later, Mann helped Gregory get elected to the City Council. It was an exciting time for the local African American community.
Mann built Gregory's staff, which helped the councilman deliver popular projects for District 7, such as getting more parks and fixing transportation problems.
Things were good until about 11 months into Gregory's first-term on the council. According to Mann, that's when he got a call from a respected and well-connected community member who invited Mann to his home. There, Mann says, he learned that his boss had been accepting gifts, such as bottles of wine and baseball tickets, without reporting them.
Mann says that when he confronted his boss, Gregory was "visibly unaffected."
Mann says he followed up by firing off an email to the council office staff explaining the city's gift policy, with a note attached telling them not to take anything from anybody for any reason. Mann says he copied that note to his boss.
Ten days later, Gregory dropped the hammer, alluding to the allegations of credit-card abuse. Mann later filed a wrongful termination claim with the city, which was dismissed.
After Mann left City Hall, constituents started talking to the press about Gregory's gift-taking problem. On at least one occasion, Mann had couriered some of the petty graft. The smoking gun was an envelope containing free ballgame tickets.
Mann admits placing an envelope on Gregory's keyboard, but insists he did not know the tickets were in the envelope.
"It was like sewage out in the street and someone splashed it on you," Mann says of the incident today. "How did this get all on me?"
When the DA called Mann, he stepped forward and told them what he knew. Some local politics-watchers spin a story line suggesting that the DA took a pass on the credit card charges in exchange for Mann dropping the dime on Gregory. Mann swears that's not true and swears the incidents were unconnected.
Other prominent community leaders, including Chamber of Commerce boss Pat Dando, who was vice mayor at the time of the Terry Gregory scandal, say Mann was the good-guy whistle-blower who unveiled his boss's unethical actions.
But Mann says there are also many people who, in the aftermath of the Gregory events, began to look the other way when he came around--—and still do.
"There are people normally in my support camp that don't return calls anymore," Mann said. "But that is how it goes. Sometimes it will be a lonely walk."
It doesn't seem to surprise him that there was a lone dissenter when the Santa Clara County Democratic Party's subcommittee voted to endorse him. And it doesn't seem to surprise him that he won the party's nearly unanimous endorsement.
"Craig is unique," says Steve Preminger, chair of the committee. "People have strong feelings about issues and positions and Craig is one of those people. I don't think it's fair to characterize that as negative."
Mann is well aware that he inspires mixed feelings among folks in the community. But he is relying on his experience in public office and his record as a fiscally conservative leader to carry him to City Hall.
But this time, Mann's hoping his path will be free of controversy.
"It keeps following me," Mann says, leaning forward in his chair and pointing behind him. "Is there some kind of controversy behind me?"
Send a letter to the editor about this story.