05.07.08
home | metro silicon valley index | sports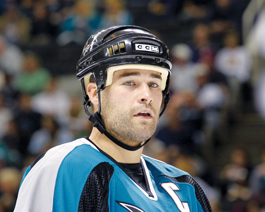 Photograph by Felipe Buitrago
JAWS OF DEFEAT Captain Partick Marleau won't be leading his team to the Stanley Cup in '08.
Loss Leaders
By Steve Palopoli
ON Sunday night, the Sharks did the nearly impossible: they skated to a heartbreaking loss—a comeback-killing, season-ending, early-playoff-exit loss, no less—and yet exceeded expectations. In their 2-1 defeat by the Dallas Stars in an incredible quadruple-overtime, they went all in, they left it all on the floor, they transcended every cliché developed to make losers and their loser fans feel better about losing. They played the hearts that they supposedly did not have out. Goalie Evgeni Nabokov gave a performance for the ages. Even after that final Stars goal, there was so much release at the end of the longest game in San Jose Sharks history—so much relief that after hours of stomach-churning suspense, the damn thing was actually over—that it almost felt like they won.
Except, of course, that they didn't. Like last year, San Jose's Stanley Cup hopes burned out in the second round, to the bewilderment of fans (and probably players and coaches as well) who felt this was a team that could go all the way. But if you've got to go out, this is the way to go.
Let's face it, Bay Area sports have been in the tank, in more ways than one. After flailing football teams, post-Bonds baseball and a Warriors team somehow missed the playoffs in one of their best years ever, this was the year of the Great White Shark Hope from Gilroy to the Golden Gate. They didn't make it, but with their refusal to give up for five hours and 14 minutes Sunday night, they proved that it's better to burn out than to fade away.
Send a letter to the editor about this story.