May 3-9, 2006
home | metro silicon valley index | features | silicon valley | sports feature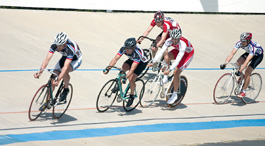 Photograph by Felipe Buitrago
Rounders: Bikers at the Velodrome push the speed limits.
Look Ma, No Brakes!
By Felipe Buitrago
HAVE YOU EVER felt that itch—that need for speed? Well, you can finally feel free to scratch, now that track season is open and the Hellyer County Park Velodrome awaits. OK, you won't be flying around in a F-14 Tomcat like Maverick and Goose, but this elliptical track is made exclusively for riding a bicycle as fast as you possibly can till your legs go numb. Located right off the Hellyer exit on Highway 101, it's been witness to some of the world's fastest riders—like two-time Tour de France winner Greg LeMond—who propel themselves to incredibly high speeds around the 0.2-mile long, 22-degree-banked Indianapolis 500-style raceway. The Velodrome holds races on Wednesday, Thursday and Friday nights depending on the category of rider, but you don't have to be an expert to ride—the track is open Saturday mornings for those riders who want to expand their horizons. You will learn track etiquette, riding techniques and a little bicycling history, and participate in different types of racing. But take heed, this isn't for your everyday around the town beater. Once there you will notice a few things that set off this style of bike riding from any other: these bikes have one gear, they can't coast and they have no brakes. Still want to try? Don't worry, you can also rent a fixed-gear bike for a mere $5, and pay another $5 to ride. For more info on the Hellyer Park Velodrome visit www.ridethetrack.com.
Send a letter to the editor about this story.