05.14.08
home | metro silicon valley index | features | silicon valley | column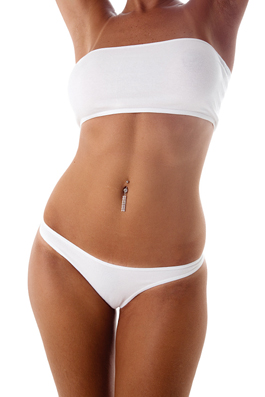 Figure It Out
By Joseph Rosenfeld
LATELY, so many women I talk to admit to being freaked out about their body shape. Insecurity about one's body is no fun for anybody—well, except for me, because I thrive on helping people see the best in themselves where they only saw the worst. Just the other day, at a fashion show, two of the models revealed to me how self-conscious they are about their bodies. They have no reason to be. No one does. All that's needed is a grasp of seven shapes and how to apply the right one or ones to your body.
Determining your body type will help you create visual balance to your body where you find imbalance. The idea is to appear more ideal, more proportional. The simplest test is to have a look at your body while standing in front of a full-length mirror wearing a swimsuit or underwear.
The Inverted Triangle figure has broad shoulders, a medium bust, an average waist and narrow hips with shapely long legs. Balance your body proportions by creating points of emphasis at your neckline with clothing or jewelry, or below your waist with a skirt or flared pants.
If your shoulders, waist, hips and thighs are of similar width, your body could be likened to that of the Rectangle body figure. If you're looking to create more definition, add emphasis above your waist and up toward your face. Even your shoulders could be slightly extended.
The Hourglass figure is full of features, emphasizing a full-rounded bust, hips and buttocks. I always suggest showing off curves with confidence. But if you choose to camouflage those curves, you can create greater proportional balance by emphasizing the shoulder and neckline area, and by drawing attention away from the waist and up toward the face. Semifitted clothing that gives slight emphasis to the waist is perfect for showing off your assets. If you want to convey confidence, wear clothes that contour your waist or add emphasis to the waist with a contrasting color.
If you see straight upper body lines, but curved lower body lines, when you look in the mirror, you could have the Triangle body figure. With narrower shoulders and wider hips and thighs, the key is to draw the eye upward away from the lower torso. If you add fullness to your shoulders and upper torso you will minimize your lower torso and create the illusion of greater upper and lower body balance.
The Narrow Rectangle body figure appears to be in balance with shoulders, waist and hips of similar width. You may also observe that your body appears to be bony and with few obvious curves. If this description zeroes in on your body figure, you may be inclined to minimize the thinness of your body by creating emphasis anywhere you prefer. Wearing clothing with a loose fit will fill you out wherever you add volume.
The Rounded figure features a generous bust, wider rib cage, fuller back and a large midsection. The lines of your body will appear to be rounded. If this is your body shape, it's possible to minimize your body width and weight by de-emphasizing your waist and by creating vertical interest to lengthen your whole body. Elongate and slenderize your neck with tops featuring necklines like a v-neck. Minimize your fuller bust by wearing jackets with narrow lapels. Wear clothes that are smooth and loose so as to avoid accentuating your full middle and look for skirts that highlight your legs.
The Diamond figure represents a body with narrow shoulders, hips and thighs; a small to average bust; and a wider midriff and waist. If this describes your body, you can create more balance by wearing jackets to fill out the shoulders and by wearing fuller pants to fill out the leg area. By leading the eye inward at the waist and up to the face, you will be able to minimize your midriff, waist and high hips. Avoid styles that could make you appear shorter because this can simultaneously give the illusion of your midsection appearing wider. Look for clothes that fit loosely over the midbody area.
Part two will appear in the next Style column.
Send a letter to the editor about this story.