05.14.08
home | metro silicon valley index | features | silicon valley | family events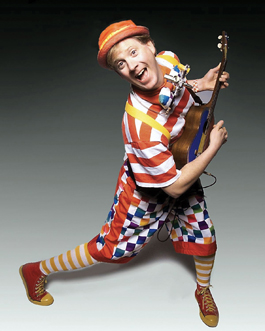 Daffy Dave goes wild at CMSA's Community Arts Day June 29.
Summer 2008 Family Fare
You know, for the kids ...
American Musical Theatre of San Jose
San Jose Center for the Performing Arts, 255 Almaden Blvd, San Jose. 1.888.455.SHOW.
Disney's Beauty and the Beast—Thru May 25
High School Musical—Jun 10–15
Cantor Arts Center
Palm Drive and Museum Way, Stanford University. 650.725.4758. museum.stanford.edu.
The center holds a variety of short art sessions for children throughout the summer related to shows at the museum; call 650.725.3155 for details.
Catch the Summer Reading Bug
Various San Jose libraries. Free. 408.808.2183. www.sjlibrary.org.
The San Jose Public Library system hosts its annual summer reading celebration with activities, performances and story times for kids ranging from infants to fifth grade. Begins Jun 14.
Chalk Art Festival
Gardner Community Center, 520 W. Virginia St, San Jose. Free. www.downtownwillowglen.org.
Artists of all ages are welcome to participate in this second annual festival celebrating community and creativity. Chalk provided. Jun 14, 10am–2pm.
Children's Discovery Museum
180 Woz Way, San Jose; Tue–Sat, 10am–5pm and Sun, noon–5pm; $7–$8. 408.298.5437.
The premier learning-is-fun destination for kids, with plenty of activities and displays for a day's worth of exploration. Exhibits include Secrets of Circles, the Art Loft, Bubbalogna, Kids' Garden, Pizza Please, WaterWays and more, plus the opening of the "Top Secret: Mission Toy" exhibit on June 21.
Community School of Music and Arts
Finn Center, Tateuchi Hall, 230 San Antonio Circle, Mountain View; free. 650.917.6800. www.arts4all.org.
Youth Speaks, Poetry in a Whole New Light—A performance by young poets from around the Bay Area. Jun 1.
World Harmony Chorus—A concert of songs from around the world for the whole family to enjoy. Jun 23.
Community Arts Day—Arts-related info and fun for the whole family, including two shows (12:30 and 2pm) by Daffy Dave. Jun 29, 11am–3pm.
Family Fun Day
Campbell Historical Museum, 51 N. Central Ave, Campbell. $5. 408.866.2119.
Families can enjoy craft activities such as dressing up in vintage fashions, making puppets and designing canned fruit labels. May 18, 11am–4pm.
Golfland
976 Blossom Hill Road, San Jose; 1199 Jacklin Road, Milpitas; 855 E. El Camino Real, Sunnyvale; daily 10am–10pm; $8–$11. 408.225.1533. www.golfland.com.
Miniature golf plus water slides and an arcade.
Gilroy Gardens
3050 Hecker Pass Hwy, Gilroy; open weekends till June 7, then daily through the summer; $29.99–$41.99. 408.840.7100. www.gilroygardens.org.
The family-oriented theme park offers some familiar rides with unique variations (like the mushroom swing) coupled with a very unusual botanical setting full of strange topiary and rare trees, many preserved from the venerable Tree Circus, an old-fashioned attraction in Scotts Valley.
Happy Hollow Park and Zoo
1300 Senter Road, San Jose; daily 10am–5pm. Gates will close July 9 due to construction. $5.50–$6. 408.277.3000. www.hhpz.org.
A pleasant, well-laid-out zoo featuring animals in habitat enclosures. Of special interest are the lemur and jaguar exhibits. There is also an adjacent play area featuring some amusingly retro attractions.
Where Animals Call Home animal show—May 17
Triple Play Family Days—A chance to take in the zoo, History Park and a San Jose Giants game for only $1. Jun 10 and Jul 8.
Ice Cream Zoofari—Jun 21
History San Jose
Kelley Park, 1650 Senter Road, San Jose. 408.287.2290.
Dia de Portugal Festival—Jun 14
Founders Day 1777—Jul 27
Antique Autos in History Park—Sep 14
Lipizzaner Stallions
HP Pavilion, 525 W. Santa Clara St, San Jose; $19.50–$29.50. 408.998.8497.
The performning horses entertain on Jun 15 at 2 and 6pm.
Mommy and Me (and Daddies Too) on the Row
10am–noon; free. Santana Row, Stevens Creek and Winchester boulevards, San Jose. 408.551.4611. www.santanarow.com.
The second Tuesday of the month, visiting groups present programs for young children.
All About Animals—Jun 10
Safety Day—Jul 8
Sports of all Sorts—Aug 12
Cooking With Kids—Sep 9
Museum of American Heritage
351 Homer Ave, Palo Alto; Fri–Sun, 11am–4pm; free. 650.473.6950. www.moah.org.
Vintage Vehicles and Family Festival—With food, kids' entertainment and classic cars. Aug 3.
Paramount's Great America
4701 Great America Pkwy, Santa Clara; daily beginning May 24; $34.99–$51.99. 408.988.1776. www.pgathrills.com.
Thrills, rides, kid zones and watery fun at Boomerang Bay await at this summer family destination. Live performances include Backyard Circus, magician Ed Alonzo and Endless Summer on Ice, and the theme park hosts various special events throughout summer.
Raging Waters
Lake Cunningham Regional Park, 2333 S. White Road, San Jose; weekends (plus May 26 and Jun 6) till Jun 10, then daily through Aug 19; $21.99–$29.99; 408.238.9900. www.rwsplash.com.
A place for the whole family to get seriously wet without having to drive over the hill to the ocean. There are slides and activities for all swim and age levels.
Ringling Bros. and Barnum and Bailey Circus
HP Pavilion, 525 W. San Carlos St, San Jose. $15–$95. 408.998.TIXS.
The longest-running circus troupe in America heads into San Jose to perform dazzling feats and daring spectacles. Aug 20–24.
Roaring Camp
Mount Hermon Road at Highway 17, near Felton. www.roaringcamp.com.
Western-theme park features historic re-enactments and rides on working railroads, including trips to and from the Santa Cruz beach.
Hats Off to Dad—Jun 15
Day Out With Thomas—Ride Thomas the Tank Engine at his only appearance in the area. Jul 25–27 and Aug 1–3.
Great Train Robberies—Jun 28–29 and Aug 30–31.
San Jose Museum of Art
110 S. Market St, San Jose. 408.271.6840. www.sjmusart.org.
Kids Summer Art Camp—Kids work in a variety of media during this weeklong workshop for kids ages 6–11. Jul 28–Aug 1 and Aug 4–8.
Santa Cruz Beach Boardwalk
400 Beach St, Santa Cruz; daily Memorial Day to Labor Day; ride packages $29.95 and up. 831.423.5590.
The beachside theme park is home to a historic wooden roller coaster, dozens of rides and games and eateries. The Boardwalk also plays host to live bands, a fireworks display, sporting events and free performances by the Amazing Chinese Acrobats.
Sesame Street Live presents When Elmo Grows Up
Civic Auditorium, 135 W. San Carlos St, San Jose; Jun 13–15.
Also at Oracle Arena, 7000 Coliseum Way, Oakland; Jun 19–22. 408.998.TIXS.
Summer Family Movie Night
Municipal Stadium, 588 E. Alma Ave, San Jose. Free. 6pm.
Bee Movie—Jul 26
Over the Hedge—Sep 20
Sunnyvale Hands on the Arts
Community Center, 550 E. Remington Dr, Sunnyvale. $5. 408.730.7350.
The 23rd annual festival provides a wealth of opportunities for young artists ages 3 to 12 to experience the arts through activities, performances and exhibits, with help from professional artists—May 17, 10am–4pm.
The Tech Museum of Innovation
201 S. Market St, San Jose; daily 10am–5pm; $8–$10. 408.294.TECH.
This hands-on museum is designed to inspire guests of all ages with its IMAX theater and exhibits such as Life Tech, Innovation and Exploration.
YSI Insect Fair
Youth Science Institute, Sanborn-Skyline County Park, 16055 Sanborn Road, Saratoga. Free. 408.867.6940.
The multilegged and winged take over the Youth Science Institute for this annual day of learning about insects, including crafts and other activities, demonstrations and exhibits—May 17, 10am–4pm.
Kids Onstage
Ballet San Jose Silicon Valley
California Theatre, 345 S. First St, San Jose; $22–$42. 408.286.2600. www.balletsanjose.org.
Snow White and the Seven Dwarfs—The classic fairy tale is brought to life on the ballet stage by ballet students. May 24 at 1:30 and 5:30pm and May 25 at 1:30pm.
California Theatre Center
Sunnyvale Community Center Theatre and Mayer Theatre, Santa Clara University. 408.245.2978. www.ctcinc.org.
The center runs a three-week Summer Theatre Conservatory for actors ages 8 and up; it also runs a two-week Junior Conservatory with half-day sessions for students 6–8. These sessions run in June and July.
California Youth Symphony
650.325.6666. www.cys.org.
Works by Prokofiev, Ives/Schumann and Britten—May 18 at 2:30pm at San Mateo Performing Arts Center
Japan tour preview—Jun 22 at 2:30pm at Spangenberg Theatre, Palo Alto
Children's Musical Theater San Jose
Montgomery Theater, 271 S. Market St, San Jose. 408.288.5437. www.cmtsj.org. Performing Arts Summer Camp—Jun 16–Jul 2 and Jul 7–24, for ages 4–18. (At Schallenberger Elementary School in San Jose).
Into the Woods—Thru May 18
Babes in Arms—Jul 11–20
West Side Story—Jul 25–Aug 3
Pinocchio—Aug 7–10
El Camino Youth Symphony
The California Theatre, 345 S. First St, San Jose; $5–$10. 650.327.2611. www.ecys.org. Summer workshops in three levels offered in July for ages 6–14.
Season Finale—Featuring the ECYS Percussion Ensemble and young artists Joy Lin, violin, and Sunli Kim, violin. Jun 1 at 2:30pm.
Los Gatos Ballet
Campbell Heritage Theatre, 1 W. Campbell Ave, Campbell. 408.866.2700. www.lgballet.com.
Carnival of the Animals—An original production set to the music of Camille Saint-SaŽns. May 16.
Montalvo Arts Center
Villa Montalvo, Saratoga. 408.961.5858. www.montalvoarts.org.
The center conducts special summer camps. Summer Arts Institute (Jun 16–Jun 20), for ages 14–18, allows young artists to explore movement theater, mask-making, painting, photography and more. Theatre Performing Arts Day Camp (Jun 23–27 and Jul 28–Aug 1), for ages 6–15, allows young actors to rehearse and perform the Missoula shows.
Hansel and Gretel—Presented by the Missoula Children's Theatre. Jun 27
Rumpelstiltskin—Presented by the Missoula Children's Theatre. Aug 1
Starry, Starry Night: Art and Astronomy Slumber Party—Learn about the night sky and sleep under the stars. Aug 8–9
Palo Alto Children's Theatre
1305 Middlefield Road, Palo Alto. 650.463.4930.
Rapunzel—Jun 18–27
Leaving Stones—Jun 19–21
The Rabbit Who Wanted Red Wings—Jul 9–18
Chekhov's Shorts: The Bear, the Proposal and the Festivities—Jul 10–19
The Dinosaur Musical—Jul 11–19
The Emperor's New Clothes—Jul 22–25
Pecos Bill—Jul 22–25
Anything Goes—Aug 1–8
Peninsula Youth Theatre
Mountain View Center for the Performing Arts, 500 Castro St, Mountain View; Cubberley Community Center Theatre, 4000 Middlefield Road, Palo Alto. 650.988.8798. www.pytnet.org.
The company offers a variety of classes for young actors throughout the summer.
High School Musical—Thru May 18
Tales of a Fourth Grade Nothing—May 23–24
King Midas and the Touch of Gold—Jun 27
The Little Mermaid—Jul 3
Stories Under the Big Top—Jul 11
Charlotte's Web—Jul 11–20
Jack and the Three Sillies—Jul 18
The Elves and the Shoemaker—Jul 25
Pocahontas—Aug 1
All Shook Up—Aug 2–10
Pied Piper of Hamelin—Aug 8
Fabulous Fable Factory—Aug 15
San Jose Youth Symphony
The California Theatre, 345 S. First St, San Jose. 408.885.9220. www.sjys.org.
Prelude and Intermezzo String Ensemble—May 31 at Le Petit Trianon.
Philharmonic Orchestra—Jun 1 at 6pm.
Send a letter to the editor about this story.