May 16-22, 2007
home | metro silicon valley index | features | silicon valley | column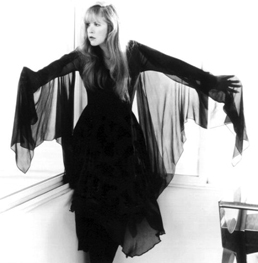 Spin cycle: Nicks is timeless.
Stevie Nicks: Style Icon
By Joseph Rosenfeld
STEVIE NICKS, kicking off her "Crystal Visions" tour in Concord on Thursday, is truly an icon of music and of style. In fact, her music and her style are completely melded, each reflected in the success of the other. The crystalline intertwining of her visual and vocal characteristics is pure genius. This performance persona has led to a celebrated career spanning four decades.Twirling across a stage to the syncopation of a rock music beat, her body sheathed in a delicate lace shawl, her arms extended to create the effect of a dove taking flight—all while wearing suede platform boots, Stevie Nicks embodies the characters of her songs, enchanting her audience and taking everyone on an arousing escape into a world of white-winged doves, black widow spiders and "sisters of the moon."
Nicks has perfected a vocal and visual potion that reveals her as a strong, yet romantically feminine, archetype that many women and men want to relate to. For many, Stevie is like the character she romanticizes in the song "Rhiannon." Wouldn't you love to love her? This desire to relate on a deep level explains why many women show up to Stevie's concerts dressed much like her, and the rest of those in the audience sing along as if they were each sitting alone with Stevie at her piano as she pens her poems. Reportedly, Stevie Nicks took style and performing cues from legendary rocker Janis Joplin as well as from the style she spotted on a concertgoer. She developed her signature style, transforming herself into the epitome of bohemian chic replete with chiffon skirts, shawls, layers of lace, platform boots and long blonde locks. Even her microphone and tambourine are festooned with ribbons and bows.
Stevie serves as an excellent example of how to make an indelible impression. The consistency of her stage style, vocal qualities and songwriting ensure her place in rock & roll history. Her potently ethereal poetry, written with equal parts pleasure and pain, and her mystical Gypsy get-ups comprise one of the finest examples of personal brand building that I've ever seen.
Ever since discovering Fleetwood Mac's Rumours album, in what was a seemingly fortuitous first-grade forage through my mom and dad's album collection 30 years ago, Stevie Nicks has been an entertaining entity in my life. I recall being as entranced by the music and lyrics of "Gold Dust Woman" then as I am at this moment. The song begins with Stevie's voice sounding like that of a temptress, her voice softly echoing the undulating bass and beat of the music. Soon, the repetitive quality of the music builds as does its volume into a crescendo of a chorus until the conclusion of the rock & roll fairy tale with a ghostly ending.
Back then, gazing at the Rumours album cover, seeing Stevie in her black finery and golden hair, the impression of Stevie Nicks as a dark ingénue was set in my brain forever. All of these years later, Stevie's style has stood the test of time equally as well as the wisdom of her early lyrics, maturing as the sorceress, timeless in her finery.
Joseph Rosenfeld, AICI, CIP, the nation's only male certified image professional, polishes the appearances of professional men and businesses and is based in downtown San Jose. Contact him at: [email protected].
Send a letter to the editor about this story.