May 17-23, 2006
home | metro silicon valley index | news | silicon valley | news article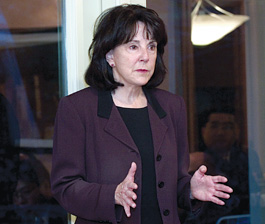 Photograph by Felipe Buitrago
The Investigation Is This Big: Sources who've been interviewed by investigators say the questions have included inquiries about Karyn Sinunu's possible involvement in suppressing evidence.
Investigation Clouds DA Office, Race
Sources interviewed by investigators say questions center on 1997 felony drug-trafficking case
By Vrinda Normand
KARYN SINUNU faces new troubles in her run for district attorney with reports that investigators are attempting to determine if she conspired to derail coke-dealing charges against an attorney. Also under investigation is the role of Ed Fernandez, a deputy DA recently convicted of drug possession charges.
Chief Assistant District Attorney Sinunu welcomed Fernandez back to the office in January after he was convicted of possessing marijuana. She called the misdemeanor offense a "bad personal choice," but only a few weeks later assigned him to lead an ethics training session—a move viewed as a sign of favoritism towards a colleague who is also a personal friend. Their close relationship, however, is now coming under even harsher scrutiny.
Metro recently learned that District Attorney George Kennedy—whose former political support of Sinunu has wavered in the past month—reopened the investigation of a 1997 felony drug-trafficking case that allegedly implicates Sinunu and Fernandez in the obstruction of justice.
Former Assistant District Attorney Al Weger says head DA investigator Tom Brewer interviewed him two weeks ago about the 9-year-old case, which involved a prominent San Jose defense attorney whom law enforcement officials suspected of dealing cocaine. Brewer would not comment, but another investigator in the office alluded to the open investigation. "This one's being handled by the chief," he said.
Weger says he viewed reports from a special operation that the state Bureau of Narcotics Enforcement conducted. Agents pretending to be drug dealers caught the defense attorney in a tapped phone conversation agreeing to buy 1 1/2 pounds of cocaine.
"It was a slam dunk case," Weger says, and told Brewer he couldn't think of any reason why the defense attorney should not have been prosecuted.
Normally, Weger explains, a deputy district attorney in the narcotics unit presented with this damning evidence would have pressed charges immediately. But that didn't happen.
Weger says Brewer told him that the case was reassigned to Fernandez, an attorney in the domestic violence unit with no experience handling drug prosecutions.
Instead of going forward, Fernandez sat on the case. State drug agents were left wondering why the defense attorney was never charged—did Fernandez have a personal motivation for protecting the attorney?
Beyond that is the question of why Fernandez was picked to handle the matter in the first place. As a former supervisor over the narcotics unit, Weger says he can't think of a legitimate reason why a case like this would have been transferred to Fernandez.
He believes Sinunu—then assistant DA over narcotics—most likely transferred the case. The only others who could have made such a critical decision are former Chief Assistant Paula Kuty or Kennedy himself.
And Weger isn't the only one who's linking the case to Sinunu. San Jose defense attorney and former Deputy District Attorney Jamie Harmon says a DA investigator also interviewed her about the buried drug case and asked her specifically about Sinunu's possible involvement in the suppression of evidence.
Kennedy, Sinunu and Fernandez did not return Metro's phone calls by press time. David Tomkins, the new media spokesman for the district attorney's office since Kennedy recently pulled Sinunu from the position, could not confirm or deny the investigation.
"We never comment about personnel issues," he added.
But Metro reached former BNE agent Mike Ward who had led the 1997 undercover operation. Currently an officer with the Moraga police department in the East Bay, Ward said he could not discuss the matter because it was "being investigated."
Send a letter to the editor about this story.