05.21.08
home | metro silicon valley index | features | silicon valley | feature story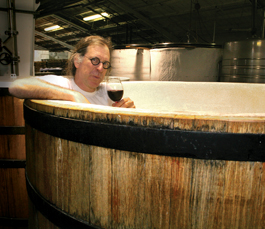 Photograph by Felipe Buitrago
Pressed for Time: Randall Grahm among the barrels where Bonny Doon wine is bottled in Santa Cruz.
A King Without a Kingdom
In Bonny Doon's 25th year, trickster Randall Grahm gives up puns for the biodynamic revolution and makes a serious bid for his legacy
By Christina Waters
RANDALL GRAHM has been called many things: Rhône Ranger, marketing Svengali, punster extraordinaire. Over the last quarter-century, the lanky, long-haired trickster-winemaker has reinvented himself enough times to make even Madonna blush.
After switching his attention to a handful of Italian varietals, Grahm went on to unleash dozens of proprietary styles, each with its own satirical label. To the high-end syrahs for which he was lauded, he added a low-end line with controversial screw-top closures. By the end of the last century, oenophiles were dizzy from all the spin Grahm inflected upon his postmodern empire. But he kept up the pace. And just when the empire had ballooned, some said, out of control, Grahm pulled off yet another transformation.
As if to exorcize the lees of his youthful, "gonzo" winemaking style, Grahm radically cut back his operation last year—from 450,000 cases to 35,000 cases—sold off the popular low-end Big House and Cardinal Zin series and jettisoned the Pacific Rim Riesling brand to the Pacific Northwest. He retired three-quarters of his employees. Maintaining production of the flagship "Cigare" series largely from sourced grapes, Grahm, viticulturist Nicole Walsh and associate winemaker Jillian Johnson are focusing on a handful of estate wines made from the Ca' del Solo property near Soledad.
"Randall was born to project delight—to make people happy," observes John Locke, Bonny Doon Vineyard's marketing director for 17 years. "But there's also his Krakatoa and Vesuvius side—the need to create, destroy and then start anew."
This choice Nietzschean analogy sheds some light on the visionary modus operandi of Bonny Doon's "president-for-life." Having jettisoned his signature prankster approach to varietals, labels and sales, Grahm is now reining in his former oeno-omnivore tendencies for a narrower, purer branding motif. "Purity of heart is to swill one thing," Grahm has frequently punned on the Kierkegaardian mantra. Only now he means it. Again.
The determination to will one thing—at least for the moment—has propelled Randall Grahm down this newest path. Like the hunt for a definitive New World pinot noir, laden with unique, site-specific terroir. Biodynamic vineyards currently fueling Grahm's elegant Ca' del Solo wines might guarantee the purity part.
But one more crucial piece is needed—an estate vineyard capable of yielding such a prize. A vineyard worthy of the rest of Grahm's professional life.
Doon-sizing the Empire
"I truly believe this. To make great wine, one must throw away the idea of making a profit," Grahm recently pronounced. "Pac Rim, Big House, all those were amusing. But it was like being in college too long. Enough already!"
Tightening his corporate belt, Grahm says, "I've given myself a kick in the butt. Where you do things is important—I need to find my own terroir. I need to feel at home."
That quest is made all the more urgent by the presence of a new family, especially his exuberant daughter Amélie, 5. She is helping drive what he calls "a different metric—it's about having the life I want to have." Legacy is always on his mind.
Donning his philosopher's hat, Grahm muses, "Wine knowledge is a road. Many people stop at certain points on that road—with New World wines, for example. They are easy to pronounce, immediately likeable. But if you go further—it's a story, but you want to go further—you'll find amazing wines, like the 2005 burgundies."
Ah, there's the rub again—burgundy, the fabled wine powered by the sacred pinot noir grape. The grape that has eluded Grahm since those earliest days of winemaking on his own property in the Santa Cruz Mountains. "He literally trucked in hundreds of tons of limestone," recalls longtime colleague and wine educator Jason Brandt Lewis, "to try to create the right conditions for pinot noir." But the site proved too warm, too Mediterranean, to produce the pinot of his dreams, and so Grahm turned to other grapes, other styles, and the proliferation of the Bonny Doon brand began.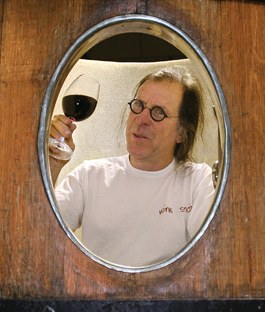 Photograph by Felipe Buitrago
Risky Business
"It's presumptuous to set out to make a 'great wine,'" Grahm told me last month. "If I can only succeed in interesting wine, then I'll be happy. If I could only make good-but-banal wine—no!"
Taking the biodynamic gamble, Grahm is now focused on a few charismatic wines." I want to feel that I've done my best. I'm taking chances—in fact more chances than ever. This is risky," he says of his latest biodynamic line. The risk, he explains, is "that nobody will buy the wine. The risk is that it will end up being far more costly than I can possibly recoup."
Such risks, in the analysis of Lewis, are calibrated upon the current glut of highly rated wines on the market. Lewis sold wines with Grahm in the Wine Merchant days, and the two remained friends after moving to Santa Cruz.
"Back in the early '80s, we all knew all the other winemakers—it was a smaller community. We tried to help each other," Lewis says. "Now it's cut-throat. The advent of the 100-point system triggered a feeding frenzy of competition. Even 90 points is not as good as it once was."
Lewis believes "no journalist is going to waste a column on wine that is just 'really good.' Really good is just not good enough."
"Randall was taken very seriously when he started," recalls Locke. "[Robert] Parker called him 'a national treasure,' and said of the Cigare Volant that it was not only new, it was great."
The current executive editor of Wine Spectator, Thomas Matthews, agrees. "Randall has been an important figure in California's embrace of new grapes and new wine regions. We applaud his curiosity, his willingness to take risks and his ability to make good wines from many grapes and in many different styles," said Matthews. "It may be that his restlessness has sometimes worked against him. Making outstanding wines generally requires patient application."
Matthews explains what he means. "Randall has added and dropped grape varieties, vineyard sources and even whole lines of wine." Grahm himself even describes the "old Bonny Doon," in his March tasting notes, as "a venue for exceptionally wacky marketing initiatives."
Outskirts of Eden
Grahm has been characterized as a cross between Shiva—the Hindu god of destruction and creation—and the Marx Brothers. Grahm's virtuoso parodies of mondo vino poohbahs managed to get the once-precocious maverick kicked out of celebrity paradise.
"He alienated a lot of people," Locke admits. Grahm himself bemoans this exile. But how many renegades grow up to regret their youthful excess?
"There was a sense of us not being serious—people still don't know that we're serious. They treat me like an icon," he fumes. "But I'm not dead yet."
Others, like acclaimed Ridge Vineyards wine maestro Paul Draper, applaud Grahm's impetuousity. "His humor has been the greatest of gifts to an all-too-serious industry, as has the erudition on which it is so often based. He is one of the most creative of winemakers and wine marketers," Draper says.
"You need third-party endorsement," says Grahm. "And in this country, that means Wine Spectator and Robert Parker." Grahm believes that he has "totally alienated them—they either see me as a maverick, or an asshole."
Parker, the über wine arbiter whose approval can guarantee a winemaker's fortune, declined to address his opinion of Grahm. Wine Spectator's editor put it diplomatically. "I wouldn't say he has 'alienated' Wine Spectator, but since Randall appeared on our cover (in the April 15, 1989, issue), California has exploded with new wineries," Matthewss pointed out.
And that too has accounted for some of Grahm's professional doldrums. "I think I compromised the brand by making so many different wines, and so many less expensive wines," he admits. Much like the Internet syndrome in which the glut of digitized information overwhelms the consumer's ability to process, so the expanding world wine web renders absurd any attempt to sort through all the product. Ergo, to the newcomer goes the spotlight.
Too Much Too Soon
"To be great, you have to have data, experience and talent," contends Grahm's associate John Locke. "Randall has all that, plus a Promethean imagination."
He also had fame. "Like a movie star suddenly vaulted to rock-stardom," recalls Lewis, "Randall got this amazing success. And while he didn't change, everything around him changed. His focus was always on small, but it got huge. It was no longer in his control." Lewis notes that California's "star system" of winemakers means that once you're on top, "if you slip in numbers, or in points, you're history." Grahm had to keep competing with himself. "Also some of the wines weren't as good as others," Lewis believes. "Very good, but not always great."
Locke agrees with this overall analysis. "The way it became just wasn't sustainable. We were goofing around too much," Locke admits." He spent too much time doing too many things—it probably did distract from the wine itself."
Paul Draper applauds Grahm's restless experimentation. Calling Grahm "an old friend," Draper believes that, "as much as he loves the idea of terroir, I suspect he would be bored to tears if his creativity were limited to insuring that the character of a great terroir was carried through into the wine year after year after year. "
The Biodynamic Turn
In 2003 Grahm began serious explorations into biodynamic viticulture, convening seminars, gathering experts and hiring French biodynamic expert Phillipe Coderey to oversee grape management, and he began converting the Ca' del Solo vineyard to biodynamic glory. "The new revolution will be in the vineyard," Grahm wrote that same year, and immediately began romancing lighter alcohol, mineral-intensive wines, of which the very first to be Demeter–certified were released this year.
"The choice to go biodynamic," Locke believes, "wasn't necessarily a tactical choice, but it was a happy one." In Locke's expert judgment, this choice not only helps place the winemaker/farmer back within the entire biodynamic loop, it creates arguably superior results. "These wines are alive," contends Grahm's associate winemaker Jillian Johnson, "unlike those made in the agrichemical style."
If his longtime colleague Locke is right and what Grahm needs now is "focus," the man himself contends that his focus has never strayed from the temperamental grape of Burgundy.
"Pinot noir is indeed always on my mind, and is in fact my most pressing viticultural ambition," he told me recently. "The problem of course is that finding a great pinot site in the New World is bloody difficult, if not nearly impossible." Grahm knows the score.
"If you find a climatically very cool area, plant on very dense spacing (meter by meter), irrigate artfully and do a few other things right like keeping your yield down, you may produce a simulacrum of burgundy, for which you will have to charge two to three times what a comparable burgundy might cost. But at the end of the day, it is still but a facsimile." Grahm finds it "far more interesting to think about how one might produce a truly original pinot noir, one that could not be produced in Burgundy." In other words, a wine that expresses the unique terroir of this here and now.
Terroir, Baby, Terroir
How hard can this be? You grab a checkbook, bring your vineyard consultant, hop in the Citröen and drive around until the feng shui feels right. Not quite. The quest for a new estate vineyard is fraught with complex issues. Zoning, environmental impact, climate, soil, the market, the ungodly expense of land anywhere near the Bay Area. "He wants to stay in Santa Cruz," Johnson believes, "but there aren't many places here that would work—and there are so many restrictions."
Nicole Walsh, winegrower for the Ca' del Solo vineyard, saw a huge change in Grahm once the biodynamic decision was made. "He really focused on the vineyard. Whatever is inspiring for him at the time, he goes deeply into it—he's the most experimental, outside-the-box person I've ever met," she laughs. "Now it's a constant quest to grow grapes better, to be close to the vineyard. It's really a whole new identity."
With Ca' del Solo vineyard purring along with biodynamic white grapes, Grahm knows that it's crucial to locate the right vineyard to yield terroir-expressive red wines. But he's asking for a lot. Such a dream vineyard must offer "a perfect congruence between the objective factors," such as geology, limestone, rainfall, "and the hauntingly compelling subjective features." Grahm is looking for "a landscape that feels like home"—a personal sense of terroir that can yield a professional triumph. In other words, winemaking perfection.
"Randall's perfection thing," cautions Locke, "might be the biggest impediment to his future."
Full Doon Rising
"I'm not setting the world on fire right now," Grahm admits, lips pursed, eyes squinting thoughtfully. "I'm meeting new distributors, training their staff; I'm shlepping wine. My God, I'm doing the things I did 20 years ago! This is my baby—I have to preserve it and keep it going."
Indeed, he is. There are loud rumors that the Bonny Doon Vineyard tasting room will come down from the mountain this summer and take residence on the West Side Santa Cruz winery property, along with a new tasting room cafe in the fall. Randall has just signed a book deal with UC Press, which means that his story, told in his inimitable way, will hit the bookstores next year.
Fit and brimming with ideas, Grahm looks convincingly born-again at midcareer.
"What keeps it all going? He shrugs.
"All stress, all the time."
The Biodynamic Revolution
Based upon principles articulated by Rudolf Steiner in the 1920s, biodynamic agriculture emphasizes the balance of all aspects of farming—soil, nutrients, animals, plants, climate—in a self-sustaining feedback loop. The farm—or vineyard, in this case—is viewed as a living organism. Including and surpassing organic farming methods, biodynamic agriculture utilizes precise herbal, compost and mineral preparations, created and applied in conjunction with the astronomical calendar. The whole point is to create soil so healthy, so in balance with its companion plants and animals, that nothing else is needed to maintain optimum nourishment, and optimum productivity.
Steiner prescribed the use of special preparations believed to enhance fertility. While these often raise eyebrows among nonbiodynamic practitioners, the most important of these preparations are based upon the homeopathic ideal of "innoculating" the growing medium with certain vital ingredients. The preparations are numbered 500 through 508, and the infamous preparation 500 involves filling a cow horn with manure, burying it at the autumnal equinox, and retrieving it six months later to form the nutrients for a "tea" which is applied to the fields. Other preparations, which are applied to the vineyards according to the seasons, involve ground quartz crystals, stinging nettles, chamomile blossoms, yarrow, dandelion, valerian, oak bark and horsetail.
The detail-intensive vineyard practice associated with biodynamic work yields what many winemakers consider a clean harvest. The land itself becomes cleansed enough of any prior toxins or negligent agricultural residues that it can be trademarked "biodynamic" by Demeter, the internationally recognized biodynamic farming certifying agency.
The results in the bottle are believed to more fully showcase appealing minerality and express terroir, literally transforming the vitality of the vineyard itself into the finished wines.
A Brief History of Randall Grahm
The yellow brick road to Santa Cruz started at The Wine Merchant, an upscale Beverly Hills wine shop, where the young Randall Grahm sold, learned about and drank great European wine. Smitten, Grahm resolved to try his own hand at making wine—after a stint studying philosophy at UCSC and ultimately taking a degree in plant science at UC–Davis in 1979.
Hoping to produce a great pinot noir, Grahm, with his family's help, purchased land in Bonny Doon, and soon discovered it to be "Rhône" at heart. Grahm replanted to syrah, roussanne, marsanne and viognier. The results were inaugurated with the first vintage of Le Cigare Volant, a resounding New World homage to Châteauneuf-du-Pape. Setting a tone for the future, Grahm chose the French phrase for "flying cigar," an allusion to a 1954 prohibition against cigar-shaped UFOs decreed by the village council of Châteauneuf-du-Pape. This cautionary ordinance captured Grahm's fancy and was immortalized in the winery's logo.
In the late'80s and early'90s, Bonny Doon Vineyard became Grahm's oenotechnical playground/laboratory for a dizzying diversity of grapes and styles: there were eaux de vie and grappas, the celestial muscat canelli, the Italian and Spanish period replete with nebbiolo, barbera, dolcetto, malvasia, sangiovese, albariño, each with its own irreverent and always colorful labels depicting priests, felons, angels, trapeze artists, UFOs, angry monkeys, fishermen, jesters and exploding volcanos.
In 1989, Grahm joined Who's Who of Cooking in America, and in 1994 won a James Beard Award as "Wine and Spirits Professional of the Year." That same year the vineyard in Bonny Doon succumbed to Pierce's disease. The infamous Big House series of wines created from Bonny Doon's Ca' del Solo vineyard in Soledad took off. Just after the turn of the millennium, Grahm recovered from a mysterious vertebral affliction. He became a father. He embraced Rudolf Steiner's biodynamic principles, in vineyard agriculture as well as in winemaking. In 2006, Grahm sold the Cardinal Zin and Big House lines, moved the Pacific Rim Riesling brand to Washington State, scaled back staff, sold his Ingalls Street winery facility—and leased it back—and slashed annual production from 450,000 to just over 30,000. The first Demeter-certified biodynamic Ca' del Solo wines were released this year.
Send a letter to the editor about this story.