05.21.08
home | metro silicon valley index | sports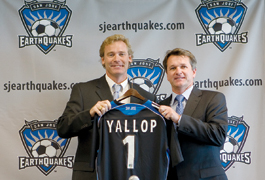 RUMBLIN' MEN: Returning San Jose Earthquake coach Frank Yallop (right) with general manager John Doyle at the news conference in Santa Clara.
Grudge Match
By Gary Singh
THE QUAKES are back as a franchise team and Frank Yallop has returned as coach after being straitjacketed in L.A. for 1 1/2 seasons. It was spring of 2001 when Yallop first arrived in San Jose. He had grown up in Vancouver, and spent years playing for Ipswich Town in England before originally coming to the United States. He built San Jose's 2001 team almost from scratch and won two championships for San Jose before splitting back to the Great White North after the 2003 season. Assistant coach Dominic Kinnear then took over the team for the 2004 and 2005 seasons. At that time, the Quakes owners, Anschutz Entertainment Group (AEG), wanted a potential new stadium—one that someone else would partly pay for, but over which they would still retain control. They imagined Houston being an easier place to accomplish this, so they moved the team there. The new Houston Dynamo then went on to win two more championships, and were fully embraced by the city, its politicians and its daily media, and are now a household name throughout the entire city. The current Dynamo team has 10 former San Jose players remaining from that squad, eight of which won at least one championship for San Jose. The match between the Quakes and Dynamo on Thursday will be a multipronged reunion of all shapes and sizes, as Kinnear still coaches Houston, and San Jose's GM is John Doyle, who was Kinnear's assistant when he coached San Jose for the 2004 and 2005 seasons. Kinnear and Doyle are also both locals and have been pals for 30 years.
The SAN JOSE EARTHQUAKES vs. the Houston Dynamo, Thursday, May 22, 7:30pm, at Buck Shaw Stadium, Santa Clara University. For tickets call 877.QUAKE.01. On TV: ESPN2, Deportes; radio: KLOK-AM (1170).
Send a letter to the editor about this story.