May 24-30, 2006
home | metro silicon valley index | features | silicon valley | sports preview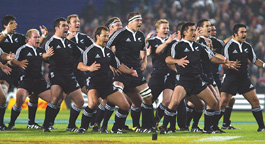 Photograph by Felipe Buitrago
Haka Shake: The New Zealand All Blacks rugby team perform their pre-game rituals, an old Maori dance known as the Haka.
The Ruffian's Game
By Felipe Buitrago
THE OLD SAYING about the difference between soccer and rugby is "Football is a gentleman's game played by ruffians, while rugby is a ruffian's game played by gentleman." On June 3 Santa Clara University and the South Bay will be witness to that old phrase. The Barclay's Churchill Cup of Rugby will be held right here for the first time at Santa Clara University's Buck Shaw Stadium. The idea for this tournament that honors former rugby player and English Prime Minister Sir Winston Churchill was born of a World War II alliance and English tour of North America and was finally realized in Vancouver, Canada, in 2003.
That same year the U.S. rugby team landed in second place. Then we placed third in '04 and hit second place again in '05. Currently we are ranked 13th in the world, and are the youngest of the competing nations. Our boys will be kicking off the semifinal leg of this year's tournament against Ireland "A" and four days later will face the New Zealand All Blacks, a very well known and respected team in the world of rugby, whose pre-game rituals, an old Maori dance known as the "Haka," unite culture with athletics. The tournament will be decided through a pool and by points; the winner will then head out to participate in the Final in Edmonton on June 17.
The first game starts at 2pm on June 3 at Buck Shaw Stadium. For tickets call 408.554.4660.
Send a letter to the editor about this story.