May 30-June 5, 2007
home | metro silicon valley index | features | silicon valley | sports news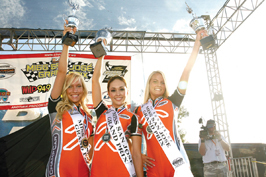 Queen of the road: Winner of Miss San Jose Grand Prix '06 Jennifer Field, flanked by first Runner Up Ann McDonald (right) and second Runner Up Megan Sellers (left).
Summer Gets Racy
By Felipe Buitrago
SURE, the San Jose Grand Prix has yet another month before it hits the streets. But with at least five Miss San Jose Grand Prix preliminaries being held until then, our little wait for Champ Car will pass like Maverick doing a fly–by. In the tradition of the past two years, the Grand Prix will take over the streets of San Jose for some fast–paced excitement. And you don't have to be Sebastian Bourdais, who not only got the pole position but also won both editions of the SJGP, to be racy. Or even Katherine Legge, first female driver to take the circuit at Long Beach—hell, the first woman to win an open–wheeled event, for that matter. She went on to win Edmonton and San Jose in '05, giving her the third place podium overall for that season. Now these contestants may not be traveling at 106 mph down the streets of San Jose, but it will certainly feel like it from the stands. The contest, which last year was laced with a live David Lee Roth and the aerial acrobatics of the freestyle motocross demo, is making its way back via local venues such as Taste on Friday, June 8, and the Vault Ultra Lounge on Saturday, June 16 and 30, with a little peek at Scores on Thursday, June 28. The contest that gives the race that feminine touch will seek out San Jose's finest participants to battle for first place and who will go on to be the face of the Champ Car World Series. For more information visit: www.faceofchampcar.com.
Send a letter to the editor about this story.