06.03.09
home | metro silicon valley index | news | silicon valley | news article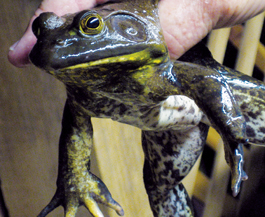 Courtesy Alastair Bland
CHAMPION AMPHIBIAN: At this year's Jumping Frog Jubilee in Calaveras County, many of the contestants were captured by a retired Santa Clara schoolteacher and his team.
Frogs Are Croaking
While the native red-legged is going extinct, it's open season on the mighty bullfrog
By Alastair Bland
AN evening chorus of ribbiting rises as the glowing sun falls on the Central Valley, and frogging partners Bill Guzules and Lee Giudici, both retired Santa Clara schoolteachers, slip their 10-foot flat-bottom into the still waters of a nameless irrigation ditch near Los Banos. Guzules seats himself at the bow with a flashlight and Giudici pushes the skiff from the shore, hops aboard and engages the electric motor. Two other boats launch beside them while one man remains on guard with the three cars.
Night has fallen, the air is still and the hunt has begun. The team has come out here for a night of frogging, and it bodes to be a good one. In windy weather, frogs stay hidden and sheltered, but on balmy evenings like this their buggy eyes light up left and right in the flashlight's beam, and hunting is, if not necessarily easy, fast. Guzules quickly picks a target and softly speaks directions to Giudici: "Left, left, right—OK, straight ahead."
Giudici follows the commands. Guzules keeps the quarry blinded by the flashlight as the glowing eyes draw nearer, and, at the last, out goes a hand off the side of the boat, swiping an alarmed bullfrog from the water. It's a big one, 6 inches from nose to tail, to say nothing of its massive and meaty hind legs that kick and struggle, seeking a surface from which to launch into freedom—but this frog is in the hands of a man who's been bagging these charismatic brutes for 48 years, and it's going nowhere but into the damp gunny sack, the first frog of the evening.
Another boat works the waters beside Giudici and Guzules, and the third skiff takes up the rear, cleaning up any frogs that might have slipped between the leading boats, and by the end of the night the team may have 100 frogs between them. The men may hunt for three, even four nights straight.
The animals are esteemed as gourmet stuff—their legs, anyway. Uncounted thousands of Californians hunt the amphibians, which can grow to several pounds and are most easily taken with five-pronged barbed tritons called "frog gigs." But on this night three weeks ago, Guzules, Giudici and their team aren't out for meat. Their primary frog gig (yes, a pun) was that of supplying the fairgrounds in Angels Camp with jumpers for the annual Jumping Frog Jubilee, which just took place for the 81st time May 14–17.
The collectors may catch 400 frogs in a span of several nights of consecutive hunting, though they weed out the undesirables and return them to the water the next night. Come festival time, they may have 100 keeper frogs. Other collectors supply frogs, as well—several hundred, all told—and the animals dwell in tanks under the stage throughout the four-day event, to be drawn out as $6 rentals for spur-of-the-moment contestants without frogs of their own.
But Guzules, Giudici and their third primary teammate, Denny Matascy, formerly of the South Bay before he moved to Sonoma County several years ago, keep the best specimens for themselves with the hope of taking first place in the jubilee. Giudici, in fact, holds the jubilee record.
It was 1986 when Rosie the Ribeter, a frog he'd swiped from a Central Valley ditch, leapt 21 feet, 5 3/4 inches from her starting point, a quaint piece of trivia with which nearly everyone in Angels Camp is familiar. Jumps are measured over three consecutive leaps, and for 23 years not a frog has jumped further than Rosie the Ribeter. Each year's winner at the Jumping Frog Jubilee takes home $750, while a $5,000 prize awaits anyone whose frog exceeds the record.
Not just any frog is likely to perform well in competition, says Guzules.
"You usually want a male bullfrog, 5 to 6 inches long," he says. "You also don't want one too heavy. If he's just eaten and he's got a big crawdad in him, he won't be a good jumper, especially if it's Monday and we're jumping him on Friday. They pass their food slowly, so we'll just turn those ones loose."
One night in the late 1990s, remembers Guzules, he caught a huge female bullfrog that had recently devoured a rat. The rodent's rear legs and scaly tail still dangled from the frog's mouth. She was loaded with eggs, too, and back she went into the water, to make tadpoles and perhaps jump another time when she was less preoccupied.
Guzules, Giudici and Matascy take other careful efforts to weed out poor jumpers. They sort the catch back at the house, after a few hours' sleep and coffee. Injured or sick frogs go into the "hospital bag." Others, too, are culled from the collection if they measure less than 4 inches nose to butt—the minimum size required by the competition—and some are eliminated if they perform poorly in test jumps on the front driveway. These animals are released that night on the next round of hunting.
In their early days, Guzules and Giudici (Matascy was not yet on the team) didn't take such preparative care. In 1961, for example, while preparing for their first competition in the Angels Camp jubilee, the pair knew no better than to gunny-sack their frog and put it on ice for the two-hour drive, like a six-pack of beer. Come jump time, the frigid animal wouldn't move.
"We'd put him into hibernation," says Guzules. "On the stage, he just sat there. We didn't know much about frogs then."
Bullfrog in a China Shop
For Guzules, now 71 years old, and his teammates, frogs are a labor of love. But not just any frogs. They favor bullfrogs, the star of the Jumping Frog Jubilee.
Not everyone shares their sentiments—and for good reason. Rana catesbeiana, after all, is a nonnative species introduced in the late-1800s as a food source after Gold Rush gourmands ate the endemic red-legged frog, Rana aurora draytonii, into scarcity. Since then, the voracious bullfrog—a predator that will eat almost anything that it can fit in its mouth, including turtles, birds and other frogs—has taken over virtually every drainage in the state. (The species has also invaded France, British Columbia, South Korea and Hawaii.)
In California, the bullfrog is known to dine on red-legged frogs,. In 1996, the latter was listed as threatened under the Endangered Species Act, and in September 2008 the U.S. Fish and Wildlife Service launched an effort to restore red-legged frog habitat.
As part of the plan, the feds are encouraging ranchers to eliminate bullfrogs from their property, either by draining ponds during the height of summer or by killing them. Several years ago, in fact, a property owner in the Los Altos Hills heard talk of the frog-catching skills of Guzules, Giudici and Matascy. He invited them to come catch his unwanted bullfrogs which had devastated his ponds' native ecology, and the team removed several dozen—only to deliver them to their favorite Central Valley collecting spots to continue their lives.
Meanwhile, the Department of Fish and Game (DFG) is eager to see bullfrogs gone, and has made it easy as possible to hunt and kill the animals. A daily bag limit was once applied, but today frog giggers can take all they want, all year, at any time of day or night, and by any means they want except with firearms. Guzules says that frog hunters may even be taking a slight toll, and several favorite frog ponds near Gustine are not the loaded honey holes they once were.
Out of the Frying Pan
Mike Baldassar, assistant manager at Mel Cotton's Sporting Goods on West San Carlos, sells five-pronged frog gigs. A sizeable portion of the populace, he says, hunts bullfrogs. Baldassar himself once did, too, though he used fishing gear and floating bass plugs drawn slowly along the reeds. Bullfrogs would charge from ambush and engulf such lures, and an hour's fishing could render a family-sized meal, with each frog leg amounting to several bites of mild flesh. Baldassar and other sources say that frog tastes like chicken, which to Guzules is a no-brainer.
"Then why don't you just eat chickens?" he quips.
But in spite of government efforts, the bullfrog is thriving.
Several years ago, when the Corde Valle Golf Club in San Martin applied to the DFG for a "streambed alteration" permit in order to develop the land, biologists granted the permit on the grounds that the country club would mitigate its impacts by ridding the property's waterways of bullfrogs. But draining the ponds under the blazing summer sun didn't work as planned, and the resilient predators remain on-site to this day.
Dave Johnston, an amphibian specialist with the DFG, says bullfrogs are likely here to stay, adding that a half-hearted eradication effort will accomplish nothing.
"You would need unified commitment throughout the state to entirely get rid of them, and not everyone wants them gone. Some people don't see the impacts that bullfrogs have on the land as a bad thing, and they certainly wouldn't want to spend money on the effort. Some people actually like them, for whatever reason."
Such words might have incited riot two weekends ago in Angels Camp, where several hundred cherished bullfrogs—one a sluggish 3-pounder nicknamed Mr. G (for Gargantua)—dwelt in the rental tanks under the stage. Hundreds of other frogs arrived with private teams, and the winner of the lot leapt 21 feet, nearly taking Lee Giudici's record. The rest of the frogs were losers, yet all were loved. Several were sent to the "loving care unit," where bruised and injured frogs go for recovery, and in the days following the Jumping Frog Jubilee their captors released them into the waters from which they came.
Alas, some will surely get gigged and fried—in extra virgin olive oil, with a dash of salt and rosemary—but enough of them will spawn and procreate that, for better or for worse, the song of Rana catesbeiana will almost certainly sound long into the future over the wetlands of the Central Valley. It may never find harmony with the voice of Rana aurora draytonii, but for Bill Guzules and other frog hunters, a bullfrog's croak is music to the ears.
Send a letter to the editor about this story.