June 6-12, 2007
home | metro silicon valley index | features | silicon valley | feature story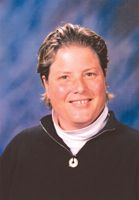 We're here: Annie Kretowicz, president of the S.J. Pride Board, says the South Bay has found its own Pride identity.
Allied in Pride
The South Bay has its own unique way to celebrate LGBT Pride
By Sarah Ellerman
WHEN MOST people think of Gay Pride, they think outrageous: sequins, leather chaps and feather boas in every color of the rainbow. But while the participants in this weekend's San Jose's Gay Pride Festival will definitely be well–accessorized, it's not all about how your lamé hot pants glitter in the hot valley sun.
Celebrating LGBT sexuality is absolutely on the agenda, but South Bay organizers have chosen a focus that they think more completely represents this area's community: "total pride"—the kind of rock-solid confidence in your life choices that allows you to invite your parents, your friends, your kids and indeed everyone in your community out to the event. So while this weekend will see Discovery Meadow in San Jose's Guadalupe River Park playing host to all manner of divas and exhibitionists, families of every configuration abound at the festival.
It's part of how this area has built its own Pride identity, rather than linger in the shadow of what is undeniably the most famous Pride celebration in the world 40 miles north in San Francisco.
"So many people don't get this: we never try to be San Francisco. We are a mom-and-pop event," says Annie Kretowicz, president of the San Jose Pride board.
"The difference between the S.J. and S.F. Pride events is similar to the difference between the South Bay and San Francisco in general," says Jamie McLeod, councilwoman for the city of Santa Clara—and the first out lesbian elected in the South Bay. "San Francisco is an exciting place to visit, but I think of the South Bay as where you go to settle down and live."
Statistics for the size of Silicon Valley's gay and lesbian community are fuzzy—many surveys simply lump together the entire Bay Area. The Gay and Lesbian Atlas ranks San Francisco as the metropolitan area with the highest concentration of same-sex couples, with Oakland at No. 2, but San Jose didn't even make the Top 10. Still, there's no doubt that the LGBT community has come into its own throughout the South Bay, and Gary Walker, who's in his 11th year directing the festival here, says the key is not the size, but the mission. Walker, a former resident of San Francisco who worked on S.F. Pride for eight years and helped found the Folsom Street Fair, acknowledges that San Francisco "always will be the granddaddy of all Gay Pride celebrations."
"And yet, we have become known as one of the really premier family Pride events by creating our Saturday Family Day," he says. "We have a really big following now, about four to five thousand people who come on a very safe, very family–oriented day for gay families and their kids, and straight people who want to bring their families and kids down as well. I get compliments all the time from straight families who say, 'This is just a great way for me to introduce my kids to the gay community so that they can know that their friends' gay parents are just like our other friends.'"
"Those less comfortable with LGBT folks tend to think of the community simply in terms of sexuality," says McLeod, "but I see the LGBT community as an identity formed by how someone defines his or her primary relationships—and who one chooses as one's primary companion."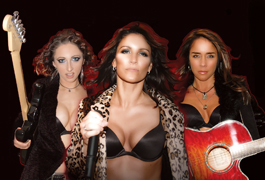 Looking in the right place: The East Bay's Finding Stella is part of the first S.J. Pride Women's Music Festival.
The Meaning Of Pride
Pride means something different to everyone, of course, but the one word that gets the most emphasis at S.J. Pride is "community."
"When I started, I was like, 'What does this Pride Festival mean?'" says Kretowicz. "'Is it just a big party? Or is it a time to celebrate—everything?'" It quickly became clear, she says, that the event was destined to transcend mere party status—Kretowicz regards it as a chance to for every community member to "walk the walk, as opposed to just talking the talk." She uses it as a time to recognize community members whose contributions may not have been noticed, and an opportunity to encourage volunteers.
Pride has changed over the years, says S.J. Pride performer, MC and Grand Marshal Marga Gomez. "The meaning of Pride has grown since I first started celebrating when I was a mere lesbian kitten. Pride is first and foremost about having the courage to stand up for yourself. But because it's been such a long-lasting phenomenon, it's also about sharing ourselves with the world. And many of our non–LGBT friends, family and allies are celebrating with us now."
It takes the entire community to make that celebration happen. Luckily, this is a place where activism is strong.
"My impression of the South Bay LGBT community is the strong commitment of most people to make their city or school or neighborhood a better place," says McLeod. "Many LGBT folks play an active role—as neighbors, friends, co-workers and family members—in contributing to the quality of life enjoyed in the South Bay."
Faith is part of that equation, too. Not everyone would expect that five local churches are taking part in S.J. Pride, but it's standard practice for a certain kind of ministry. Parade Grand Marshal David J. Harvey founded the LGBT-oriented Celebration of Faith Praise and Worship Center in 1994 and has had a booth at Pride every year since.
"It's an open and affirming church," he says. "Everyone is welcome."
Harvey, who has a special interest in helping nontraditional families, says it makes sense to reach out at Pride, "since this is the one time during the year that all the gay and lesbian people are together."
Bring the Party
Pride is a celebration, and what's a celebration without entertainers doing what they love best? Prior years have seen national names such as Cyndi Lauper, Margaret Cho and RuPaul take the S.J. Pride stage, but the festival is taking a "fresh and new" approach this year, says Walker, a former nightclub owner.
Saturday afternoon will see S.J. Pride's First Annual Women's Music Festival, which features bands that are exclusively local and 100 percent female–fronted. Admission is free, and kids welcome. Sunday sees a change–up, with live bands ranging from Latin music to '70s covers to rock and alternative acts, too.
"They are all live bands, playing live: no disco, no divas, no track acts," says Walker. "A whole day of rockin' live music, and I am really excited about it."
One band that has a huge local following is the East Bay's Finding Stella.
"We're a female-fronted gay band—well, the guys are not, but the women are—and so, obviously, there is a niche for us," says Chris Snyder, the band's frontwoman. "But we don't advertise as a gay band. We're just a band that out there, doing our thing. That allows us to play all kinds of places."
Whatever their persuasion, she says, "everyone just comes to have a good time. They know that we're a very interactive band. I interact a lot with the crowd, get out on the table, get out with the fans, we do giveaways, we get them involved in the show, and I think that's what people come for, I think they know it's gonna be a good time."
Do Pride celebrations have a special meaning for the band? "Absolutely! They're little milestones for us. These are the people that have supported us over the last eight years," says Snyder. "And so anytime that we can play a gay–focused event and give back, it's exactly what I want to do."
Meanwhile, pale-faced, scarlet–haired Adrian Roberts epitomizes drop-dead androgynous glam. The mind and voice behind Smash–Up Derby come in a very pretty package—so pretty that you don't know at first if you're looking at a really lovely male, or a really kick-ass female. But all that matters is Roberts' passion for a really good gig like Pride.
"I can tell you one thing," he says. "We're super excited to play it." Smash–Up Derby is the world's only live mashup band, gleefully laying bubbly pop vocals over indie and punk tracks to create a gorgeous train wreck of hip–shaking songs.
It's a great strategy for a crowd as mixed as S.J. Pride's will be.
"The great thing about mashups is that it really brings people together: different age groups, different kinds of people. People who like rock, and people who like divas. We do a Madonna vs. Sex Pistols number that makes the divas realize they like punk, and the punks realize that secretly, they love Madonna."
Gay Rodeo
There's an entirely different flavor over the country & western dance area, hosted by the nonprofit Sundance Association, which promotes country & western dancing in the LGBT community. They work closely with the Bay Area branch of the International Gay Rodeo Association, which has a strong following at Pride.
"Gay Rodeo began in 1976 in Reno, Nev., as a fundraising event. The idea was to come together as openly gay men and women to celebrate who we are, to celebrate our love for the Western traditions and the sport of rodeo, and to raise a bit of money for our community in the process," says Eric Hanson, president of the Bay Area Chapter of the Golden State Gay Rodeo Association.
"What really sets us apart from most other rodeos is the fact that men and women compete in all 13 events. Yes, that means that women ride the bulls, and men race through the barrels. Also unique to gay rodeo are the three events which make up our 'camp event' category—Steer Decorating, Goat Dressing and the ever-popular Wild Drag Race, which involves a cowboy, a cowgirl, a drag queen, a wild steer and a whole lot of fun," he says.
"When we come rolling down the parade route, you'll know we're coming as we always bring put out a great mix of high-energy country on our parade truck, and our contingent is always led by some good-looking cowboys and cowgirls showing off their roping skills. We are a big family of people that love rodeo, love the country–western lifestyle, and are very proud to be gay, lesbian, bisexual and transgender. To me, there's no better way to celebrate Pride than to just be your full self, doing something you love."
Entry Fee, or Entry Free?
The quality of the South Bay event does come with a price. "Money is an issue, of course," says Walker. S.J. Pride has been run for years as a nonprofit by the Gay Pride Celebration Committee San Jose Inc. And ticket price is an issue.
"We had community members saying, 'I hate paying for Pride. Why should we have to pay? San Francisco is free,'" says Kretowicz. But rising costs—and fall-offs in sponsorship since the dotcom bust—are all too real.
"It is necessary to charge people to come in," she explains. "But let's break it down. If you're 62 or older, you get in free. If you're 12 and under, you get in free. If you're handicapped, you get in free. The Family Day on Saturday, it's free. If you volunteer four hours on Saturday or Sunday, you get in free. So unless you won't do that, you have to pay," she laughs kindly.
There are sponsors, of course, who make Pride possible.
"Hewlett-Packard is our Main Stage sponsor, and they have always been supportive. They've been great. Symantec just came on board—they're ecstatic to be on board." Other notable sponsors include Bud Light and Kaiser Permanente.
As Pride Weekend approaches, board president Kretowicz reports that she is thrilled with the efforts of her community.
"What I've seen change over the years is attitude. Ownership," she says. "We can't do this without everyone's help. The community has pulled together, and once again, helped us create this. 'President'—that's just a title. I have a fabulous board. Without even one of us, we would not be able to do this. Every one on the board is an equal contributor to this success of this event."
Send a letter to the editor about this story.