June 6-12, 2007
home | metro silicon valley index | features | silicon valley | column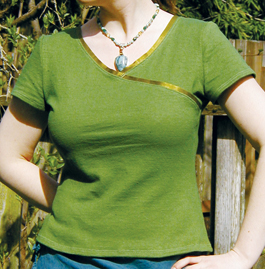 Say it with hemp: 'it with hemp!'
The New Eco-Fashion
By Joseph Rosenfeld
ORGANIC cotton, linen ramie and hemp are some of the fibers on the laundry list of a growing population of eco-friendly fashion designers and consumers. This may not be news to early supporters of eco-fashion, but now even fashion plates are contemplating how they want their fashions served up. Actress and environmental activist Daryl Hannah speaks regularly about protecting the natural world. Now many more people are aware of sustainable practices and about caring about not just the materials used to create clothing, but who produces them.
The movement in fashion to go green is definitely taking root, but the concept is also taking time to sink into the consciousness of a fast-fashion culture. Retailers with a green philosophy are concerned with a manufacturer's commitment to the environment, such as what kind of energy is used and who manufactures the goods. Also of great importance are the textiles and materials used to create clothing. Concerns like the care of the environment and the fair treatment of workers have created a community of retailers and manufacturers, but this interest has really been born from savvy, crusading consumers.
According to Krista Bruder, who holds a master's degree in textiles and manages product development and design for J.C. Penney Private Brands, "everyone is jumping on the eco/green bandwagon. It's not just marketing; it's about corporate social responsibility." From fibers like Ingeo, made from annually renewable resources like corn, and Sonora®, a bio-based material developed by DuPont, to ecologically friendly dyes, big business is barking up a new tree of eco-friendliness. Says Bruder, "This means that in all these new things, everyone is doing their best to keep things safe for the consumer, [by implementing] good uses of economic and environmental resources."
Bamboo, a material that has been highly publicized as the new luxury green fiber, does grow quickly, up to one foot per day. However, the softer the bamboo fabric, the more it has been treated with chemicals. Those concerned with the composition and reusability of material will want to check further with a manufacturer to determine if it has been treated chemically.
Resources for eco-friendly fashion are on the rise. Azalea, a store for women and men located in the Hayes Valley of San Francisco, has a section devoted to eco-fashion. Another golden resource for all things green is a website, www.sustainablestyle.org. They even have a quarterly online magazine dedicated to sustainable living. Whole Foods carries a line of clothing by a company named Indigenous Designs, a Santa Rosa–based company that is concerned with creating fashions with organic materials and free trade practices. American Apparel, a Los Angeles–based manufacturer, pays a living wage to garment workers right here in California while turning T-shirts from schmattes into something sexy.
Fashion is purely environmental; it's as global as the planet and it's as local as a single person. It can be our way of expressing how we feel about life as it happens around us and as it happens to us. Fashion can change faster than any other form of communication because it's cyclical. We don't have to learn a new way of life, or a new language; but if we feel like we need a change, we can change our clothes. The acts of designing and wearing eco–friendly fashion reflect how our personal choices affect our personal environment and the world around us. The relevancy of fashion in our lives continues.
Joseph Rosenfeld, AICI, CIP, the nation's only male certified image professional, polishes the appearances of professional men and businesses and is based in downtown San Jose. Contact him at: [email protected]
Send a letter to the editor about this story.