06.11.08
home | metro silicon valley index | news | silicon valley | news article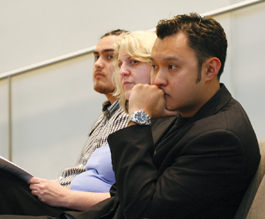 Photograph by Felipe Buitrago
Gimlet Eye: Downtown promoters and fans of local nightlife are none too pleased with San Jose's new permitting requirements.
Club Dread
Downtown promoters lose fight for the right to party
By Mike Connor
WHAT WE are bringing forward tonight is a response of direction you gave us in dealing with a particular set of problems," said Lt. Dave Hober of the city's VICE unit, gripping a PowerPoint remote-control. "And in starting that off, I just wanna tell the council that we have aggressively broken the 'five-slide' rule, so bear with us."
The San Jose City Council meeting last Wednesday, June 3, was set to consider a new ordinance regulating downtown promoters. In support of the measure, Hober referenced multiple events that occurred back in 2005.
"During that time we had several large fights," Hober said. "We had two exchanges of gunfire, one resulting in three people being shot and 38 rounds being fired. And we had three persons stabbed, one of whom died. And several other stabbings, just to point out some of the issues that we had going on at that time."
The PowerPoint began with a vague description of the three major goals the ordinance attempts to accomplish.
"The Ordinance provides a balanced approach between promoter accountability and vibrant entertainment; The Ordinance will provide accountability; The Ordinance will encourage professional promoters to work in San Jose."
Speaking to the "why," as in: "Why in the hell do we need a promoter ordinance?," Hober said: "Some of those reasons are that oftentimes promoters use stage names, they're not readily identifiable, makes identification difficult both for the entertainment management and for the regulating officials.
"The ordinance would also mandate full identification of what types of promotion would be conducted through a contract between the promoter and the entertainment venue operator."
Hober then described a large fight at a local venue, perhaps due to the promotion that had led up to the event. "When I called in the business owner to talk about that," says Hober, "he related to me that he was unaware the promoter was doing this kind of promotional material."
To illustrate his point, Hober provided councilmembers with fliers the police had picked up on the street. One, for "Patronz," read: "the place to go every Thursday to get fcukd up." Another flier depicted a pile of white powder sitting suspiciously close to a razor blade, a rolled-up $100 bill and marijuana leaves for an event called "G's Up 2" (apparently the first one went well).
Hober took a moment to normalize the city's activities, asserting that "San Jose is not alone" and citing similar processes in San Diego and in Winston-Salem, N.C., as well as Chicago and San Francisco.
Throughout the course of the discussion, he also listed numerous discussions and meetings held on various dates with various groups in order to convey the city's effort to include stakeholders in the drafting process.
An early draft of the ordinance had caused a big stir downtown. It required promoters to pay $986 for a biannual permit, to submit to a background check. After receiving a permit, local promoters would have to carry identification cards and fulfill detailed record-keeping requirements.
The licenses would be issued by the chief of police, expanding further the powers of that office, which the council already granted powers to shut clubs without due process.
Small live music venues and musicians felt that the ordinance targeted them unfairly. San Jose Downtown Association's Blage Zelalich says the ordinance's definition of a promoter is problematic because "the nature of the entertainment business in San Jose necessitates an entertainer or performer promote the fact that he/she is performing at a certain venue on a certain date in order for an audience to show up."
Translation: Musicians in local bands trying to promote their own shows would be acting as promoters, and therefore required to obtain a permit.
Hober came to the council meeting armed with some minor concessions. With a slide titled "Change to the Ordinance, As a Result of Outreach," Hober detailed the good news: Regarding live music, performers who are paid solely for their own performance at an event are not considered promoters.
Insurance requirements were taken out of the ordinance on the logic that venues are already required to have insurance. Requirements to provide a list of equipment and be responsible for screening customers and tracking occupancy were also eliminated.
Patrons and Patronizers
The biggest change to the ordinance is a "promoter permit exemption," which allows a venue to take full responsibility for promoters' activities, thereby allowing them to put on a show without a license.
So, members of a band that want to promote their own show are required to get a venue to vouch for them in writing—or else shell out a grand to the city.
Responding to a hypothetical scenario of a nonprofit promoting its own event, Hober spelled out one of the nuances of the ordinance. "If that nonprofit is just promoting it themselves, and they're not getting anything for gain, and it's just to make money for the whole nonprofit without a third party promoter, then that nonprofit would not be a promoter."
The "Proposed Promoter Ordinance FAQ" strives to clarify the conditions for exemption, functioning as a sort of flowchart to help the reader identify themselves within the maze of requirements and caveats. Councilmember Sam Liccardo stressed the importance of the exemption.
"I was very concerned about what we might doing to individual members of bands," Liccardo said, "how they might be characterized as a promoter and have that impact on live music. [SJPD] came back with this, which I think is a pretty good solution or a creative one."
Liccardo says the ordinance as written creates a useful distinction between trusted and untrusted promoters.
"What it's about is the fact that if the club owner doesn't trust the promoter, why should the city?" Liccardo said. "Why do we make people pay this fee and have a background check and so forth? Because if they're having to go through the permit process, it means the promoter is not yet established enough to have the trust of the club owner with whom they're working. ... And the point of this is simple: we wanna make sure people are acting in a professional way, developing professional relationships. If there's a new promoter in town, they ought to be partnering with established promoters so they can learn the ropes and understand what the rules are before they decide to just go in there and operate a fly-by-night business."
Give the City Some Money
Another point of contention was the cost of the permit, which must be paid year after year. Councilmember Madison Nguyen asked Hober if there would be any discount in fees for a permit renewal. Hober responded by clarifying that the proper term for what happens to a permit after two years is "expire," meaning that the full amount would have to be paid again, regardless of promoter performance.
Hober justified the cost with slides detailing the staff time it would take to administer the fees, and by a slide titled "Entertainment Venue Economy," Based on 2007 sales data, gross revenues for 34 of the city's entertainment venues are estimated at about $77.8 million for two years. If all those venues used promoters, the city would take in $33,500 in fees, or .04 percent of gross revenue.
Those numbers don't address the fact that smaller venues taking in proportionally smaller revenues will have to pay the same fees as the larger venues.
Despite Hober's sanguine assurances, many of the folks who run the downtown entertainment scene are not at all happy with the revised ordinance.
Rich Wiese, also known as the hip-hop performer and promoter Lucky Lucianni, kicked off the public testimony representing the San Jose Nightlife and Entertainment Committee opposing the draft ordinance with 1,762 signatures.
The text of the petition reads, "We—the undersigned promoters, performers, entertainment patrons, and citizens of San Jose—do not support the proposed promoter license ordinance as it is currently written. Currently, it is written in a way that will negatively affect independent promoters' and musicians' ability to do business in the city. Changes need to be made to the proposed ordinance to ensure a fair balance between the city and those affected by the ordinance. The culture of our entertainment scene needs to maintain variety and accessibility to all."
A sentiment shared by many of the speakers was that the ordinance would stifle artistic expression. Other speakers complained about the high fee, the lack of public awareness, an anti-youth or anti-minority undercurrent pushing toward gentrification, and the underlying premise that promoters should be held responsible for any individuals' misbehavior.
Beginning his motion to approve the ordinance, Liccardo said, "The simple step of signing a contract with a club owner resolves every issue here."
As the promoters in attendance filed out of the chambers, one of them responded with an oldie but goodie, coughing "Bullshit!"
Send a letter to the editor about this story.