June 14-20, 2006
home | metro silicon valley index | features | silicon valley | feature story
Photographs by Felipe Buitrago
A Depressing Performance: Stanford med student Ricky Tong 'treats' patient-actor Suzanne Spence. An actor like Spence is supposed to help students learn how to provide the best service to actual sick people in the future.
Acting Sick
It's all the rage in medical schools. As hypochondria goes Hollywood, our writer gets opening-day jitters in Stanford's patient-actor program.
By Emilie Raguso
Some of the details involving Stanford's medical school cases have been altered slightly to protect confidentiality. —Editor
TODAY, my name is Rachel. I just got back from Tahoe and my chest has been hurting all day. So I'm on an exam table wearing only a robe, waiting. And waiting.
I'm sitting in a room decked out like a doctor's office, right down to the wooden tongue depressors. The room is about 12 feet by 12 feet and windowless, with blue pile carpet. Boxes of gloves hang on the wall near a tray with other supplies: Q-tips, a rubber reflex mallet, cotton balls and face masks. You've been there.
But I also see less familiar objects. An intercom has been installed in the wall next to my closed door. A camera pokes down from one corner of the ceiling. When I notice the lens overhead, I pull my thin robe a little tighter and check my watch.
Minutes later, the intercom buzzes and a man's voice crackles out: "Patients, the students are all here. We'll start in about a minute." Though I can't see them, I know that four similarly undressed people, in four similar rooms, hear the broadcast, too.
Mine is a simple case. Even so, my chest tightens when I hear the announcement. I don't want to forget my medical history—only a page, but highlighted and notated like some Shakespearian monologue I have to perform.
There's a knock on my door.
"Yes?"
"Hello, Ms. Fleming—am I pronouncing that right?"
"You are. But you can call me Emilie. Shit, I mean Rachel." The young woman doesn't blink. She's good at this game already. She has shiny brown hair and almond-shaped eyes. In her white lab coat, she could be a doctor.
Her gaze is steady, her hand cool and soft when she shakes mine. "What brings you in today?"
I tell her about the pain in my chest, that I'd woken up with it and that it hasn't gone away. When she asks about its location, I point beneath my right breast. I clutch my ribs. We're moving quickly through the interview. There are other things she needs to know—that I've been traveling and that my calf hurts—but I need to wait for the right questions. It's an exercise in withholding, making her work for information, rather than blurting out my entire case history.
Where Does It Hurt? Nowhere!
The whole exercise was part of a day I spent as a paid participant in Stanford's Standardized Patient program, where medical students practice clinical skills with healthy people like me acting as patients.
Though you may never have heard of the phenomenon, patient-actors around the country "suffer" typical problems such as chest pain, breathing problems, abdominal pain—all for a fee, for experience, and for the common good, depending who you ask. When I'd signed up for this gig, I didn't receive much training aside from a one-page case description, which lacked certain details. How much pain, exactly—on a scale of 1 to 10—was Rachel, my character, feeling? I hadn't done theater since high school and I began to regret not running my script with someone before potentially embarrassing myself on camera. It didn't help my anxiety that a local theater critic —co-manager of this particular branch of Stanford's medical training—was sitting in the control room scrutinizing my performance.
Standardized patients have been around for more than three decades. But, outside medical education, most people still don't know they exist. They've been called the most researched innovation in the history of medical education, with more than 800 medical articles published about them.
And during the 1990s, these programs became standard practice in many U.S. medical schools. Patient-actors now work in 95 percent of these schools, according to the Association of American Medical Colleges.
Initially, the term "standardized patient" didn't inspire a lot of confidence in me. About a month before getting involved with Stanford, I saw the term in a medical journal. "Standardized patients," it said, "are trained actors who portray patients during an interview and physical examination with a medical student or doctor in training. As part of medical education, medical schools now often use standardized patients to depict realistic patient interactions and presentations of disease."
Trained actors portraying patients? Teaching medical students? I was intrigued. My own experiences with doctors had always seemed comfortable, even natural. I hadn't considered that, early on in training, my doctor might have been embarrassed to ask personal questions or prod private parts. But of course overcoming this embarrassment is crucial to treating patient ailments.
"Getting a good history is probably the hardest thing to learn," says Maria Enriquez, a third-year Stanford medical student who is specializing in radiology. "Everything we do is guided by the history. In the beginning, when you're first starting, there's a certain number of questions you ask to get the right information. And often, even regular patients don't tell you the things you wish they would. With standardized patients, they tell you these really typical stories, but they also tend to withhold information that a regular patient would tell you right away."
So, I had to know: could these standardized interactions realistically reflect real-world appointments? And what might these programs say about where American health care is headed—that it's becoming more mechanized, as med students train with cookie cutter patients? Or could it be the opposite: that a more humanistic approach is winning out, requiring docs to focus on building rapport with each patient to unearth those crucial diagnostic details?
Faking It: The Early Years
If critics of the standardized-patient concept find it "too Hollywood," they aren't geographically far off. In her authoritative history of the standardized patient, Following the Threads of an Innovation: The History of Standardized Patients in Medical Education, Dr. Peggy Wallace recounts how the idea was born at the University of Southern California in Los Angeles when Harold S. Barrows, a USC neurologist and medical educator, created the first standardized patient for his neurology clerks in 1963.
Barrows' boss had recently told him about 8 mm cartridge film—a striking innovation that could be used to produce a silent film several minutes in length. Educators used this film throughout the 1960s to explain simple concepts; Barrows decided to use it to demonstrate a normal neurological exam. As the story goes, he needed to find someone comfortable on film, so he visited USC's art department and discovered a young model named Rose McWilliams.
McWilliams acted out responses to a neurological exam on film, and it didn't take long for Barrows to teach her to perform as the first living standardized patient case: Patty Dugger, a paraplegic woman with multiple sclerosis. The role was based on an actual patient in a Los Angeles hospital. It was so revealing that Barrows showed it until he retired from teaching several years ago.
After Barrows trained McWilliams to respond like Dugger, he needed to find a way to evaluate his students. During exams, McWilliams was alone in the room with each medical student, so how could Barrows observe, short of peeking through a curtain? He decided that McWilliams, with her extensive training, should grade each encounter. Barrows made a checklist to help her assess each student's abilities. To this day, armed with checklists of their own, standardized patients have the primary responsibility for assessing med students' clinical skills.
Barrows admits that the advent of cartridge film wasn't his only motivator. "I remember how embarrassing that was, when I was learning the basic examination techniques," says Barrows, who now lives in Canada and edits a medical education journal. "Can you imagine—you're a medical student in your second year. You've got your white coat on and you're sent into a hospital room with a couple other students to do your first breast exam on a woman. It's awkward, but what can you do? I still remember what that woman said: 'Well, well: Penguins! What are you going to do?'"
In Barrow's eyes, standardized patients were a gentler way to learn. Medical students could receive direct feedback from people trained and paid to help them. And sick patients no longer had to suffer through bumbling neophytes.
"It's beautiful teaching," says Barrows.
Tough Crowd
Others weren't so taken with the idea.
"Many physicians seemed to be upset with the idea of using fake patients to teach," recalls Barrows. "They thought, 'There are lots of patients around, and these people simulating are perhaps not very accurate.' They said, 'Maybe you could teach a first-year student with fake patients, but you can't teach real physicians.'"
Despite resistance from the university and sensationalistic stories in the press, Barrows was convinced that he had established an effective method for medical training. In the 1970s, he created "Bedside Clinics in Neurology" to show educators around the country how to use simulated patients. The workshops were sponsored by the American Medical Association, and the idea of standardized patients began to gain currency as educators observed fake patients firsthand and saw how realistic their performances could be. In turn, these educators began experimenting with standardized patients in their own programs.
Then managed care hit and Medicare started changing. Face-time with patients began to shrink. Hospital stays became more expensive and, as a result, admission standards were more stringent. Those in the wards tended to be much sicker, not to mention less amenable to bumbling medical-student mobs. Standardized patients proved a timely alternative to traditional clinical skills training techniques.
"Since managed care started, doctors have a lot less time to spend one-on-one teaching students," says Julianne Arnall, director of Stanford's standardized patient program since 1998. "It used to be a gentleman's agreement, for doctors to pass on information to their students. Now that they're responsible for billing a certain number of hours, it's a lot harder to get doctors to come in. If I want a faculty member to come in, I have to convince him to give up dinner with his family. They just have less time to give. Standardized patients have helped fill that gap. They pick up some of the slack. It's not meant to replace the senior physician."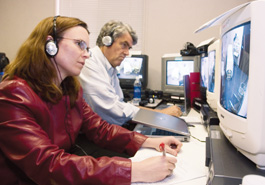 You Will See the Doctor Now: Program managers Julianne Arnall and John Grant aren't the only ones monitoring how students perform in these controlled situations. The patient-actors are responsible for grading the students who listen to their symptoms and evaluate their imaginary ills.
Stanford Signs On
During the 1990s, the National Board of Medical Examiners started to experiment with how to measure clinical skills on their licensing exam, which all medical students must pass to become practicing physicians. The board picked Stanford as one of 10 schools at which to run its trial testing program.
Since then, Arnall has seen views about standardized patients shift from skepticism to acceptance. Students have little choice but to take the system seriously, says Arnall, since licensing has become more dependent on demonstrating the clinical skills that standardized patients help hone.
Standardized patients at Stanford use computer checklists and oral feedback to grade students on confidence, professionalism and problem solving. Students interact with SPs at different times during their training. While they're first-years, they work on basic history-taking skills. As their medical knowledge grows, so does the complexity of their standardized patient interactions. The school's program has two primary components: (1) clinical courtesy, such as proper hand-washing, draping the patient correctly and retying the patient's gown after an exam; and (2) patient-physician interaction, where the emphasis is on improving history-gathering techniques.
"We're trying to standardize human interaction—is that really possible? No. But you get as close as you can get," says Arnall. "The program has become much more common, much more accepted by faculty, and more accepted by students as something valuable."
Acting Class
But do the programs really work? This question comes back to preoccupy me during another session at Stanford. We're in a large lab room off a hallway that looks straight out of a hospital. Inside, though, it's clear we're in a classroom. Lockers, a whiteboard, microscope stations and an overhead projector line the walls.
This time around, the students are first-years and I'm playing a Navajo woman wanting a medicine man's advice before accepting Western medical treatment. It's part of a session about uncovering hidden cultural beliefs through persistence and rapport-building. The other three patients and I each hold court in a corner of the room, while small groups of students try to guess our secrets.
"A Stanford education is a source of power, something to potentially be uncomfortable about—some people might see it as a 'fancy institute of learning.' But if that's a boundary during the interview, and if you don't find out why a patient's really there, you're lost," explains one of the group's instructors, Dr. Erika Schillinger.
Before we split into groups, Schillinger runs a demonstration. A white standardized patient in his 60s plays a young Mexican man, a migrant farm worker living in Texas. According to the script, he had suffered from a traumatic event several weeks earlier, when he'd watched a child get hit by a car. He had experienced strong fright, goose bumps and a consistent strange feeling in his body. He believes the fright caused his symptoms, but isn't keen to share this with a Western doctor.
Watching "Mr. Lopez"—who neither looks nor sounds much like a migrant farmworker—is surreal. The scenario is important, but its execution leaves a lot to be desired.
Despite the university's proximity to large Hispanic and African American communities in East Palo Alto, I didn't see anyone from those communities in Stanford's standardized patient pool. As a result, I wondered about the logistics of Stanford's standardized patients—mostly white, male and in their 50s—playing cross-cultural roles. One of the group's organizers had found it notable, too, judging from the way he'd started that day's session.
"Are you prepared to be the Hispanic, immigrant female?" the organizer asked one male actor sitting near the door of the conference room where we met each week.
The younger white man with a shaved head pushed his red T-shirt up into mock breasts, answering, "I think I am. I've already been a 6-year-old black male, so why not?"
"I've been one of those, too," added one of the older white gentlemen in the room.
Just Like the Real Thing
Despite their limitations, standardized patients are widely accepted to be one of the best weapons medical education has to weed out bad doctors.
Dr. Reed G. Williams of the Southern Illinois University School of Medicine reviewed the validity of standardized patient examinations in 2004, and found that it's nearly impossible for doctors to differentiate between well-trained standardized patients and real ones. In his review of landmark studies about SPs, one analysis showed that 90 percent of its standardized-patient sample accurately portrayed the complexity of their characters. In another report, investigators found that 91 percent of the standardized patients studied graded students accurately. And though there isn't much information on whether the medical students who ace standardized patient exams become superlative physicians, Williams says that, among all testing measures, standardized patient reviews are the best predictor about whether med student will have successful residencies.
Objectivity and consistency are the secrets to standardized patient success.
"These people are being taught to say the exact same thing every time," says Dr. Steven Berk, the regional dean of Texas Tech's School of Medicine in Amarillo. "You can then make objective guidelines based on what exactly the student needs to ask—and that's how you create the checklist. You protect the public by having a very objective, standardized way to evaluate performance: Does the student do everything he's supposed to do? Is he attentive to the patient? Whereas if it's just in the hospital, evaluation is hit-or-miss. When you lose standardization, students fall through the cracks."
The Art of the Game
This responsibility to protect the public good might be what leads standardized patients to harp on what medical students might consider minutia. Did the student unfold the entire drape before placing it on my lap? Did he call me "Ms. So-and-So" or jump straight to my first name? Was his beard neatly trimmed, did he dress like a slob? For the actual tests at Stanford, doctors observe our interactions on small black-and-white monitors and listen in using headphones. But for the exercise sessions, it's left up to us actors to pass judgment.
At a certain point I start to hear a certain redundancy in my advice to the students: slow down, smile more, act more confident, be more friendly. I decide to ask another patient for some advice. "How do you think of what to tell them? I feel like I'm repeating the same stuff over and over," I tell Tom Dougherty, 68, a two-year veteran of Stanford's SP program. Mr. Bell, a chain smoker being diagnosed with tuberculosis, was his first role.
"Well, first you start out with a compliment. You just kinda soft-pedal everything," he says. "It's kinda scattergun. I tell them, in a few years they'll be better able to compartmentalize and be more systematic. We're definitely part of their education."
Kaplan Test Prep agrees. The international test prep company runs a course to help medical students pass the National Board's Clinical Skills exam, established in 2005. This rigorous, daylong exam mimics a physician's "typical" experience in "a clinic, doctor's office, emergency department and/or hospital setting." The eight-hour test is split into 15-minute encounters with 12 standardized patients.
The national test is available in only five cities around the United States: Philadelphia, Atlanta, Chicago, Los Angeles and Houston. Its limited availability, high cost ($975), and high pass rate (96 percent) has led some medical students to take issue with the Clinical Skills assessment, terming it a "money-making scheme" rather than an accurate gauge. For these and other reasons, the American Medical Student Association—the oldest and largest independent association of physicians-in-training in the United States—has maintained a policy against the Clinical Skills test since its launch.
"This kind of test should be given at the medical-school level and students should be evaluated on a day-to-day basis. It's not possible to assess clinical skills during a one-day test," says the association's president, Leana Wen. "If you want a test that works, you need to prove that the test weeds out people without the right skills. With this test, you need to examine an awful lot of people to find even one person who fails."
When the Doctor Is Faking, Too
The most surprising aspect of my work as a standardized patient at Stanford was my discovery that I wasn't the only person in the exam room acting. When evaluating "my" chest pain, most of the third-year students I met were confident, calm and friendly. But when they re-entered the exam room for feedback, many seemed timid (at best) or uninterested and rude (at worst) while I reviewed the prescribed checklist.
It's somewhat ironic that we've chosen to teach comfort and empathy through the highly controlled standardized-patient encounter. But maybe sympathy, compassion, respect and other qualities of positive medical experiences are just too complex to leave to chance, particularly amidst the messy tumult of diagnosis and disease.
Louisa C. Coutts, in a research paper about the importance of humanism—putting the patient's feelings and perspectives first—in medicine, writes that communication problems lead to 70 percent of malpractice claims.
A doctor's ability to develop a good relationship, on the other hand, is among our three top reasons for choosing a health-care provider, writes Coutts. Of the various techniques that Coutts studied in her evaluation of humanism, she says only one—the patient's perspective—is the "closest approximation to the gold standard for medical students." This is just the type of feedback that standardized patient Don Schwartz is happy to provide.
"For the first year of medical school, you get all the warmth and friendliness that you'd like to have from your doctor," he says. "Of course, they have no knowledge or skill of medicine. As they acquire that knowledge, students lose their humanity. And that's why I want to do the work I do. It gives us an opportunity to create a more human doctor."
Send a letter to the editor about this story.