June 14-20, 2006
home | metro silicon valley index | features | silicon valley | sports news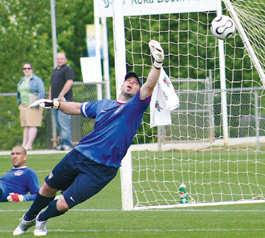 Photograph by Jarrett Campbell
Fall Guy: Marcus Hahnman, goalie for the U.S. team, makes a sleepy-looking dive for a save during practice before the first game of the World Cup.
USA Blown Away
JET LAG can be a serious pain, and can often last for days. Proof of that is the USA national soccer team, who lost in their first World Cup match—a disappointing 3-nil against the Czech Republic. After no more than five minutes the Czech team made their presence known: Koller headed a mean cross from right-wing past Keller for the 1-0. The torture continued 30 minutes into the match when a stray ball landed on Rosicky's boot. Czech's number 10 didn't hesitate, took the shot and scored from 25 meters out. The somnambulist United States did have structure in their approach, but were incapable of completing a play. That is until Johnson's alarm clock went off around minute 70. He attempted to score from beyond the 18, but came shy of placing the ball inside the left post. The match lacked the intensity the crowd was expecting, and things now look grim for the American team. The Czech Republic displayed better overall ball-control. By minute 76 Rosicky, again, caught the American defense off-guard to go one-on-one against Keller and snuck it right past him to make the score 3-0. Italy is next on the ballot for the USA. The Azzurri already have three World Cups and they're known as one of the monsters of soccer. Ghana, who will be facing off against the U.S. on June 22, has four CAF African Cup of Nations titles. So with two games left the USA needs to stop dreaming; otherwise, this could be a rude awakening.
Send a letter to the editor about this story.