06.18.08
home | metro silicon valley index | features | silicon valley | feature story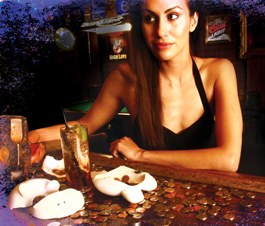 Photograph by Felipe Buitrago

Bar Food
Don't get drunk without it
By Stett Holbrook
FOR A NATION that loves to get its drink on, you'd think America would have developed better bar snacks. Beer Nuts? Pretzels? Buffalo wings? Pickled eggs? Surely a proud nation like ours can do better. In the meantime, if you're searching for great bar food, look east. In Japan, when you're out for a night of boozing you head to an izakaya. Roughly the equivalent of a tapas bar, izakayas serve small plates of grilled and fried food designed to go with beer and sake. The wise Japanese figured out that greasy, salty and fried foods are irresistible once you've knocked back a few and so developed a delicious culinary tradition. Silicon Valley happens to be the best place in the Bay Area to sample Japanese pub food. Here are some of my favorites.
Saizo
592 E. El Camino Real, Sunnyvale; 408.733.7423
Saizo has a long wooden bar on one side and a bank of tables against the wall on the opposite side. The dining room is sparely decorated, but the low-hanging ceiling and wood finish give it the warm, inviting feel of a well-worn pub.
The izakaya menu is divided into grilled and fried items. Prices range from $1.25 to $9.75, so you can order a wide variety of food for little money. Some of the food, such as the beef tripe, eel liver and beef tongue, may put off the less adventurous. If that's you, start with something tamer like the wasabi chicken skewers or yuzu-pepper chicken skewer. Yuzu is a distinctive Japanese citrus with bright, high-toned flavors that pair well with the chicken. And don't miss the butabara, strips of deliciously fatty grilled pork belly.
Yume-Ya
150 El Camino Real, Sunnyvale; 408.530.8156
Yume-Ya is part sushi bar, part izakaya. Many of the best izakaya dishes are on the Japanese menu, so be sure to ask the chef about them. From the English menu, try the grilled scallop. The small shellfish were baked to a toasty brown with onions, fresh spinach, butter and cheese.
From the Japanese menu, the stuffed lotus root is good. It's just this side of salty, but the shrimp flavor marries well with the vegetables and it made my sake taste even better. My favorite was the eggplant—thick, lightly battered slices served with a light ponzu sauce. The eggplant melted in my mouth like a handful of cotton candy.
Sit at the bar if there's room. In between dishes, the chef handed me small, complimentary snacks, like a kindly uncle sneaking me an extra cookie. Some of them included thinly battered and flash-fried aji (Spanish mackerel) bones, stewed pork belly and daikon radish, ankimo (monkfish liver) in a ponzu sauce, and a wonderfully fresh and potent spicy tuna poke.
Sumiya Japanese Charcoal Grill
5160 Moorpark Ave., San Jose; 408.973.0604
Sumiya specializes in yakitori, charcoal grilled skewers of meat and vegetables, so it's something of a subset of the izakaya category. However you define it, it's delicious. Yakitori is meant to be a quick snack to go with a glass of beer or sake on a night out with friends.
The sasami yakitori is grilled chicken breast comes with a choice of plum, yuzu or wasabi sauce. For the more ambitious, there are chicken heart, liver and gizzard. Although it may sound off-putting, try the kawa, or chicken skin yakitori. Seafood is especially good at Sumiya, particularly the squid (ika) and shrimp (ebi). Also try the gyutan (beef tongue). It's got a great rich and beefy flavor, no visible fat and lean texture. Charred on the grill with just a sprinkle of salt, it's great. Try it if you think you don't like tongue or have never had it.
After a few of these skewers, I swear beer never tasted so good.
Send a letter to the editor about this story.