06.18.08
home | metro silicon valley index | features | silicon valley | feature story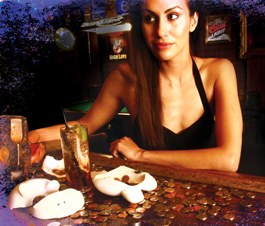 Photograph by Felipe Buitrago
Cheap Shots
How to Be a Dive Bar Superstar
By Ryan Osterbeck
EVEN if no one wants to admit it, our wallets know that we're in a recession and they're imploring us to find a solution—it may be a whisper, it may be a shout, but it is a plea that we must heed.
Naturally during economic crunches, we tend to cut out extraneous expenses and extracurricular activities in order to make ends meet. But what are we to do? People are generally social; we want to be among others, we crave that interaction and—like it or not—some of the best social interaction is found when we're well lubricated with booze, but hitting high-priced bars on a nightly basis is a solid way to land yourself in the poor house.
Now, you could kick it at home and down a 12-pack—and that would be cool—but that's also going to get real stale real quick and doesn't satisfy the social aspect of our conundrum. So, you could invite some friends over, but that's just inherently an unsustainable solution—you've gotta clean up, you risk getting all of your food eaten ... and can you really cut loose at home like you can at a bar? So, what to do?
The answer is not found in the costly suds at the bottom of a nine-dollar beer. Our awakening will not be realized by paying exorbitant cover charges for the privilege of drinking while bathed in fabricated glitz.
The answer, libation seekers, can be found at the dive bar.
They've sometimes been called by harsh names. Been labeled as seedy, dingy, ramshackle, disreputable and downright dirty. And, while some of these adjectives—and many more in my thesaurus—may apply to dives, there is a certain sublime beauty that can be found in these hole-in-the-wall destinations for drunken bliss. It's time we truly embraced what countless others knew before us; the dive bar is and will always be a drinking institution and, luckily—from downtown gin mills to neighborhood rathskellers—San Jose has them in spades.
Getting There On the Cheap
Now, you may ask yourself: "How do I get to these magical places?" Well, with skyrocketing gas prices, my initial reaction would be, of course, not to drive. But, if you must drive, carpool and you can still save some dough by not parking in paid lots or garages. OK, so the city-run garages don't cost that much, but why shell out $5 for parking when that extra cash could be better spent on procuring a well drink at any one of San Jose's dives? If you're willing to walk a few blocks, San Jose has plenty of metered street parking that's free after 6pm (also, check for yellow-curbed loading zones where it's legal to park after 6pm). And, while most of the neighborhood street parking surrounding downtown is by permit only, you can score some sweet spots on the south side of downtown by the I-280 overpass, on the streets on the east and south sides of San Jose State and anywhere around St. James Park where even the metered street parking is usually clear.
The better recommendation, however, would be to ride into downtown on the Light Rail. Who cares that our own little rail system can't hold a candle to BART? It works—and it can take you pretty much anywhere you need to go for drinking from downtown to Campbell and from South San Jose to Mountain View (go to: www.vta.org/ for a full schedule and service). You can also take Caltrain if you're located somewhere along its route. It drops off at the Diridon Station near HP Pavilion, so Caltrain is close, but keep in mind that, even on the weekends, the last train out of San Jose leaves fairly early (check out: www.caltrain.com/timetable.html for a complete schedule).
Probably the best option is to ride your bicycle. I know that bike riding and fashionable club duds rarely coincide, but the beauty is that your new pals at the dive bar won't really give a rat's ass what you're wearing, as long as you're drinking. Also, both of these options make the DUI specter virtually disappear. You can still get slapped with the old Drunk in Public or the rarely given, but greatly feared BUI (Biking Under the Influence—to lessen your chances of this, make sure your bike has lights, front and back and heed all traffic signs, lights, etc.), but, let's face it, you have to be pretty wasted to get slapped with either of those. Just be responsible.
OK, so you've made it to San Jose, now prepare your liver because it's time for some cheap and plentiful drinking, and we're going to hit some of the best local dives on the scene. For a full list, check out our very thorough Bars & Clubs listings.
The Caravan
98 S. Almaden Ave., downtown
The venerable Caravan gets going early and doesn't stop. With some prime drink slingers behind the bar that pour 'em like the drink 'em—heavy and fast—the 'Van's bunker like confines are probably your best dollar-to-drunk ratio in downtown San Jose. The only thing you'll have to shell out at the door is your ID and, once inside, remember that the Caravan only accepts cash, but, oh, does that cash go a long way. With standard well drinks coming in under $5 and domestic beers even cheaper, it's incredibly too easy to pull up a torn, wobbly bar stool and drink yourself into a stupor for around 30 bucks. If you're thirsting for more boozy madness after the 'Van, head due east, straight up San Fernando where those of weak constitution will most likely be falling down after the first round at:
Cinebar
69 E. San Fernando St., downtown
The Cinebar has been doing it longer and stronger in San Jose than any other bar, and this downtown dive has the crowds to prove it. Chock-full of drunks and hipsters of every sort, Cinebar pours a mean cocktail on the cheap. Drinks are well below average price and beers are ridiculously inexpensive—PBR comes in at a whopping $2—so it may be an exercise in futility to find a seat, but when you're getting blasted for a Jackson, who cares? OK, it's going to get a bit tricky from here—partly because of the booze and partly because there may be many distractions as you weave past other establishments, but stay focused and set your bearings to Santa Clara St. to hit:
Johnny V's
31 E. Santa Clara St., downtown
Caught between the live music club and dive bar worlds, Johnny V's is the best place downtown to hear local bands and get drunk on the cheap. Still riding the awesome wave of two-for-one kamikazes and pouring beers like they're water for about the same price, Johnny's is one place on your dive bar crawl you just can't pass up. Usually when there's a band, Johnny's sports a cover charge, but, hey, you're getting live music and the price for entry is usually around $5—basically a wash in our book.When Johnny's gets done with you, there's still some choice places to drink downtown—however, they're not really dives, so if you're going die-hard for the circuit and are committed to cost-effective drinking, you may as well settle in at any of the three listed above. You could head over to Mission for the weekend bump and grind, back down Second to Tres Gringos or SJBG—both of which sport some cheap specials of their own—or meander west down Santa Clara to San Pedro and hit Smoke or Firehouse. However, if your primary goal here is to keep costs down, you're better off running the dives. And, if you want to press on to some other San Jose watering holes without breaking the bank, there's:
7 Bamboo
162 Jackson St., Japantown
Ah, 7 Bamboo—completely off the radar for most dive bar drinkers, but it so shouldn't be. A haven for cheap sake and tone-deaf drunken karaoke, 7 Bamboo's prices—like the décor—are stuck in the '70s, and the pure entertainment value just can't be beat. This Japantown dive scores extremely high marks when drinking in a group based on raucousness, but unlike the other dives on this list, can get completely annoying when boozing alone.
Jack's
167 E. Taylor St., Japantown
Even though Jack's, located on the northern end of Japantown, got a makeover recently, it still very much ranks as a dive bar. Happy hour lasts pretty much all day and, even when they're not slinging discounted cocktails at Jack's, the prices are still stupidly cheap. A little off the beaten path and filled with neighborhood regulars, as well as hard-core dive bar sots, Jack's is a good place to get your dive bar feet wet where you don't have to deal with the drunken insanity and general madness of downtown stalwarts the 'Van and Cinebar.
Linda's LightRail Lounge
1336 N. First St., north San Jose
If you live along the northbound Light Rail line from San Jose and haven't stopped by Linda's, you're doing yourself a complete disservice. Not only is this tiny dive uber-convenient, it'übercheap with prices stuck at a ridiculously low level and an all around genial demeanor that'll make you want to ride the Light Rail enough to put the VTA in the black.
The Den at Fourth Street Bowl
1441 N. Fourth St., north San Jose
Again, more of a dive bar to hit with a group than alone, the Den shouldn't be reserved for just a respite from the lanes. The term "heavy hand" takes on brand new meaning when boozing at the Den, so if your normal inclination is to order doubles, quell it.
Hyde Park Cocktail Lounge
1070 N. Fourth St., north San Jose
HPL is like the mortuary of dive bars ... a simply fantastic place. The stand-alone building almost across the street from the Den has seen too many winters, but it's still holding its own on the dive bar circuit even though most newbie practitioners of the dive bar arts don't know that it exists. But alive and kicking it is, and when you enter HPL, the outside world is stripped away, like the building's paint, only to be replaced by more kitch tchotchkes than a garage sale at a Vegas retirement community.
Send a letter to the editor about this story.