06.18.08
home | metro silicon valley index | features | silicon valley | feature story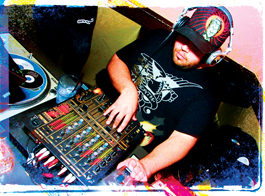 Photograph by Zeeshan Kerawala
Bars & Clubs
Campbell
Boswell's
Live Music
1875 S. Bascom Ave. in the Pruneyard, Campbell; 408.371.4404
Located in the Pruneyard between the movie theaters and Campbell Coffee Society, the lovable dive bar, Boswell's, is like a strange nexus of popcorn, coffee and booze. This place has been bringing in Campbell's drunkest and wildest since the '70s with live cover bands that rock most nights and some awesomely heavy-handed bartenders. It's not uncommon to stroll up to this place and see loud, laughing folks pouring out of the tiny door for a smoke between live music sets, often for an audience of underage coffee drinkers sitting on the Coffee Society patio watching the drunken shenanigans that they can't even begin to understand.
Campbell Billiards
Billiards
1777 S. Bascom Ave., Campbell; 408.377.9886
A longtime home for the young punks and old sharks of the Campbell scene, Campbell Billiards is an institution in the pool-shooting world of San Jose. Those of you who are of age can buy basic bottled beers from the modest snack bar, while all you young 'uns can get your fill of sodas and juices. The rates for the tables are pretty cheap, and there are video games and pinball machines that you can pump quarters into when you're done shooting pool. On Sundays, hop in on the open buy-in tournament for a whopping five bucks to brush up on your skills and shoot some more competitive rounds with local pros.
Caper's Eat and Drink
Restaurant | Bar
1710 W. Campbell Ave. in the Kirkwood Plaza, Campbell; 408.374.5777
Supplying sports, cocktails and palatable food to Campbell and San Jose folks for a number of years, Caper's Eat and Drink is just the upscale-casual kind of sports bar that you would expect to find in well-heeled Silicon Valley. Instead of unkempt, near toothless gents gettin' rowdy over their team at the bar, you'll find a clean and stylish setting where you can sip martinis or good brews and catch the game from almost any seat. If you're hungry, their anything-but-pub-grub menu is bound to have something you can enjoy, be it carpaccio, slow cooked lamb shanks or a grilled porterhouse.
Cardiff Lounge
Dance Club | Lounge
260 E. Campbell Ave., Campbell; 408.374.7477
Once a seedy dive catering to Campbell's old, drunk-by-noon crowd, the Cardiff Lounge has become a snazzy little lounge where well-clad folks get their drink on and grind up on the dance floor. The massive face-lift that this tiny spot underwent several years back swapped out the rickety floor, ancient high tops and scarred up bar for a stylish setting of candles, low-slung furniture and oddly cushioned rubber floors, which reduce the broken glass from inevitable party fouls. Reliable DJs spin house almost every night. Though there's no cover here, lines can develop at the door and the bar pretty early on busy nights—win some, lose some.
Coach's
Bar
2240 S. Winchester Blvd., Campbell; 408.379.2654
If a neighborhood bar with a neighborhood feel is what you're looking for, then Coach's is the spot for you. A modest sportscentric hangout for Campbell locals, this place provides an amicable, relaxing spot to chow down on some nachos or burgers, swill some cheap beer, shoot a round of pool and catch the game. Come nighttime, Coach's draws a mellow crowd of artsy/edgy thirtysomething regulars who frequent this welcoming haunt seeking cold brews, strong shots, familiar faces behind the bar and good, friendly company.
Court's Lounge
Bar
2425 S. Bascom Ave., Campbell; 408.559.9880
A staple in the lives of true blue Campbell drinkers, this poster-child for neighborhood bars has been supplying cheap drinks and good times to locals since the late '70s. This well-loved bar remains off the radar of hipster types, with friendly bartenders welcoming instead a loyal set of blue-collar regulars who decompress after work in the no-hype atmosphere. With pinball machines, a golf machine, a killer jukebox, dartboards and pool tables (and tournaments for both), all the requisite favorites are here; the only thing that's missing is your bottom planted on a bar stool. Yes, you.
Effie's Restaurant and Bar
Restaurant
331 W. Hacienda Ave., Campbell; 408.374.3400
Who would have thought that this painfully retro spot that looks like someplace your grandma would take you for brunch actually serves as a pretty decent restaurant and cocktail lounge for random locals and business professional types. Recent updates to Effie's extensive menu have added some particularly delicious eats, but old-school diner choices like French dips and liver & onions still haunt their own corner of the menu. The lounge will knock you down with one of their cocktails, or at least knock down your inhibitions enough to convince you to hit stage for karaoke, which runs Tuesday through Saturday from 9pm to 2am.
Elephant Bar
Restaurant
499 E. Hamilton Ave., Campbell; 408.871.8401
At Campbell's Elephant Bar, patrons dine amid giant palm trees, zebra stripes, giraffe spots and just about everything else a safari has to offer, indulging in massive portions of fare that hails from as close as backyard barbecue pits to as far as the Pacific Rim. Kids reveling in the wacky jungle motif crowd the family-friendly dining area, while sports fans and wannabe Jane Goodalls get sauced in the more adult atmosphere of the bar.
The Garret
Restaurant
1777 S. Bascom Ave., Campbell; 408.559.7930
If you ever have an occasion that needs to be celebrated with pizza and beer, head to the Garret, the little neighborhood spot where drinkers and little leaguers have coexisted quite happily for some time. A full bar puts this place a step up from most family-friendly pizza joints, and video games and big screen TVs broadcasting sports 24/7 keep the youngsters entertained enough that the grown-ups can have a few rounds of ridiculously underpriced beer while they're waiting for their food. The grub here is also a step above similar hangouts, with everything from pizzas to burgers to cheese fondue—seriously, cheese fondue!
The Heritage Theatre
Live Music
1 W. Campbell Ave. #32, Campbell; 408.866.2797
If your little sister is on a dance team, she'll inevitably perform at the Heritage Theater for an audience of enthusiastic grandparents and camera wielding moms and dads; conversely, if famous taiko drumming groups are wandering through town, you'll probably find them performing here as well. While the Heritage Theater may not sport the hippest of rosters, it's classic setting and pleasant environment makes it popular among well-heeled older crowds who favor the arts and have left their party days long behind them.
Katie Bloom's
Bar | Restaurant
369 E. Campbell Ave., Campbell; 408.379.9687
For those longing for the good 'ol days knocking down pints of Guinness in the emerald country, Katie Bloom's Irish Pub & Restaurant in Old Town Campbell offers a local alternative. Between noshing on standard pub grub or taking in helpings of sausage in the restaurant's full-on traditional Irish breakfast, the bar features a choice selection of brews to imbibe as you shoot the breeze with the regulars. Not only is this the place to be come St. Patrick's Day, but karaoke Sundays, quiz night Wednesdays and weekend DJs who transform the joint into a bona fide dance club provide ample entertainment for crowds, young and old, down for a rollicking loud time. Just don't drink too much or you'll start seeing leprechauns.
Khartoum
Bar
300 Orchard City Dr., Campbell; 408.379.6340
Khartoum may be the capital of Sudan to some people, but to Campbell drinkers, Khartoum is one of the most inviting local watering holes to plunk your alcohol-loving behind. It's the kind of place where a lovefest unfolds between the bartenders, perfect strangers and you; a gathering spot where straight shooters inclined to order beers and shots rather than froufrou neon cocktails gather—though the bar can procure a mean mixed drink.
Left at Albuquerque
Restaurant
1875 s. Bascom Ave. #50 in the Pruneyard, Campbell; 408.558.1680
Indecisive tequila aficionados may find themselves perusing Left at Albuquerque's menu just a little bit longer than the average customer: The bar offers more than 75 varieties of this beloved and potent libation. Decked in piņatas, cowboy boots and enough colorful accoutrements to make any buzzing patron giddy, the restaurant serves up sizeable plates of Southwestern cuisine to fill up stomachs in between glasses of the house-made Sangria and frosty pitchers of margaritas. As the boisterous young crowd loudly illustrates, Left at Albuquerque likes it fun and festive.
Off the Hook
Billiards
2369 S. Winchester Blvd., Campbell; 408.374.3257
Your classic neighborhood watering hole, Off the Hook spends most nights corralling sports fans and anyone looking for some good booze-assisted socializing. The strip mall location pretty much guarantees that the crowd will be unique in that possibly crazy sort of way, and a regular supply of cheap drinks means that there's a strong following of cash-strapped locals who refuse to go for too long without brews, sports and the random company of bar folk.
Rock Bottom Brewery
Brewery | Restaurant
1875 S. Bascom Ave. in the Pruneyard, Campbell; 408.377.0707
Kinda makes sense, don't it? One of the most happening bars in suburbia pops up in a shopping center. This fun fact comes to light after spotting that the Rock Bottom Brewery tucked back in the Pruneyard overflows with young folks nearly every night. Microbrew lovers keep coming back for the Rock Bottom's five standard and select specialty brews on tap, freshly produced onsite. And the food, oh the food—noshing on hearty helpings of pizza under the stars in the outdoor patio—'tis a Silicon Valley dream.
The Spot in Downtown Campbell
Restaurant | Dance Club
201 Orchard City Drive, Campbell; 408.871.2200
The King's Head Pub and Restaurant had quite a run in downtown Campbell, but it's been sold and upgraded by the new owners, meaning all the old British paraphernalia is gone, replaced by a hip industrial look, a brand new cooling system and an overall cosmetic upgrade, including a bunch of flat screen TVs for Sunday football. The new venue will be called The Spot in Downtown Campbell, featuring DJ dancing Thursday–Saturday with hip-hop and house nights. They're open after 4pm during the renovations, but look for the grand opening in about six to eight weeks. Amateur American Idols rejoice; the one thing that hasn't changed is the karaoke on Monday nights.
Send a letter to the editor about this story.